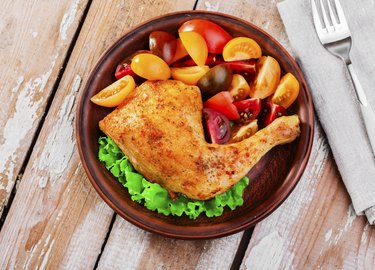 Frozen chicken quarters are very economical and can suit a variety of dishes. Since this cut of chicken often is on sale in large quantities, you can make a delicious baked chicken recipe to please a big, hungry group. This preparation adds the flavors of fresh ginger, parsley and lemon to the chicken, which gives it a bright and herbaceous flavor. Look for chicken leg quarters that do not include the back section, which tends to be fatty and more suited for soups.
Step 1
Blend the lemon juice, minced ginger, fresh parsley, olive oil, garlic, salt, pepper and paprika in a blender on low speed.
Step 2
Place the mixture in a large-sized plastic zip bag. Add the frozen chicken quarters and marinate the chicken for three to five hours in the refrigerator.
Step 3
Preheat oven to 375 degrees Fahrenheit.
Step 4
Remove the chicken quarters from the marinade and bake the chicken, uncovered, in a lightly greased baking dish. Bake the chicken for 35 to 45 minutes.
Step 5
Test the chicken with an instant read thermometer. The internal temperature should read 165 Fahrenheit when it is finished cooking and the chicken should be lightly browned.
Step 6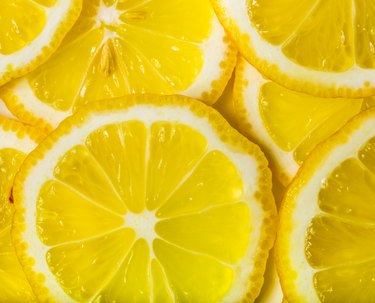 Garnish each chicken quarter with a lemon wedge.
Things You'll Need
1/2 cup fresh lemon juice

2 tablespoons fresh minced ginger

2 tablespoons fresh parsley, chopped

1/4 cup olive oil

1/2 tablespoon garlic

1/2 teaspoon salt

1/2 teaspoon black pepper

1 teaspoon paprika

6 frozen chicken quarters

1 lemon, cut into wedges
Tip
This recipe serves six people.