Weightlifting can have many positive long term effects on your overall well-being. The four primary benefits are improved strength, increased muscle mass and metabolism, improved coordination and improved bone mineral density. Each of these benefits results from aspects of weight training that are unique to its use. Furthermore, you can learn how to incorporate certain components of weight training into your routine to target each of these specific benefits.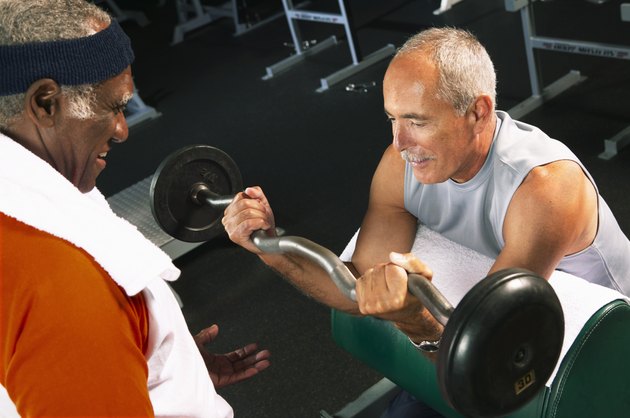 Increased Strength
During the first six to eight weeks of training, your body becomes better able to use its muscle fibers to produce force; however, after this initial period, strength gains come more slowly and can plateau frequently. The longer you lift weights the more overall strength you will gain. It requires repetitive training using your muscles at maximal intensities before you reach your peak strength. Strength progress is relatively fast for the first two years of weight training as you adjust to lifting weights with only marginal, but important, improvements occurring with more training.
Increased Muscle Mass
One of the most aesthetically compelling reasons to weight train stems from muscular growth and development. After your body has acclimated to the initial training period, your body constantly adjusts to accommodate increased training loads. Muscle building occurs when muscles that are damaged during exercise grow back bigger than they were prior to the performance of the exercise. Bigger muscles also improve your resting metabolism since maintaining the amount of muscle you have requires extra energy. On average, each additional pound of muscle you gain burns an extra seven to 15 calories per day.
Improved Coordination
Long-term weight training will improve your overall body coordination. This is especially important for the elderly who are more prone to injury due to losing balance. A study performed by James Judge appearing in the 1993 journal "Physical Therapy" showed that resistance training was able to improve the balance of elderly women. In addition to better coordination for injury prevention, the coordination improvements translate into sports related activities and can make you a better athlete.
Warnings
Poor breathing form when performing weight training can have an adverse long-term affect on your heart. Holding your breath while lifting will increase your blood pressure dramatically and requires your heart to pump against a greater resistance. This can enlarge your heart and lead to complications later in life. Contact your doctor or physician if you plan on beginning a weight training program to ensure your heart and blood pressure are healthy enough for the activity. Furthermore, learning proper breathing techniques during exercise by a certified personal trainer will limit your risk of an enlarged heart through weight training. A general rule of thumb is to breathe in during the easy part of the lift and breathe out when you are actually lifting the weight.