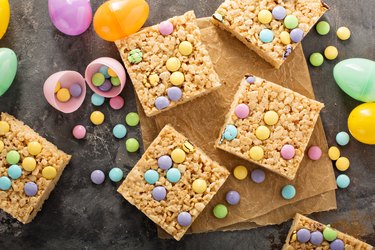 Rice Krispies marshmallow treats can be stored at room temperature in an airtight container for up to two days. To keep them longer, try storing rice crispy treats in your freezer for up to six weeks. When storing these snacks in the freezer, an airtight container remains essential.
Tip
To defrost frozen Rice Krispies Treats, simply remove them from the freezer and let them sit on the counter for 15 minutes at room temperature prior to serving.
Storing Rice Krispies Treats
Storing these yummy treats is easy. If you don't have an airtight container, you can use foil and plastic wrap instead. After allowing the treats to cool, cut the squares and wrap the pan in aluminum foil. Or you can move the squares to a serving tray if you want and then wrap the tray in aluminum foil. Pinch the foil tight around the edges to keep the air out. Then use plastic wrap over the foil for extra protection.
You can also use freezer bags or zip-close snack bags. Store the whole batch in a large freezer bag or use smaller snack bags to store single or double servings of squares. For longer-lasting freshness, place the treats in the bag and squish all the air out before closing. Using the smaller bags is useful when you're packing a lunch for work or school.
The Food and Drug Administration recommends keeping foods safe when entertaining, which is something these treats are often used for. Use the two-hour rule, which means avoid leaving perishable foods out for more than two hours at room temperature. If you have food outdoors and it's above 90 degrees Fahrenheit, keep it to one hour.
Rice Krispies Treats Nutrition
The Wisconsin Department of Public Instruction says that Kellogg's Rice Krispies cereal (dry with nothing added) meets the CACFP (Child and Adult Care Food Program) meal pattern sugar limit requirement. According to the USDA, one serving (22 grams) of ready-to-eat Kellogg's Rice Krispies Treats provides:
Calories: 91.7
Protein: 0.75 grams
Total fat: 1.98 grams
Carbohydrates: 17.7 grams
Sugars: 4.26 grams
Calcium: 0.66 milligrams
Iron: 0.48 milligrams
Magnesium: 2.86 milligrams
Phosphorus: 9.24 milligrams
Potassium: 8.58 milligrams
Sodium: 77.2 milligrams
Zinc: 0.11 milligrams
Copper: 0.02 milligrams
Manganese: 0.35 milligrams
Selenium: 2.42 micrograms
Thiamin: 0.15 milligrams
Riboflavin: 0.18 milligrams
Niacin: 2 milligrams
Vitamin B6: 0.20 milligrams
Total folate: 53 micrograms
Folic acid: 43.8 micrograms
Vitamin A: 198 international units

Retinol: 59.4 micrograms
Chewy Rice Krispies Treats Variations
Kellogg's, the maker of Rice Krispies, developed the original recipe for Rice Krispies Treats that made these snacks so famous. But you can make our Crispy Rice Treats recipe for a vegan treat that omits the marshmallows and uses more nutritious puffed brown rice cereal instead of Rice Krispies. You can also add some variations to either recipe for fun and celebrations.
For example, you can create holiday-specific rice crispy treats by molding special shapes with your hands or using cookie cutters. Try making hearts for Valentine's Day, eggs or bunnies for Easter, turkeys for Thanksgiving and so on. You can create any shape you want. Make sure to add a drop of vegetable oil to your hands and rub them together so the treats don't stick too much.
You can also add frosting accents for a colorful, festive look. You'll need the colors of frosting you want and a pastry bag. Use the pastry bag to add the designs you want to your treats. Create squiggles, starbursts, colorful balloons for a birthday or hearts for Valentine's Day. Another great way to decorate your treats is with candy confetti, chocolate chips or sprinkles.