Pilates is a type of exercise routine that focuses on strengthening your core muscles, which include the muscles of your abdomen, back and torso, also known as your powerhouse. Working with a trained instructor provides you with a chance to lengthen and tone your body, increase your balance and improve your flexibility. Instructing Pilates does not technically require special certification, but your licensing can greatly influence your salary.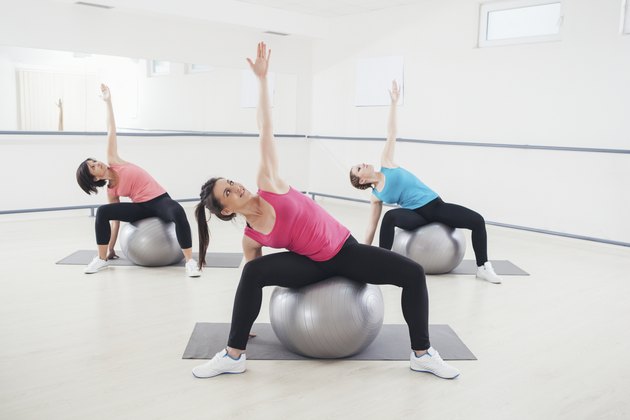 Pilates
Created during World War I to rehabilitate bedridden patients, Pilates has been used by dancers and gymnasts as a deep conditioning exercise regimen for more than 80 years. The core strength that Pilates focuses on is gained through the development of pelvic stability and abdominal control, while also increasing strength and joint stability. Classes may require using complicated equipment such as the Reformer, which involves wooden planks, pulleys, cables and springs. Other classes are mat-based, requiring no equipment aside from a mat. Both types take you through a series of movements that use your body's own weight as resistance and require a good instructor to ensure successful completion, because form and breathing are integral.
Training
Instructing a Pilates class does not technically require certification or licensing. However, most professional facilities such as gyms or Pilates studios do not allow you to instruct clients without at least a certification in basic group fitness. Higher degrees of licensing, offered by organizations such as the American Council on Exercise or American Fitness Professionals and Associates increase the odds of becoming employed, in addition to increasing your salary potential. Advanced certifications such as in weight management or personal training also increase earning possibilities.
Group Fitness Salaries
A 2010 survey published by ACE shows an increase in full-time group fitness instructors' salaries, but a decrease for part-timers. Full-time fitness instructors made an average of $23.50 per hour, or just under $48,000 annually. Part-time instructors made a slightly higher hourly wage of $24.49 per hour, averaging $12,451 per year. ACE broke down earnings further by degrees of education. Instructors with master degrees averaged more than $10,000 per year more than instructors with only a bachelor degree. Regionally, the northeast averaged highest annual salaries while the north-central part of the United States saw the lowest salaries, with incomes ranging annually from over $52,000 to under $38,000. Top paying states include Kansas, Oklahoma, Maine, and Rhode Island, in addition to the District of Columbia region.
Titles and Benefits
While many Pilates instructors teach other fitness classes, claiming Pilates instructor as your title suggests an annual average for full-time employment at $46,650, or $24 per hour. Part-time Pilates instructors average more than $21,000 per year, or $26.57 per hour, working just over 15 hours each week. The only other fitness experts making more annually are titled "advanced health and fitness specialists" and club owners. Benefits, such as medical and dental insurance, paid vacations and maternity leave are still not the norm in the industry. Medical benefits, for instance, are available only to about 43 percent of full-time employees, but that figure is on the rise, according to ACE.