When you've never been a runner, the thought of enduring a 5K race may seem scary or even impossible. Let's keep things in perspective, though. A 5K race is actually only 3.1 miles -- which is a distance you might already be doing when you take a 30- to 45-minute walk to the park or go shopping downtown. With that in mind, think of your 5K training as learning to go a little faster than you would if you were walking. With a six to eight-week training plan, you should be able to run the entire race.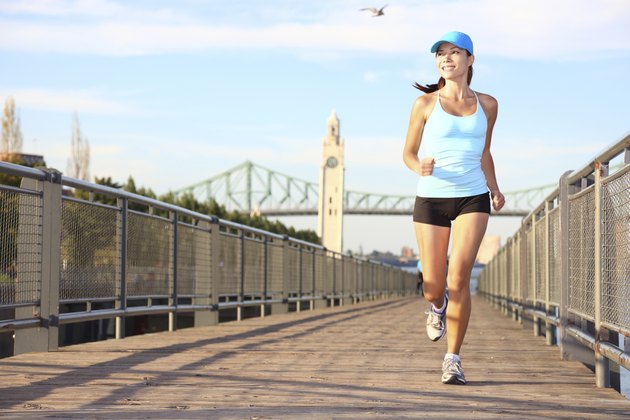 Get Prepared
Your first stop should be to your doctor, to get her approval to start a new fitness program. This is especially important for people who are currently sedentary or overweight, as well as men over age 45 and women over age 55. Once you've gotten the green light, get yourself a comfortable pair of running shoes that are designed for your running gait. If you've never been a runner, you probably don't know whether you tend to overpronate -- a common gait problem in which you roll your foot too far inward -- or if you have other gait issues. A visit to a running store should help you find the shoe that works best for your running style.
Create a Training Schedule
To help you stay on track, it helps to monitor your progress with some type of training log. You have multiple options for scheduling and monitoring your workouts, from 5K mobile training apps to a simple notebook in which you write down what you did. Choose the one that works best for you. Don't think you need to train every single day as you start out. Set aside four days a week, giving yourself about 30 minutes for each session. If you want to do some exercise on the other days of the week, plan to walk, swim, cycle or do any other type of exercise that you enjoy.
Walk-Run Days
There are multiple ways to schedule your 5K training, but most running experts recommend a combination of running and walking for beginner runners. Your workouts will be split into two types: three jog/walk days, and one day in which you aim to jog the entire time. For example, you might do your jog/walk days on Monday, Wednesday and Friday, and then do your jog day on Saturdays. For the jog/walk days, aim to do a combination of running and walking for the entire 30-minute duration. The first two weeks, do about 75 percent walking and 25 percent jogging. Walk for about 45 seconds, and then jog for about 15, or double that and walk for 90 seconds, then jog for 30 seconds. The following two weeks, increase the amount of jogging; jog for 30 seconds and then walk for 30 seconds. The final two weeks, walk for 25 percent of the time and jog for 75 percent. If you have a couple more weeks to train, continue the jog/walk schedule, doing at least 50 percent jogging.
Jogging-Only Days
Your jogging days will also follow a slowly-increasing schedule, but on those days you'll be paying attention to distance instead of time. Find a track or running course that has the distance clearly marked, keeping in mind that one lap around a track is 1/4 mile. The first week, jog 1 mile. Every week after that, add 1/4 mile, so you're jogging 1.25 miles the second week, 1.5 miles the third, 1.75 miles the fourth, 2 miles the fifth, and 2.5 miles the sixth. If you have even more time, continue moving up to 3 and even 4 miles at a stretch. It's okay to walk if you need to, but try to jog as much as you possibly can. Don't be too concerned about your race time for your first 5K -- just finishing the whole race is a big accomplishment. When race day approaches, rest for two days, either only walking or doing no exercise at all.