Dicloflex (generic name: diclofenac sodium) is a medication used to manage the inflammation and pain of arthritis, ankylosing spondolytis (pelvic and spinal arthritis) and migraines, says Drugs.com. It is a nonsteroidal anti-inflammatory drug that helps to decrease the hormones that cause your symptoms. Typically, your doctor will prescribe 50 mg two or three times a day. Do not take excessive amounts of Dicloflex as this can lead to hazardous and potentially life threatening side effects.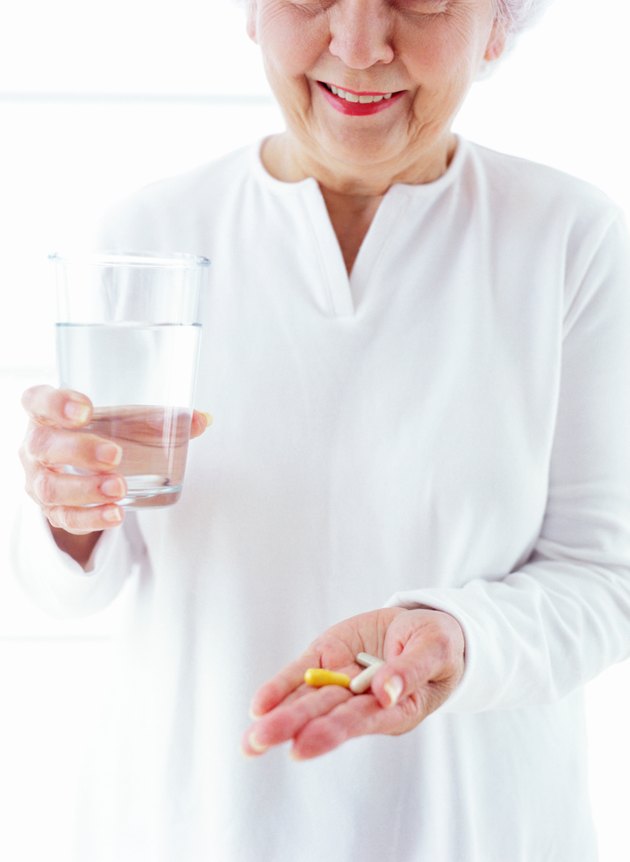 Common Side Effects
According to MedlinePlus, Dicloflex can cause headaches, dizziness and tinnitus (ringing, buzzing or whooshing sounds in your ear). It can also change your bowel movements and cause diarrhea, constipation and gas. Drugs.com says that Dicloflex can cause heartburn, stomach pain, nervousness, itchy skin and blurry vision. Talk to your doctor if these symptoms last for three days or more. She can lower your dose to prevent these side effects from occurring.
Dangerous Side Effects
Dicloflex can cause a wide variety of dangerous side effects. It can cause fever, sore throat, headache and neck stiffness. Dicloflex can also cause convulsions, bruising, tingling, blistering of your skin and red rashes. Other serious side effects are: rapid weight gain, swelling, nausea, decreased urination, bloody or black stools, hemoptysis (coughing up blood), chest pain and difficulty breathing. It can also cause weakness, slurred speech, visual problems and unsteadiness. Go to your local emergency room or call 911 at once if you experience any of these side effects.
Additional Side Effects
The National Library of Medicine indicates that Dicloflex can also cause flatulence (gas), stomach or intestinal ulcers, bleeding, sepsis (bacterial infection of the blood), hypertension (high blood pressure), tachycardia (fast heartbeat) and syncope (fainting). Other possible side effects include rectal bleeding, thrombocytopenia (low platelet counts), drowsiness, alopecia (hair loss), hematuria (bloody urine) and kidney or liver failure. Dicloflex may cause hallucinations, hearing loss and even a coma.
Miscellaneous Concerns
You should avoid Dicloflex if you are allergic to it. Trouble breathing and hives can develop. You may also experience puffiness of your tongue, throat or face.
MedlinePlus warns that you should tell your doctor if you are taking benzepril, cyclosporine, digoxin or methotrexate. Combining Dicloflex with these medications can lead to the aforementioned dangerous side effects.
You should avoid NSAIDs such as Dicloflex during pregnancy because it can lead to early closure of a shunt in your baby's heart called the ductus arteriosus, according to the National Library of Medicine.
Avoid Dicloflex if you are sensitive to aspirin and suffer from asthma. The National Library of Medicine says that you could develop a potentially fatal bronchospasm (condition where the muscles in your airways suddenly constrict and prevent you from getting enough air).