The nutritional value of food defines what a food is made of and its' impact on the body. Because of disease and weight control, it's particularly important to understand the nutritional value of food due to the impact on the body as it relates to cholesterol, fat, salt, and sugar intake. The food label is the primary tool enabling consumers to understand nutritional values in order to make informed decisions about consumption.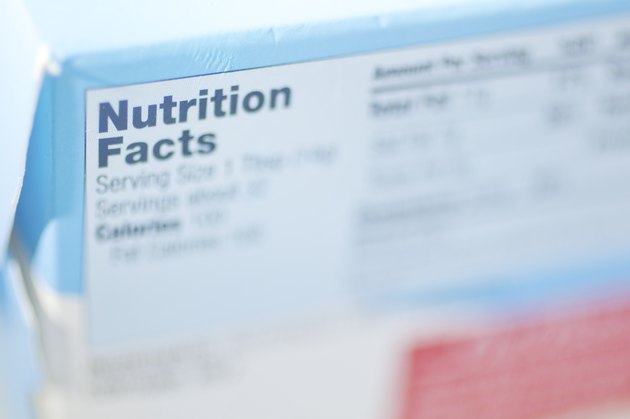 The Nutrition Label
The U.S. Food and Drug Administration mandated food labeling in 1990 under the Nutrition Labeling and Education Act (NLEA). In 1994, food companies were required by law to use the new food label on all packaging. However, it has been almost 20 years since the label has been re-examined and analyzed to better serve consumers.
The food label provides facts on calories and serving size, fat, sugar, sodium, carbohydrate, protein, vitamin, and mineral intake based on a 2,000 calorie diet.
The Ingredient List
The ingredient list is loaded with valuable information however, is often overlooked. Ingredients are key to determining exactly what food is made of and ultimately, nutritional facts. For example, many people don't realize a food marketed as a whole grain food that lists enriched wheat flour as the first ingredient, is primarily ordinary refined flour. Therefore, the whole grain claim would not be entirely fact. This could only be determined by reading the ingredient list and comparing nutritional facts.
Defining Fats and Sugars
Fat content is sometimes detailed for the consumer listing bad fats; saturated and trans and good fats; polyunsaturated and monounsaturated. Saturated fats are mainly found in animal products such as meat, dairy, and eggs. Trans fats are found in fried and processed foods. Both can increase total cholesterol and LDL levels in the body. Monounsaturated and polyunsaturated fats both lower total cholesterol; however, monounsaturated fats also increase HDL levels.
There are two types of sugars: naturally occurring and refined or added sugars. Naturally occurring sugars are found in fruits and milk. Refined or added sugars will be listed as: high-fructose corn syrup, table sugar, corn syrup, fruit juice concentrates, corn sweetener. Sugars are not defined on the nutritional label and researchers suggest that only added sugars should be listed.
Recommended Daily Intake
When reading the food label, it is helpful to know what the recommended daily allowances are for a healthy adult. According to the American Heart Association, recommendations for cholesterol, fat, sodium, fiber, and sugar are:
Cholesterol: 300 milligrams or less for those without heart disease; 200 milligrams or less for those with heart disease Fat: 25 to 35 percent of total calories, 7 percent saturated and 1 percent trans fat Sodium: Less than 2,300 mg ideally, 1,500 mg per day Fiber: 14 grams of fiber for every 1,000 calories needed Sugar: No more than 100 calories of added sugar for women and 150 calories of added sugar for men
A New Label
The current label has had minor modifications over the years, but nutritional research is more sophisticated and consumer knowledge has expanded about nutritional values. Researchers and consumers alike are calling for a label makeover. Some suggestions for an updated label include: indicate what percentage of grains are whole grains; disclose when fats and sugars are considered high, caffeine content is always disclosed, and added sugars are listed specific to type.