Opiate drugs include illegal drugs such as heroin and prescription drugs such as morphine, codeine, oxycodone (Oxycontin), hydromorphone (Dilaudid) and others. Symptoms of withdrawal may result from the discontinuation of opiate drugs or reduction in a habituated dose. Opiate withdrawal follows three characteristic stages, each with associated symptoms.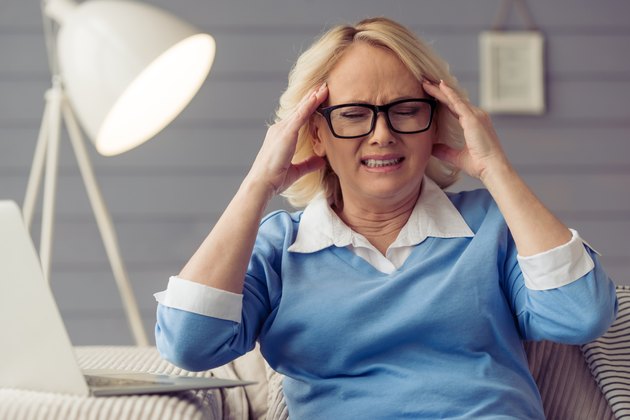 Early Stage
Symptoms of the first stage of withdrawal typically present within eight to 16 hours of the last use. The onset of symptoms is directly related to the half life of the drug. Users of fast-on, fast-off drugs such as heroin usually experience symptoms more quickly than users of prescription medications. Methadone users may not experience symptoms for up to 30 hours.
Physical symptoms of early withdrawal include runny nose, sweating, tearing or watering of the eyes, dilated pupils, involuntary twitching and goosebumps. Patients may complain of agitation, anxiety, restlessness or insomnia. Symptoms are initially mild but typically increase in severity over the course of a few hours. Many patients report localized, aching pain in the back, abdomen and legs. Hot and cold flashes are also common, and patients may request blankets.
Peak
Symptoms of opiate withdrawal usually increase markedly 36 hours after onset and peak 48 to 72 hours before they gradually subside. Agitation becomes severe, often accompanied by nausea, vomiting and diarrhea. Temperature, respiratory rate and blood pressure are modestly increased.
Ultrasonographic evidence of pancreatitis has been demonstrated in some patients and is presumably attributed to spasm of the pancreatic sphincter of Oddi. In rare cases, seizures have been reported; however, these are more characteristic of withdrawal from alcohol and other drugs. The occurrence of seizures should prompt reevaluation of the patient's history.
Unlike withdrawal from alcohol and other drugs, opiate withdrawal is generally considered life-threatening only in infants. However, polysubstance abuse is the rule, rather than the exception, among opioid addicts. The duration of withdrawal may be reduced by the administration of opioid antagonists such as naltrexone (Revia) and naloxone (Narcan), but it does so at a cost of intensification of the subjective symptoms.
Long Term
After 7 to 10 days, physical signs of withdrawal have typically resolved. Psychological and psychosomatic sequelae of withdrawal, including insomnia, nervousness, weakness and muscle aches, may persist for up to one year. Opiate addiction is frequently a chronic, relapsing condition. In one study, fewer than 25 percent of heroin addicts remained abstinent even with methadone treatment. Self-help groups such as Narconon offer social support to patients and families and provide information on local treatment programs and healthcare professionals who specialize in addictions.