Role models are people who are looked up to by others. The actions of role models are emulated by those admirers. Some people may not view themselves as role models, even though they may hold prominent positions. Although the effects of some role models may not always be positive, good role models are in a position to have a positive influence on others.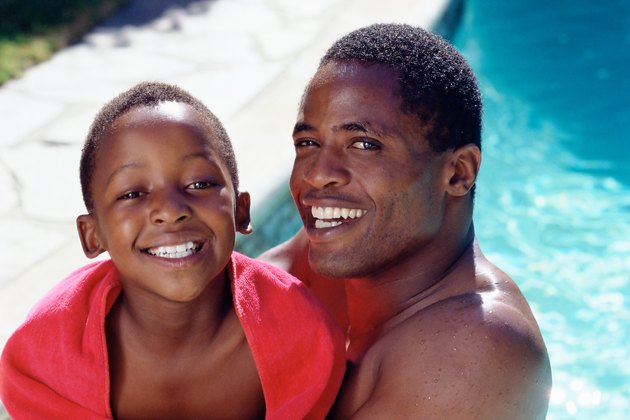 Self-Esteem and Academic Performance
Teenagers who have positive role models have greater self-esteem and perform better in school than teenagers without role models in their lives, according to Steroid Abuse. It is reasonable to expand the effect to younger students as well. All of these students may have coaches, teachers, famous athletes or parents as role models. Positive displays of sportsmanship, determination, drive and ethics by role models can help children to emulate and adopt these positive attributes.
Avoiding Drug and Alcohol Abuse
Positive role models can help children avoid the use of drugs and alcohol. For example, role models in sports who promote excellence without the use of performance-enhancing drugs can have the effect of discouraging the use of steroids in athletes who look up to these role models.
Anger Management
Children learn how to handle life's problems, in part, by seeing how their parents and caregivers handle them. According to Dr. Lisa Firestone in her article "How to be a Good Parent: It's All About You," children are very likely to follow their parents' behaviors. This reality makes it important for you to show good skills in handling your anger. Also, children who have good communication with their parents are more likely to ask them for advice instead of turning to peers. When parents give respect to the children, they are more apt to get respect. When a child knows how to give respect and feels respected, the child is less likely to have feelings of humiliation, anger or embarrassment and is less likely to lash out.
Overcoming Difficulties
Role models such as Barack Obama, who overcame racism to become U.S. president, can have the effect of encouraging people to achieve their goals despite difficulties. Mayo Angelou, who overcame poverty and abuse during her childhood and became a bestselling inspirational writer, is another example of a role model who can inspire people to overcome their difficulties and achieve success.
Success at Work
Some people have role models at work. Newer employees may especially seek out a successful coworker to be a mentor or to be someone the new employee wants to emulate. The effect of a good role model in this situation is to help the employee develop successful work habits that will lead to a successful career.
Is This an Emergency?
If you are experiencing serious medical symptoms, seek emergency treatment immediately.