Rogaine is the brand name for the drug minoxidil, which is designed to decrease hair loss and encourage new hair growth in both men and women. According to the Mayo Clinic, the exact way in which Rogaine works is not completely understood. However, its effects tend to last as long as the treatment. While the main effects of Rogaine are positive, there are also negative side effects that users should watch out for.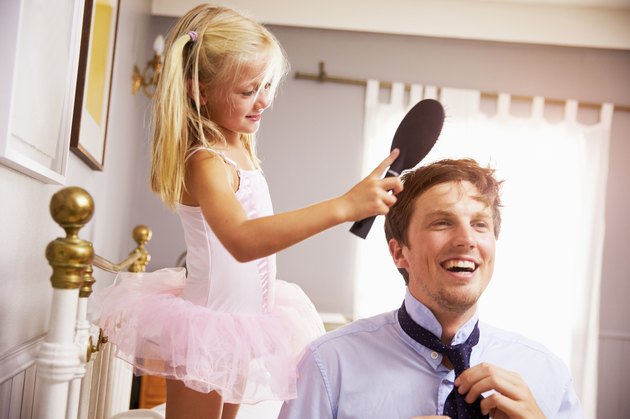 Slowed Balding
According to MedlinePlus, Rogaine can be used to slow the balding process in both men and women. However, it is not necessarily effective for everyone. MedlinePlus reports that Rogaine works best for people who are in the early stages of hair loss, and for those who are under 40 years of age. While Rogaine can slow balding for some men and women, it is not considered to be a cure for pattern baldness.
Hair Growth Stimulation
In addition to slowing the balding process, Rogaine can also be used to stimulate new hair growth. According to the Mayo Clinic, new hair may take several months to grow, even with regular Rogaine use. MedlinePlus reports that Rogaine must be used anywhere from four months to one year before any results are seen, and once a person stops using Rogaine, most of the new hair is often lost again. This may occur within a matter of months of stopping Rogaine use.
Sun Sensitivity
Because Rogaine is a solution applied to the scalp, scalp skin may become more sensitive to sunlight. MedlinePlus reports that this sensitivity may also occur over the entire body. Take extra precautions when venturing outdoors: wearing sunglasses, long sleeves and a hat in the sunshine is recommended by MedlinePlus. Using sunscreen with a high SPF can also help prevent sunburns while using Rogaine.
Dry Scalp
According to Medline Plus, other Rogaine side effects include an itchy, flaky scalp. The skin on the scalp may also become dry or scaly. However, the Mayo Clinic reports that itchy skin and rashes from Rogaine use are not very common.
Serious Side Effects
For some people, Rogaine use can be dangerous or even life-threatening. The Mayo Clinic reports that such effects of Rogaine use are a sign that too much of the medication has been absorbed into the body. This may result from applying too much Rogaine, or applying it more often than advised. MedlinePlus reports that serious side effects of Rogaine use that require medical attention include chest pain, blurry vision, swelling of the limbs or face, sudden unexpected weight gain and a rapid heartbeat. However, the Mayo Clinic reports that such serious side effects of Rogaine use are rare.
Is This an Emergency?
If you are experiencing serious medical symptoms, seek emergency treatment immediately.