Depression is a serious condition that affects millions of Americans. Many people believe that depression is "all in your head" and that it can be controlled without the attention of a physician. However, depression is caused by a disruption of chemicals in the brain, most notably serotonin. People suffer from depression because their brains do not make enough serotonin or cannot utilize the available serotonin. Depression can become a severe illness and can cause additional damage if left untreated.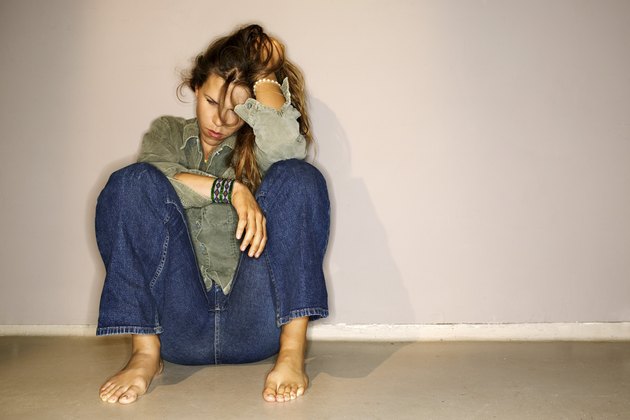 Chronic Mental Illness
Feeling blue for a few days is normal, and most people return to their usual mental states without treatment. For some, however, a triggering event such as the loss of a loved one or a chemical imbalance in the brain will cause depression. Most cases are mild for several weeks, and are easily treated with medications and talk therapy for six months or less; however, without treatment, depression may lead to severe chronic conditions. At this point, many medications and psychotherapy will no longer be efficient, and more severe treatment methods will need to be utilized. These cases often require electric shock treatment, which in itself is dangerous and painful. If still left untreated after the disease has become severe and chronic, other mental illnesses, such as bipolar disorder, generalized anxiety disorder and obsessive compulsive disorder, may develop.
Social Withdrawal
Untreated depression may eventually lead to social withdrawal. Serotonin is a chemical in the brain that causes people to feel happy and social. When this crucial chemical is out of balance in the brain, people will stop participating in activities that they used to enjoy. They may feel that these activities are not worth the effort of leaving their homes. It is not uncommon for people with untreated depression to stay in bed all day, miss days or even weeks of work, and stop participating in family activities. A common symptom is feeling the need to stay home with the blinds shut and curtains pulled, all while ignoring phone calls and emails from friends and loved ones.
Substance Abuse
Many people with depression feel that the disease does not need to be treated by a physician. In the United States, there is a social stigma concerning depression. It is seen as a personal weakness and not a viable medical condition. For this reason, many people turn to substance abuse to relieve their symptoms. Substance abuse can lead to alcoholism, drug addiction and misuse of prescription medication such as narcotic pain relievers. These behaviors can lead to liver damage, kidney failure and death by accidental overdose.
Cardiovascular Damage
When serotonin levels in the brain are imbalanced, it affects other brain chemicals and metabolites as well, which in turn affects the central nervous system's ability to function properly. This disrupts the body's natural "fight or flight" response, and the central nervous system randomly goes into "fight or flight" mode and releases extra adrenaline, which over time causes irreversible damage to the cardiovascular system. Depression also increases endothelial inflammation, which causes stress to arteries and blood vessels, and increases the stickiness of platelets, which in turn increases the risk for blood clots and heart attacks.
Increased Mortality
According to the Centers for Disease Control and Prevention, people who suffer from chronic, untreated depression may die up to 25 years earlier than the average lifespan. This is mainly due to chemical changes in the brain, long-term effects on the body due to these chemical changes, and substance abuse. Additionally, depression often causes thoughts or attempts of suicide.
Is This an Emergency?
If you are experiencing serious medical symptoms, seek emergency treatment immediately.