Hyperthyroidism is a medical condition caused by an overactive thyroid gland that releases too much thyroid hormone. In addition to many physical symptoms, hyperthyroidism can also result in many emotional symptoms. Fortunately, both the physical and emotional side effects usually dissipate when the thyroid issue is detected and properly treated.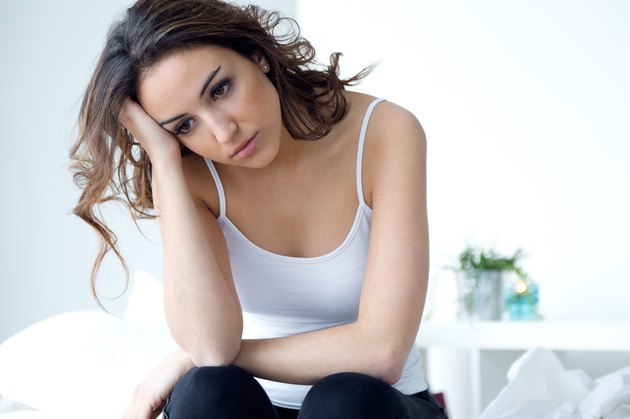 Anxiety
People with an overactive thyroid often display marked anxiety or tension. University of Florida Professor Richard Hall writes, in his article titled "Anxiety and Endocrine Disease," that the DMS-IV, a psychiatric diagnosis tool, defines hyperthyroidism as one of the most common endocrinological conditions associated with anxiety states.
Mood Swings
According to CSA.com, hyperthyroid patients exhibit mood swings similar to those found in bipolar patients, as their thyroid hormone levels "drive energy levels beyond their physical limits." The website points out that thyroid testing is routine for most psychiatric admissions when bipolar disorder is suspected. The Thyroid Foundation of Canada states that when thyroid hormone levels rise, mood swings are often accompanied by sleep and appetite changes, and can be marked by crying jags together with overwhelming anger or even rage.
Mental Fog
Difficulty concentrating or a short attention span is another common side effect associated with hyperthyroidism, according to a 2002 article written for the BBC website. Patients often report--or have the appearance of being in--a sort of mental fog.