Oscillococcinum is a homeopathic remedy made to treat the flu. Referred to as Oscillo, the short, easy-to-pronounce version, this remedy is used to treat aching of the body with upper respiratory symptoms, fever and coughing. It's available over the counter at grocery and health food stores. If taken early enough in the illness cycle just before the illness strikes, the medicine may prevent the onset of flu or a full-blown case from occurring, according to RxList.com. Its name is pronounced (o-sill-o-cox-see-num), and it's considered a natural, alternative therapy. The active ingredient is duck liver and heart and is listed in the FDA-supervised, Homeopathic Pharmacopia of the United States (HPUS) as anas barbariae hepatis et cordis extractum 200K. Oscillococcinum is considered safe if used according to directions, although it may have some side effects.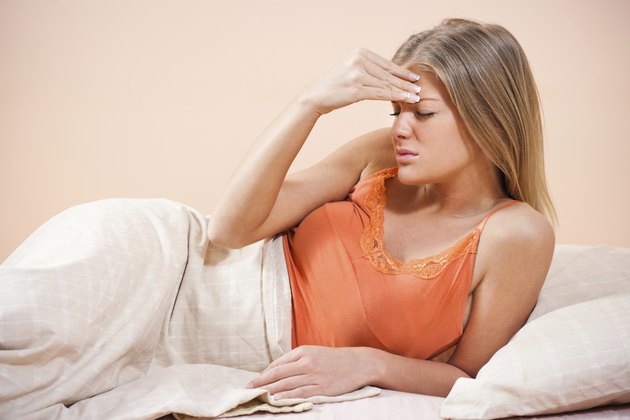 Headache
Headache symptoms may occur in some people taking Oscillococcinum. Pain in the back of the head on the occiput and where the skull meets the neck is most common. Lightheadedness, dizziness and fatigue have been reported.
Gastrointestinal
Mild stomach upset with nausea, diarrhea consisting of loose stools, queasiness and in some instances vomiting have been associated with too frequent use.
Temperature Sensitivity
Chilliness has been observed in people who have existing flu symptoms and took Oscillococcinum.
Cough and Skin
Coughing was aggravated temporarily upon initial dosing. A mild skin rash has been noted on some sensitive people.
Musculoskeletal
In patients with existing flu, muscle pains were worsened slightly upon initial dosing.
Allergic Reactions
If you experience swelling of the mouth, tongue, lips or throat, these are signs of an allergic reaction and anaphylaxis. Seek medical attention immediately and stop taking the remedy, RxList.com says.
Dosage
Package inserts for Ossilococcinum recommend taking one full vial out of a box of either three or six vials, and dissolving the contents in the mouth. Repeat this every six hours. RxList.com notes there is no guideline or evidence that this is the correct dosage for treating the flu. The user's age, health and other conditions predetermines the correct dose. Consult a homeopath for guidance regarding the correct dose needed for you or your children.
Is This an Emergency?
If you are experiencing serious medical symptoms, seek emergency treatment immediately.