Asthma is a chronic lung disease characterized by increased mucus production and airway narrowing due to swelling and tightening of the airway muscles. Inhalers are frequently used to manage asthma and treat attacks. They deliver medication directly into the lungs rather than traveling through the bloodstream. Medicines commonly found in inhalers are short-acting beta agonists, anticholinergics, long-acting beta agonists and corticosteroids.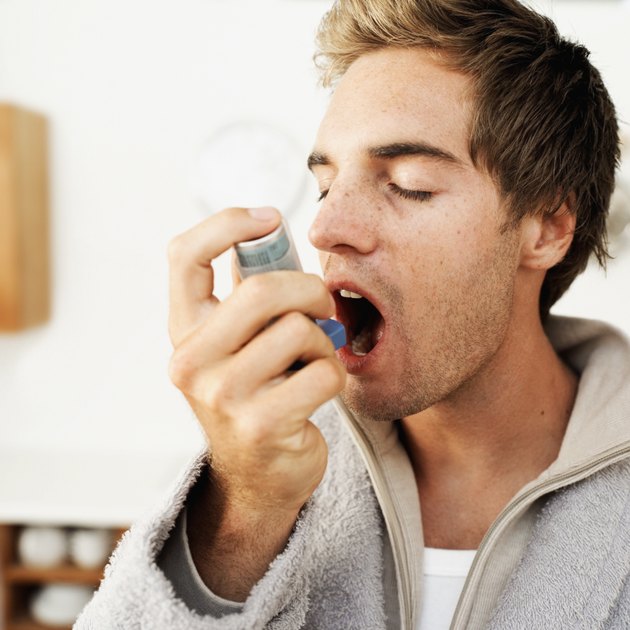 Rescue Inhalers
If you have asthma, you probably carry a rescue inhaler with you. Rescue inhalers contain a short-acting beta agonist, or SABA, an anticholinergic medication or a combination of both. Albuterol (Proventil, ProAir), pirbuterol (Maxair) and levalbuterol (Xopenex) are examples of SABA rescue inhaler medications. Ipratropium (Atrovent) is an anticholinergic rescue medicine. Several brands of combination rescue inhalers are available on the market.
These inhalers are called "rescue" inhalers because they contain the fastest acting of the asthma medications. After using a rescue inhaler, the muscles in your airway typically relax, relieving your symptoms.
Long-Acting Beta Agonists
Long-acting beta agonists -- often called LABA -- are daily medications used to control asthma. These medicines work by stimulating the muscles in your airway to open wider. This effect continues for approximately 12 hours. LABA medications do not relieve symptoms of a sudden asthma attack and should not be used as a rescue medication. They are frequently recommended in combination with inhaled corticosteroids. Examples include salmeterol (Serevent, Advair) and formoterol (Foradil).
Inhaled Corticosteroids
Inhaled corticosteroids are the preferred treatment to control inflammation in the airways of people with asthma, according to the United States National Asthma Education and Prevention Program. These medicines inhibit some of the exaggerate responses seen in the airway of people with asthma, and reduce inflammation and swelling. Inhaled corticosteroids are beneficial because they avoid potentially serious side effects oral steroids pose. Inhalers that contain these medicines are used for maintenance, or control, and should be used as prescribed. They do not relieve sudden symptoms. Examples include budesonide (Pulmicort), fluticasone (Flovent) and beclomethasone (QVAR).
Combination Inhalers
If you have asthma, you may have been prescribed what is called a combination inhaler, or combination therapy. This type of inhaler includes a LABA and an inhaled corticosteroid. These inhalers are used for asthma control and cannot be used as rescue medications. This type of combination therapy gets better results than merely taking more of either the LABA or the inhaled corticosteroid. The interaction between the medicines enhances the beneficial effects of each of the drugs. Some commonly prescribed combination inhalers include fluticasone/salmeterol (Advair), budesonide/formoterol (Symbicort) and mometasone/formoterol (Dulera).
Nonmedicinal Ingredients
The two main types of inhalers are a metered dose inhalers, or MDI, and a dry powder inhaler, or DPI. The metered dose inhaler has a propellant in which the ingredients are suspended. When the canister is sprayed, the propellant, along with the medicine, breaks into droplets you can inhale. Hydrofluoroalkane is the propellant used in MDIs. The dry powder inhalers contain no propellant. The medication is in powder form and relies on your inhalation power to draw it into your lungs.
Is This an Emergency?
If you are experiencing serious medical symptoms, seek emergency treatment immediately.