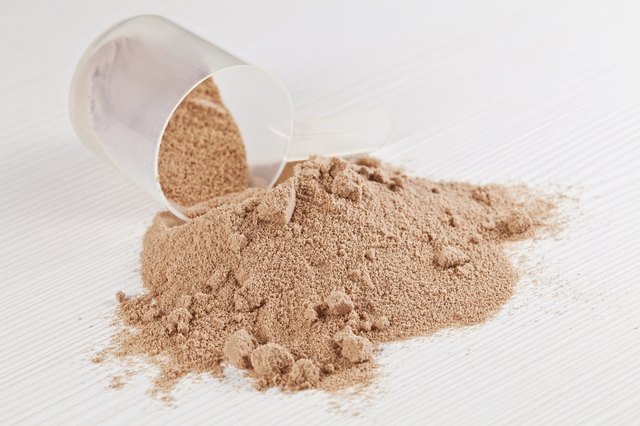 Isopure manufactures protein powder drink mixes that claim to help you build lean muscle tissue, last longer while working out and recover quicker. These whey protein-based powders often contain high concentrations of a variety of nutrients. Although your body needs these nutrients to function properly, the large amount in Isopure products may result in side effects. Don't use Isopure whey protein powder if you're pregnant, nursing or have a chronic medical condition, and never exceed the amount recommended per day. Ask your doctor before using any whey protein powder.
Side Effects of Sodium
A typical two-scoop serving of an Isopure protein powder may contain as much as 520 milligrams of sodium. That would fulfill over 22 percent of the average healthy adult's recommended daily sodium limit of 2,300 milligrams. Drink two Isopure protein shakes in one day, and your sodium intake will be at 45 percent of your advised limit. A diet high in sodium increases your risk of hypertension, stroke and heart disease.
Side Effects of Protein
Without adequate protein, your body can't build and repair muscle tissue. Too much, however, may cause weight gain, increase your risk of heart disease or gout and exacerbate symptoms in people with kidney problems. Men need approximately 56 grams daily, while women should have about 46 grams. Isopure whey protein powders contain between 20 to 53 grams of protein per serving. If you consume a few other protein sources throughout the day, you can easily be taking in more than you may need.
Side Effects of Copper
Several Isopure whey protein powder products, including Isopure Original and Isopure Low Carb, supply at least 50 percent of your recommended daily intake of copper per serving. If you eat plenty of copper-rich foods such as seafood, beans and nuts; use copper cookware; or live in a home that has copper pipes or is supplied by well water, adding Isopure beverages to your daily routine may supply you with too much of the mineral. A high intake of copper can cause dizziness, headaches, vomiting, diarrhea and stomach pain. In severe instances it can cause coma or heart problems.
Side Effects of Niacin
A single serving of most of Isopure's whey protein powders contains around 50 percent of your daily requirement of the B vitamin niacin. The National Institutes of Health cautions that mild niacin supplementation may cause the skin of your face, neck, chest and arms to feel warm and tingly and to appear red -- a condition known as flushing. Consuming too much from a combination of diet and Isopure drinks could lead to ulcers, liver damage, rashes and trouble with blood sugar regulation.
Side Effects of Calcium
Hypercalcemia, or abnormally high calcium levels in the blood, can be caused by a diet that supplies 2,000 or more milligrams of calcium each day. The condition is characterized by vomiting, nausea, constipation, muscle weakness, increased thirst, depression, bone pain and trouble thinking clearly. A number of Isopure whey protein powder mixes contain between 50 and 70 percent of the 1,000 milligrams of calcium advised for adults daily. Have more than one Isopure beverage a day or eat other high-calcium foods regularly, and you'll increase your risk of hypercalcemia.
Side Effects of Vitamin E
Vitamin E may act as a blood thinner. A high consumption can make you more likely to bleed excessively when injured, particularly if you're already taking a blood-thinning medication like clopidogrel or warfarin. Some Isopure whey protein powder products supply around 25 to 50 percent of your daily vitamin E requirement per day, but Isopure Endurance contains 100 percent of the RDA and hence may increase your risk of bleeding if your diet is rich in other vitamin E sources, including other dietary supplements or foods such as nuts, vegetable oils or vegetables like spinach or broccoli.