Nasal allergies, also known as allergic rhinitis, have symptoms including runny nose, itching, nasal stuffiness or congestion and sneezing. Though oral medications may be effective for some patients, they may cause undesirable side effects. Many patients experience greater relief with nasal sprays for allergies.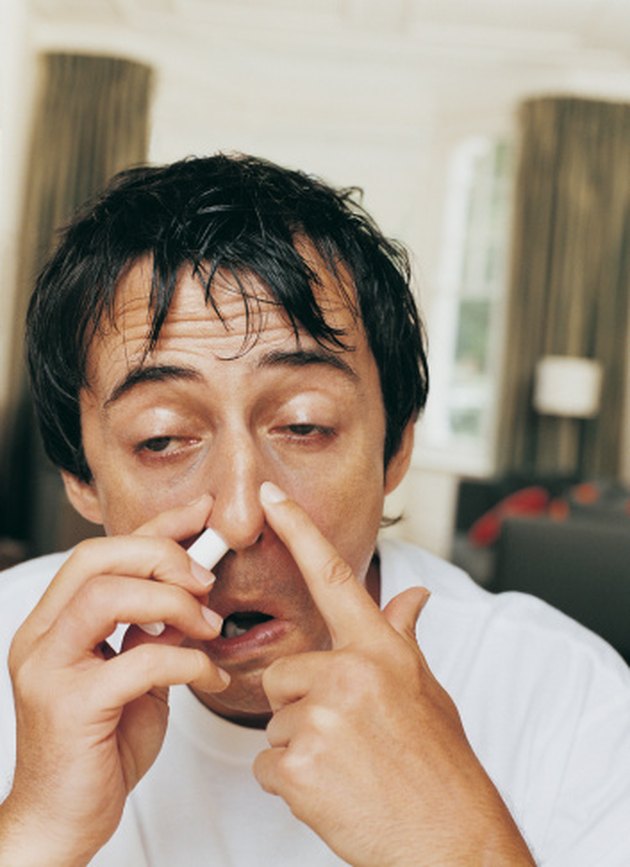 Saline
Non-medicated nasal sprays containing saline can be effective for the relief of mild allergy symptoms in the nose. They work by hydrating the tissues and allowing for mucous to be thinned and blown out into a facial tissue. This may relieve nasal congestion and itchiness as irritants are evacuated from the nasal passages. Patients with persistent or more severe allergies may need to advance to medicated sprays.
Anti-Inflammatory Steroids
Anti-inflammatory steroids, also called corticosteroids, reduce allergy symptoms by blocking mediators of inflammation. Nasal sprays such as fluticasone, triamcinolone and beclomethasone are approved to treat symptoms of allergic rhinitis in adults and children as young as age 2. They rarely cause significant side effects, but some patients may notice a slight burning or nasal irritation on application. In addition, use of nasal steroid sprays may increase the chance of developing thrush, a yeast infection in the mouth. Rinsing of the mouth following nasal steroid spray use may reduce the chance of developing this condition.
Cromolyn
Cromolyn sodium is an over-the-counter medication for allergic rhinitis known as a mast cell stabilizer. Cromolyn works by blocking the release of histamine from mast cells, resulting in decreased allergy symptoms. Cromolyn is not a treatment for current allergy symptoms; it works mainly as a preventive and often must be used continuously to be effective.
Anti-Histamines
Anti-histamine nasal sprays relieve allergy symptoms by blocking the action of histamine in the nasal passages. Anti-histamine nasal allergy sprays include the prescription nasal spray products azelastine and olapatadine, available over the counter. Most patients will not notice significant side effects, though some may experience minor irritation upon application.
Anti-Cholinergics
Ipratropium is approved in prescription nasal spray formulation to treat symptoms of allergic rhinitis. It works as an anti-cholinergic by blocking cholinergic receptors that allow mucous secretion. It may not be effective for itching but it can significantly relieve runny nose.
Decongestants
Nasal decongestant sprays such as oxymetazoline and phenylephrine are available over the counter to temporarily relieve nasal congestion or stuffiness. Nasal decongestant sprays should not be used for more than three days without consulting a physician, because they may cause a condition known as rebound vasodilation. Rebound vasodilation will cause the nasal passages to become more congested after the medication wears off, requiring repeated application. Some patients report feeling the need to use decongestant nasal sprays for months because of the rebound effect.
Is This an Emergency?
If you are experiencing serious medical symptoms, seek emergency treatment immediately.