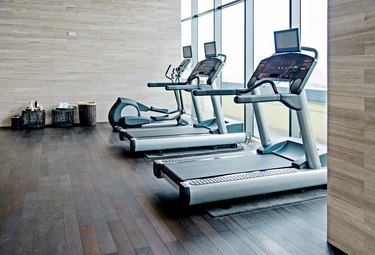 If you're tired of your at-home gym equipment taking up space in your basement, you're probably looking to donate exercise equipment or need exercise equipment removal. Many people buy equipment with the best intentions but end up seldom using it, choosing the gym, classes or outdoor exercise instead. It's possible to free up space in your home if you donate exercise equipment to reliable charities, sell unused equipment or opt for exercise equipment removal.
Donate Exercise Equipment
If that treadmill or elliptical still works, consider donating it to a reputable charity like Goodwill, the Salvation Army or Fitness 4 Charity. According to Fitness 4 Charity, the used fitness equipment the company collects goes to economically disadvantaged people in places like schools, police stations and hospitals.
If you are donating to a charity with a storefront like Goodwill or the Salvation Army, make sure to call and ask your location if they can accept your donation. Schedule a time with the location to drop off your equipment. Some donations can be claimed as a tax deduction, so get and keep a receipt.
Tip
If your equipment still works, try donating to Goodwill, the Salvation Army or Fitness 4 Charity. Don't forget to get and keep a receipt in case your donation is tax deductible.
Choose Exercise Equipment Removal
Sometimes, equipment is in disrepair or too old to give away or sell — that's when exercise equipment removal becomes your best option. If you have access to removal tools and can move old equipment safely, you can dispose of equipment at your local landfill. Check what days and times your closest landfill allows drop-offs.
If you are unable to move the equipment yourself or would just rather have a professional handle it, try a junk removal company, like LoadUp or 1-800-GOT-JUNK. These companies will schedule a pickup for your equipment and handle disposal for a fee.
Trade With a Friend
According to the American Council on Exercise, home-gym equipment is of higher quality and takes up less space than ever before. The real challenge is choosing the best option for you. It's understandable then that the equipment you bought turns out not to be your ideal workout.
Just because you don't use your at-home elliptical doesn't mean a friend wouldn't, though. Ask around to see if someone you know might want the equipment. It could be possible to set up a trade for equipment you would rather have by using social media apps to post about your equipment.
Sell Exercise Equipment
There are many ways to sell old equipment if you do not want to donate exercise equipment or choose exercise equipment removal. Besides selling equipment at a yard sale, you can use Facebook Marketplace, a pawn shop, eBay or Craigslist to sell equipment you no longer want. If you do not want to or are unable to handle moving the equipment, a site like BigFitness, which handles removal and on-the-spot payment, is a good option.
Make sure to clean and test your equipment before attempting to sell it. It is also important to take clear, accurate photos of the equipment you have and write an easily understandable description. Compare prices on similar equipment listings to ensure that you are asking a realistic price for your equipment.