Someone who is notably overweight can lose 15 pounds in one month, or almost 4 pounds a week. However, that type of rapid weight loss is difficult to achieve, and you're likely to regain the pounds quickly after you return to more normal eating habits.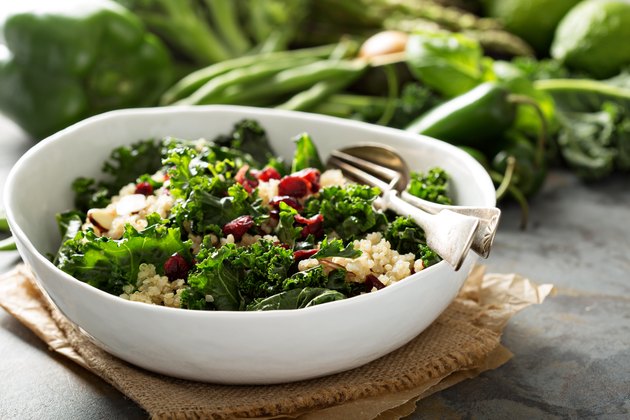 You'll have better success if you lose 15 pounds over two, or even three, months. But if you're determined to give it a try, your first step is to calculate your daily goals to see if you can reduce calories enough to make it a reality.
Determine Daily Calorie Deficit
You've heard it before, but the complexities of weight loss really do boil down to consuming fewer calories than you burn. Creating this type of calorie deficit forces your body to burn stored fat for energy. The first step toward weight loss begins by determining the number of calories it takes to maintain your current weight.
The easiest way is to use an online calculator, such as the one on the Baylor College of Medicine website, which computes your body mass index, or BMI, and daily maintenance calories after you type in your gender, height, weight, age and activity level. The body mass index indicates whether you are healthy, overfat or obese.
If your BMI comes in at 25 or less, you're already a healthy weight, which means you probably don't need to lose 15 pounds. If you still want to, know it will be much harder for you to drop 15 pounds in a month than it is for people who are overweight or obese.
You'll need to eliminate 3,500 calories to lose 1 pound of weight, so dropping 15 pounds requires a huge 52,500-calorie deficit. This amounts to a deficit of about 1, 750 calories per day, every day, for 30 days.
Healthy Weight-Loss Plan
The real question is whether you can cut 1,750 calories out of your daily diet and still consume enough calories to keep your energy levels up and your nutrient intake sufficient. Take your daily maintenance calories and subtract 1,750 to see how many calories you can consume each day to lose 15 pounds in a month. If it puts you below 1,200 calories as a woman or 1,800 as a man, you'll need to reconsider your goal.
If your calorie level after you subtract the 1,750 is below those minimum numbers, then you should not lose weight at the rate of 15 pounds in one month. Lower calorie levels don't provide enough food for you to get optimal amounts of nutrients. Plus, when you consume too few calories, your metabolism slows to a crawl, which ruins your weight loss efforts.
Most people can't subtract that many calories safely, so adjust your plan to lose weight at the gradual and healthy rate of 1 to 2 pounds a week by subtracting only 500 to 1,000 calories per day. If you lose just under 2 pounds a week, it will take you two months to lose the 15 pounds.
You may increase your activity level to increase your daily calorie deficit, but keep in mind that it may take 90 minutes or more per day of moderate-intensity cardio — such as jogging or cycling — to achieve your goal.
Plan a Balanced Diet to Lose 15 Pounds
If you eat whole foods and avoid processed, refined foods, you won't have to count calories or put a lot of time and effort into a meal plan. Make each meal contain 4 to 6 ounces of lean protein and ample amounts of leafy, green vegetables.
Have a small serving of whole grains or starchy vegetables, such as sweet potatoes, at one or two meals and a thumb-sized serving of heart-health unsaturated fat from avocado, olive oil, or nuts, too.
Lean proteins include fish, eggs, skinless poultry and lean cuts of meat such as tenderloin and sirloin, as well as vegetarian sources such as tofu and beans. Low-fat dairy products like milk and yogurt also contain protein.
Minimize added sugars, refined carbohydrates from white bread and pasta, and saturated fat. Empty calories from soda, fancy coffee beverages, alcohol and candy undermine your calorie-deficit goals.