Metoprolol 25 milligrams is the generic name of Lopressor and Toprol XL. It is an antihypertensive medication, which means its primary function is to lower your high blood pressure. Metoprolol is a beta-blocker that effectively reduces the beating rate of your heart to reduce the pressure on it. The medicine, at 25 mg doses, may be prescribed also in the treatment of heart failure and following a heart attack. That amount typically is the starting dose for hypertension treatment, too. The Mayo Clinic states that all the more common side effects of the drug are serious and that you should consult your physician immediately if you get any of them.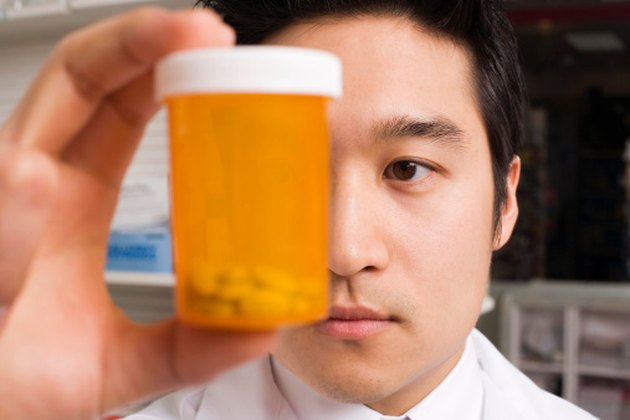 Weakness and Tiredness
Taking metoprolol 25 mg tablets can cause some more common serious side effects that affect how your body functions. This medication changes how your heart beats, so it can have a range of effects. It can, for example, make you feel very tired, even if you have gotten enough rest and have not engaged in strenuous activities. This also can extend to an overall feeling of weakness throughout your body.
Dizziness
Metoprolol 25 mg also can cause, as a common side effect, a sudden drop in blood pressure, particularly when you stand suddenly from sitting or lying down. This can cause you to become dizzy, feel lightheaded or feel like you are going to faint.
Heart Problems
Because metoprolol 25 mg works to change your heart rate, it can cause common serious side effects in how your heart beats. The medication slows down your heartbeat as part of its function, but it can make your heart rate too low, resulting in bradycardia. Bradycardia means your heart beats fewer than 60 times per minute; the typical heart rate at rest ranges between 60 and 100 beats each minute. This can make you feel fatigued. Another common serious side effect of metoprolol 25 mg is arrhythmia or an irregular heartbeat. Technically, bradycardia also is an arrhythmia. An irregular heartbeat also may pertain to your heart "skipping" a beat or just not beating regularly. You also may experience discomfort or pain in your chest while taking the drug.
Visual and Breathing Problems
When you take metoprolol, you also may experience a problem focusing your vision. Objects near or far--or both--may be blurry, and you may not be able to bring them into focus. Another potential common side effect of the drug is feeling short of breath: you cannot seem to get enough air into your lungs to be comfortable.