Drugs sometimes have side effects that linger for days or weeks after discontinuation. Vancomycin, a potent antibiotic, has long-term side effects that persist and may require medical or drug intervention for resolution; some effects may be irreversible. Long-term side effects of vancomycin can occur at anytime; however, they are more common in patients receiving high doses, older patients, patients with kidney problems, patients on extended therapy and those already taking medication that causes similar side effects.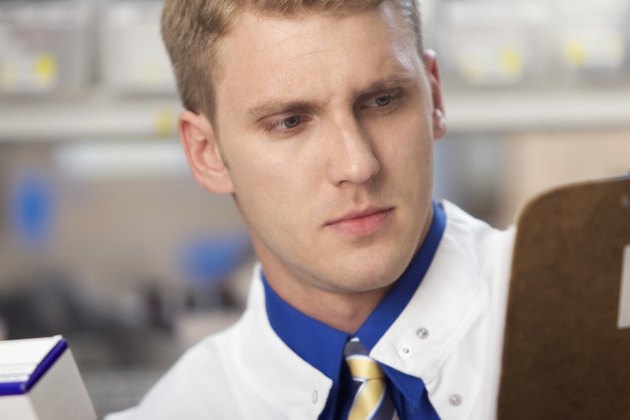 Loss of Hearing
Vancomycin sometimes damages the auditory nerves, causing long-term irreversible loss of hearing. For this reason, the physician, infusion pharmacist or nurse will routinely assess hearing function to ensure that hearing is maintained.
Hearing evaluation is highly recommended in the elderly population because Antimicrobial Agents and Chemotherapy journal reports that high-frequency hearing loss is more common in patients older than 53 years of age. Hearing loss is also common in patients concomitantly taking other medications that potentially cause auditory disturbances and patients on excessive doses of vancomycin.
Liver Abnormalities
Rarely, vancomycin affects the liver, causing abnormal liver function. This manifests as high liver enzyme levels, as shown through blood work. Once vancomycin is discontinued, the liver levels usually return back to normal over a couple of days or weeks and the liver regains its usual function.
Reduction in White Blood Cell Count
Vancomycin can cause a decrease in the white blood cells, making the body more prone to infections. The white blood cell count usually returns back to normal over a period of time after the drug is discontinued, but in certain cases, the levels may becomes critically low, requiring an infusion of a cell-boosting medication to replenish the white blood cells.
Damage to Kidney
Another long-term and potentially irreversible side effect of vancomycin is kidney damage. Vancomycin can be toxic and, therefore, may lead to kidney damage, abnormal kidney function and irreversible kidney failure. The tendency to cause kidney damage is more pronounced when vancomycin is administered in higher than normal doses, to patients with pre-existing kidney problems, the elderly population or those taking another medication that is equally toxic to the kidney. The physician, infusion pharmacist and nurse will monitor weekly or biweekly blood work to keep track of the drug levels in the body, as well as the kidney function. Once kidney compromise is indicated, vancomycin may be put on hold for a couple of doses and then restarted at a lower dose or the same dose taken less frequently. The kidney function will normalize over a couple of weeks, but in some situations, the damage is irreparable.