Claritin, a brand name of loratadine, is an over-the-counter (OTC) medication used for the relief of symptoms of seasonal allergies. It is also used to treat chronic itching of unknown cause. This drug is classified as an antihistamine. Claritin works by blocking the binding of histamine in the body; histamine is the chemical that enters the body and produces the symptoms of allergies. The medication can produce many common, non-serious side effects. Discuss any major concerns with your physician before you start drug therapy.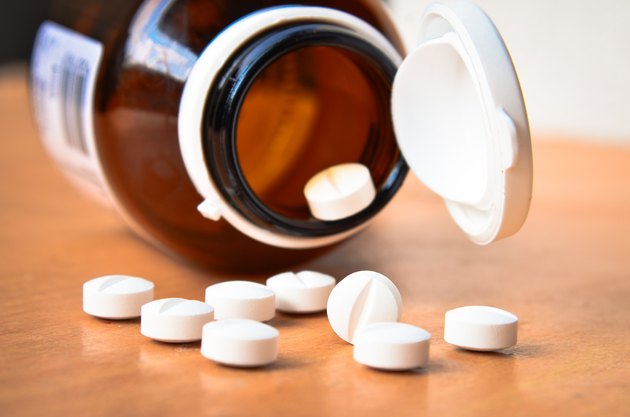 Drowsiness
Drowsiness may occur with the use of Claritin in about 8 percent of people. Be cautious when driving a vehicle or performing any activities that require alertness. It may also affect how you function at the workplace. "Pharmacotherapy: A Pathophysiologic Approach" states that many individual experience sleeplessness due to the symptoms of allergies. In these individuals, Claritin may be useful. Discuss any concerns or questions with your physician. According to the "Drug Information Handbook," fatigue may be seen in about 4 percent of people taking Claritin. If this effect becomes severe or persistent, contact your health care provider.
Headache
Claritin has the potential to cause headache in about 12 percent of people. A pain reliever, such as acetaminophen (Tylenol) or ibuprofen (Advil), may be taken; ask a pharmacist or doctor which is the best medication for you. This side effect should begin to diminish as you get used to the new medication. If the headache becomes severe or persistent, contact your doctor right away.
Drying Effects
The drying effects seen with Claritin are due to the actions it is exerting on the body, but may cause adverse effects. "Pharmacotherapy: A Pathophysiologic Approach" reports that the drying side effects of Claritin include difficulty voiding urine, constipation and dry mouth. Difficulty voiding urine and constipation are normally seen in a small percentage of people; however, in individuals who have a higher risk of urinary retention, such as elderly men, Claritin should be avoided or used with caution. Drink plenty of fluids and consume an adequate amount of fiber to avoid constipation. Dry mouth is seen more often and occurs in about 3 percent of people. Chewing gum or sucking on hard candy may help with this side effect.