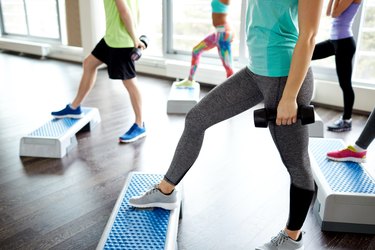 Step aerobics has been around since the late 1980s. It differs from other forms of aerobic exercise because it involves use of an elevated platform, or aerobic step. The height can be adjusted to meet individual needs by inserting risers under the step. Step aerobics -- the brainchild of instructor Gin Miller -- enables you to elevate your heart rate more quickly than traditional low-impact aerobics and enhances lower body shaping. The best step aerobic workout DVDs are effective, safe, fun and led by a knowledgeable, motivating instructor.
Gin Miller's Everybody Steps
This beginner level workout features basic choreography. Gin Miller, the inventor of step aerobics, leads this video. In an article appearing on the IDEA Health and Fitness Association website, Miller says "Everbody Steps" is a top seller. It's a solid, complete introduction to step workouts. You burn fat while learning the step basics from Miller, an IDEA Instructor of the Year with 12 years of step experience. Miller makes the moves understandable and explains common step-aerobic terminology in laymen's terms. The video has six distinct segments that allow you to advance at your own pace and stop when you want. The workout begins with the simplest steps and the easiest patterns and progresses into classic step-aerobic combinations, such as straddles, turns and transitions.
Patrick Goudeau's Step Up
Editors of "Fitness" magazine picked this workout DVD as the "Best for Burning Fat." This 60-minute workout is designed for advanced exercisers and features complex but low-impact step combinations. Though the pace and patterns are very challenging, Goudeau does everything he can to help you keep pace. His personality makes this an enjoyable, fun workout. It begins with, and repeats, an even-rhythm, eight-count base move to give you a solid base for the underlying combo. Then he layers the choreography, adding moves such as turns, pivots and mambos. Easy-to-follow moves are intermixed with complex foot patterns. Fortunately, there's always one person on the video demonstrating an easier, modified variation.
Kari Anderson's Hot Steps
Designed for intermediate to advanced exercisers, this workout DVD includes over 40 minutes of intense, heart pumping mixed-impact step aerobics. Kari Anderson leads this fast-paced workout that includes her all-time favorite combinations. The moves are complex and somewhat dancey but Anderson's cuing is excellent. It is both energizing and challenging. Each combination is taught with variations for the original pattern. For example, you can stick with the basic V-step or progress as it advances into a double turn followed by a V-step up on the step. According to "Better Homes and Gardens" February 2005 workout DVD reviews, this workout includes fun, club-style music with a Latin flavor. It provides variety and challenge to step-aerobics devotees that are bored with the typical step-up, step-down combinations.