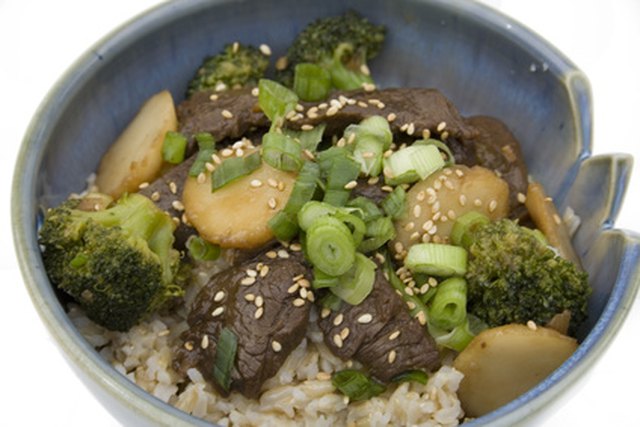 "You have cancer" are three words that no one wants to hear. With advances in treatment, cancer isn't necessarily a death sentence but it does bring tough times and often many health challenges that the patient has to overcome. Cancer patients often feel powerless, as if they cannot do anything to control the cancer, but the reality is that patients have a big impact on their own health. According to the Cancer Cure Foundation, getting proper nutrition can help to reduce side effects of chemotherapy and other cancer treatments, such as nausea, weight loss and vomiting. It can also boost the immune system so that the cancer patient is better able to fight the cancer and prevent infections more effectively.
Meats
Meats like beef, chicken and turkey are good choices for cancer patients because of the protein and iron levels they contain. According to the National Institutes of Health, Office of Dietary Supplements, meats, particularly red meat, contains heme iron, the type of iron that is best absorbed by the body. Iron carries oxygen through the bloodstream to the cells that need it, thereby reducing fatigue, helping to prevent anemia and strengthening the immune system. The protein found in meats such as beef and chicken also helps the body fight off infection and heal itself, according to the website ChemoCare.com.
Vegetables
The American Cancer Society states that the antioxidants found in vegetables like broccoli and spinach help to fight cancer cells, while providing important vitamins and minerals. Cruciferous vegetables especially, such as broccoli and cabbage, contain high levels of cancer-fighting antioxidants. Though the antioxidants found in vegetables cannot actually cure cancer, it is possible that they may speed up healing and make it easier to fight cancer cells. Cancer patients should get a variety of vegetables, such as sweet potatoes, bell peppers, cabbage, broccoli and carrots, in their diet every day.
Fruits
Just like vegetables, fruits provide a variety of important nutrients that should not be missed by the cancer patient. The American Cancer Society explains that fruits like oranges, papaya, blueberries and mangoes have antioxidants that help to strengthen the immune system and fight off cancer cells. The beta-carotene found in certain fruits like apricots, mangoes and cherries also reduces cancer risk, according to the American Cancer Society. Getting the fiber, carbohydrates, vitamins and minerals that are available in the many different types of fruits can help a cancer patient feel at her best.
Whole grains
ChemoCare.com recommends eating two to three servings of whole grains, such as brown rice, every day. Whole grains like brown rice and 100-percent whole wheat bread or pasta contain carbohydrates and B vitamins that help enhance energy levels. Cancer patients often feel tired or weak because of chemotherapy or simply from fighting cancer cells, but whole grains can help cancer patients feel better.