Bruises are hardly unusual in children as they tend to fall, run into each other and bump the furniture regularly. But bruising that occurs spontaneously or seems out of proportion to an injury should be evaluated. Many conditions and diseases can cause easy bruising in children. Some are temporary and pose no long-term health threat while others require ongoing medical management. See your doctor for an accurate diagnosis if your child experiences easy bruising.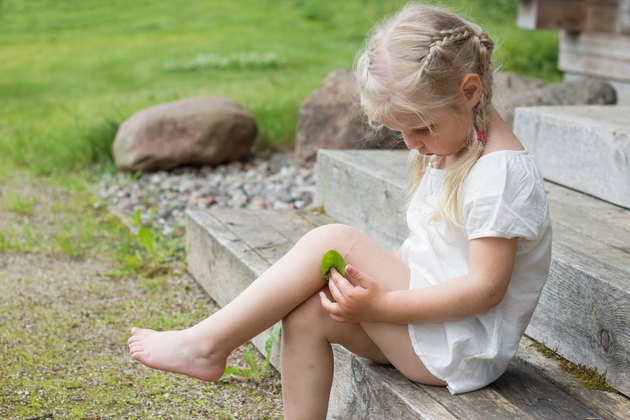 Immune Thrombocytopenia
Platelets, or thrombocytes, are cellular fragments that circulate in the blood and stick together at the site of an injury to stop bleeding. With immune thrombocytopenia (ITP), the blood platelet level is low while other blood cell levels are normal in an otherwise healthy child. The reduced number of platelets frequently leads to easy bruising and possibly a tendency to bleed more easily and longer than normal. Childhood ITP most commonly develops after a viral infection, which is thought to trigger a misguided immune response that leads to increased platelet destruction, decreased production or both.
In most children with ITP, the platelet count returns to normal within 6 months without complications. Many doctors do not treat the condition with medication unless the child experiences serious bleeding, which rarely occurs. During the watchful waiting period, it's important to take precautions -- such as avoiding contact sports and protecting the head with a helmet -- to prevent injuries that might lead to serious internal bleeding.
Genetic Bleeding Disorders
Platelets work hand-in-hand with 13 proteins called clotting factors to stop bleeding after an injury. Children with genetic clotting factor deficiencies typically exhibit easy bruising and bleeding of varying severity. The most common of these disorders is von Willebrand disease, which affects approximately 1 percent of the US population, according to the Centers for Disease Control and Prevention. The disease affects males and females equally, and symptoms are usually mild to moderate.
Hemophilia is much less common than von Willebrand disease and almost exclusively affects males. Most people with hemophilia experience moderate to severe symptoms, including bruising and spontaneous bleeding. Most children with hemophilia receive clotting factor infusions to prevent bleeding into the joints and other areas of the body.
Other genetic clotting disorders have been identified but are extremely rare. Blood tests are used to distinguish among the different types of these bleeding disorders.
Bone Marrow Disorders
Platelets are produced in the bone marrow and released into the bloodstream. Various diseases can disrupt normal platelet production resulting in a low blood level with easy bruising and bleeding. Leukemia, which is the most common childhood cancer, is a leading concern. With this disease, white blood cells in the bone marrow grow out of control and crowd out platelet-producing cells. Leukemia most commonly affects children aged 2 to 4 but can affect children of any age. In addition to bruising, other symptoms might include fatigue, fever, paleness, headaches, dizziness and shortness of breath.
Other conditions and disorders can reduce bone marrow platelet production, such as:
Vitamin B12 and/or folate deficiency

Bone marrow failure syndromes
Inherited platelet disorders
Other Causes
Easy bruising in children can occur due to a variety of other causes. In some cases, other signs and symptoms can help your child's doctor determine whether these are possible considerations. Examples of these causes include:
Certain medications, such as corticosteroids, ibuprofen, penicillin and cephalosporins
Vitamin C or vitamin K deficiency
Liver or kidney disease
Certain infections, such as bacterial meningitis and E. coli food poisoning
Next Steps and Precautions
See your child's healthcare provider as soon as possible if you notice unexplained or unusual bruising. While the reason might not be serious, it's best not to take any chances. Be aware that one cause healthcare providers are legally and professionally obligated to consider is intentional injury. So don't be surprised -- or offended -- if your doctor asks questions about your child's care providers, and living and school situations.
Call your doctor right away or seek urgent medical care if your child develops any warning signs or symptoms, including:
High fever

Rash
Neck stiffness
Confusion, agitation or drowsiness
Dizziness or fainting
Severe or worsening abdominal pain
Reviewed and revised by: Tina M. St. John, M.D.