Chamomile tea, a traditional drink mild enough for small children in small quantities, is nonetheless powerful enough to treat a number of maladies, from insomnia to stomach pain. Chamomile can also have potentially serious side effects and medicine interactions. The University of Maryland Medical Center (UMMC) notes that while both German and Roman chamomile contain useful properties, German chamomile is slightly stronger and has been researched more thoroughly.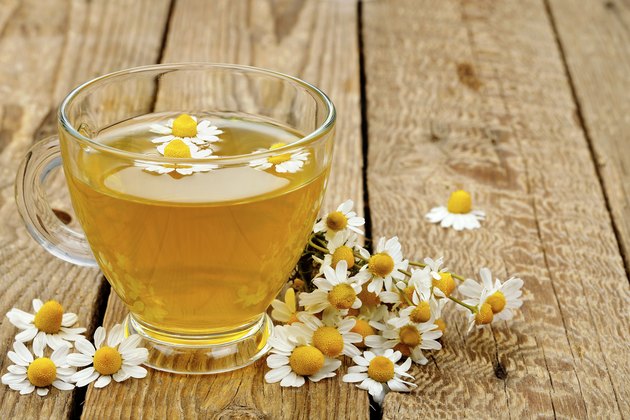 Insomnia and Relaxant
The UMMC notes that most people turn to chamomile tea for its nerve-soothing and sedative qualities. While chamomile's effectiveness in humans hasn't been scientifically proven, animal studies confirm that small amounts seem to relieve anxiety, while larger quantities aid sleep. UMMC suggests drinking 3 to 4 cups of chamomile tea each day for both sleeplessness and anxiety. Use either one teabag or 2 to 3 tsp. of loose tea for every cup of water. The UMMC states pregnant and nursing women should not consume the tea, which could increase the risk of miscarriage.
Immunity Booster
A 2005 study published in the American Chemical Society's "Journal of Agricultural and Food Chemistry" found that volunteers who consumed 5 cups of chamomile tea for two weeks showed an increased level of hippurate. Hippurate is associated with the botanical phenolics that boost immunity by fighting bacteria. This may explain chamomile tea's reputation for effectiveness in fighting colds and viruses, notes the American Chemical Society.
Menstrual Cramps and Tension
The same 2005 American Chemical Society study also found an increased level of the amino acid glycine in the test subjects' systems after drinking chamomile tea for two weeks. Glycine helps reduce muscle spasms and relax nerves, including the uterine cramps and nervous tension related to the menstrual cycle. Because chamomile may also have an estrogenic effect, women with hormone-dependent tumors such as breast or uterine cancer shouldn't drink it without talking first to their physician, the UMMC warns.
Infant Illness
Lukewarm chamomile tea is a traditional home remedy for infants and children suffering from colic, diarrhea and fever. The American Academy of Family Physicians confirms that chamomile tea may help soothe babies with colic, but that it's helpful to show your pediatrician the tea's label to ensure that the dose isn't too strong. Because chamomile relaxes the muscles, it appears to soothe upset stomach and diarrhea. The UMMC recommends that children under 5 take no more than 1/2 cup of tea a day, while babies with colic should be given no more than 1 to 2 oz. per day. Make sure the liquid cools before giving it to children or babies.
Skin Conditions
Topical or oral use of chamomile tea may help soothe such skin problems as eczema, contact dermatitis and diaper rash, although the benefits haven't been scientifically proven. Unfortunately, some patients may unwittingly make their condition worse by compounding the original skin problem with an allergic reaction to chamomile, warns the UMMC. If you have allergies to asters, daisies, chrysanthemums, or ragweed, you might also be allergic to chamomile.
Mouth Sores
Although treating the kind of mouth sores known as aphthous ulcers with chamomile tea falls under the "folk remedy/needs more research" category, the American Academy of Family Physicians says that a blend of chamomile and sage teas "may be helpful when used four to six times a day" as a mouthwash.