Fitness videos are a smart way to get your exercise in the privacy of your home. Exercise will help you burn a lot of calories. The more calories you burn, the more weight you lose. There are a wide variety of exercise videos to suit different personalities. Some people may prefer dance-inspired workouts, while others may like martial arts. Finding a workout that you love will ensure that you stick to your weight loss program and get the results that you want. Please consult your physician before beginning any exercise program.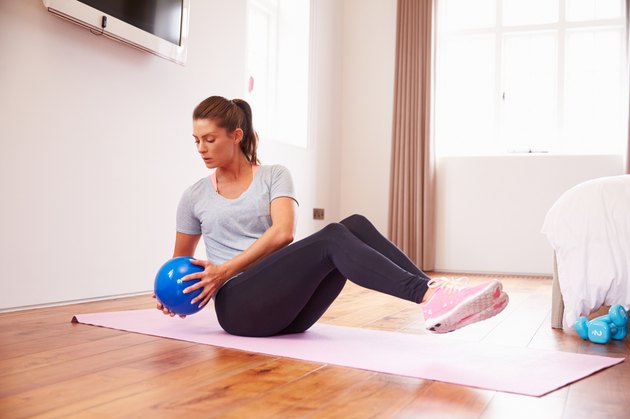 Tae Bo Amped
"Tae Bo Amped" comes as a set of five different videos, so you get a variety of workouts to do. Creator and instructor Billy Blanks is tough, but motivating. He uses a combination of martial arts and military-style boot camp moves to keep your heart pumping. You will learn proper form for all of the moves throughout all of the videos.
Cathe Friedrich's Cardio Core Circuit
This tough workout is based on interval training, and you will be performing strength, cardio and core moves. The workout will keep you engaged and challenged the entire time. This video is fast-paced, and should be for the more advanced exerciser.
Kelly Coffey's 30 Min. to Fitness: Bootcamp
This 30-minute workout focuses on interval training. You will alternate from strength moves to cardio constantly through the workout. This will ensure that you are keeping your heart rate up, burning calories, and toning your muscles. This also helps to prevent boredom. Instructor Kelly Coffey's upbeat personality keeps exercisers engaged.
Hip-Hop Abs
Instructor Shaun T. has created a fun dance video designed to help you burn fat and sculpt a toned torso. Using some simple hip-hop moves, Shaun teaches routines one step at a time. At the end, you will put them all together and dance through the final routine several times. The high energy among the exercisers in the video will keep you motivated and smiling throughout your workout.
Jillian Michaels: No More Trouble Zones
Jillian Michaels, from NBC's "The Biggest Loser," is a tough instructor. This workout is designed to help you lose weight in the abs, backs of the arms, legs and butt. The moves are tough, but Jillian encourages you to do your best. Throughout the video, expect to learn about proper form from the instructor. There are modifications shown for less advanced and more advanced exercisers.