Platelets are microscopic cell fragments found in your blood that help to form blood clots. If your platelets are too low, you may be at risk of bleeding and require a platelet transfusion. Platelet transfusions are generally safe, but they may be associated with minor reactions such as rash or fever or more serious complications such as anaphylaxis, heart and lung dysfunction or infection. When receiving a platelet transfusion, you should be aware of several symptoms that could indicate a transfusion complication is occurring.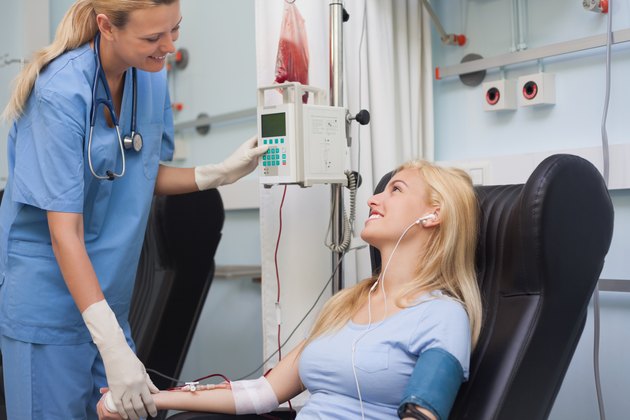 Allergic Reactions
Allergic reactions can occur in response to proteins found in transfused platelet units. Mild allergic reactions occur in approximately 1 in 100 transfusions and typically consist of a rash or itching sensation, which is usually easily treated by temporarily stopping the transfusion and taking an antihistamine medication. A more serious allergic reaction, anaphylaxis, occurs in approximately 1 in 40,000 transfusions. Anaphylaxis is characterized by difficulty breathing and shock, which may progress to loss of consciousness and death. In most cases it is reversible if caught early and treated aggressively with injection medications.
Fever
Fever is a relatively common complication of platelet transfusion, occurring in up to 1 in 10 transfusions. In most cases, the fever results from inflammatory proteins called cytokines or from an immune response directed against white blood cells, both of which may be incidentally transfused along with platelets. In these cases, a fever is nothing to worry about and will resolve with anti-fever medication and slowing of the transfusion. Rarely, fever may indicate bacterial contamination and prompt a workup for serious bacterial infection.
Infection
Like all blood products, platelets are screened extensively for infectious diseases before use. However, they may still transmit an infection to a transfused patient. These infections include various bacteria, as well as viruses such as human immunodeficiency virus, hepatitis B and hepatitis C. Bacterial contamination may occur in as many as 1 in several thousand platelet transfusions and can lead to serious, or even fatal, infections in about 1 in every 100,000 people. The risk of viral infection is between 1 in many hundred thousand to 1 in millions, depending on the virus transmitted.
Transfusion-Associated Lung Injury
Platelet transfusions can result in transfusion-associated lung injury, or TRALI, the principal symptom of which is shortness of breath. TRALI's cause is incompletely understood, but it may be related to biologically active substances incidentally transfused along with some platelet transfusions. These substances cause leaking of fluid and inflammatory mediators into areas of the lung, interfering with oxygen exchange; in serious cases, these injuries can be fatal. TRALI's incidence is debated but is likely somewhere between 1 in 1,500 to 1 in several tens of thousands of transfusions. In most cases, administering oxygen and stopping the transfusion is all that needs to be done.
Circulatory Overload
Each unit of transfused platelets adds a small amount of volume to your circulating blood. Although transfusion-associated circulatory overload, or TACO, is unlikely to occur with a single transfusion of platelets, if you require multiple transfusions or transfusions with multiple other blood products, TACO becomes more likely. The principal symptom of TACO is shortness of breath, and it is treated by stopping the transfusion, restricting fluid intake and giving diuretics to facilitate fluid loss by the kidneys.
Special Cases
Two groups of patients deserve special mention. Pregnant women who are Rh-factor negative should receive platelets from Rh-factor negative donors. If they receive platelets from Rh-positive donors, they may develop antibodies against the Rh-factor, which can cause serious complications for the fetus in subsequent pregnancies. Immunosuppressed patients may also be at special risk from platelet transfusion; they may develop graft-versus-host disease, a potentially fatal disorder that occurs when donor white blood cells are transfused into an immunocompromised recipient. This problem can be avoided by irradiating donor platelets before transfusion.
Warning Signs
Complications of platelet transfusions may present with any of the following symptoms: fever, shaking chills, rash, itching, swelling of the tongue or throat, shortness of breath, feeling faint or lightheaded, back pain, anxiety, nausea, vomiting or headache. If you develop one of these symptoms while receiving a platelet transfusion, let your nurse or doctor know.