The Mycoplasma genus of bacteria consists of a number of different species. According to the Mayo Clinic, Mycoplasma pneumoniae is one of the species of bacteria responsible for a mild form of the lung infection pneumonia. People infected with the Mycoplasma bacteria may also experience sore throat or bronchitis.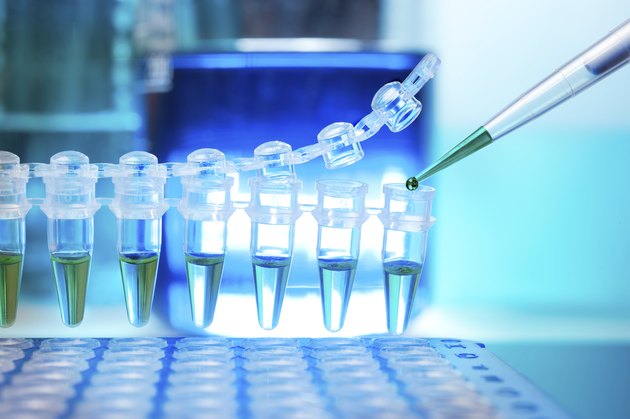 Classification
The Mycoplasma genus of bacteria are grouped in the phylum Tenericutes, class Mollicutes, order Mycoplasmatales and family Mycoplasmataceae. All members of Mollicutes lack a cell wall and have a characteristically small genome. The genome, which contains all the DNA of the organism, codes for proteins that have varying functions.
Lack of Cell Wall
The most striking characteristic of the bacteria in the genus Mycoplasma is the lack of a cell wall. Cell walls in bacteria help to give the cell structure. Survival of Mycoplasma bacteria against certain antibiotics is robust, as many antibiotics target the bacterial cell wall to help kill off an infection. The lack of a cell wall also makes Mycoplasma more susceptible to lysis, or the explosion of the cell, by osmotic imbalance. In an osmotic imbalance, a higher number of particles on either the outside or inside of the cell causes water to flow into or out of the cell, resulting in deformation and the possible destruction of the cell.
Cell Morphology
At about 100 to 200 micrometers in diameter, Mycoplasma cells are some of the smallest bacteria ever discovered. Such a small size can present problems in filtration sterilization techniques. Mycoplasma requires an outside source of cholesterol, usually obtained from the foods humans digest, for cell biosynthesis. Cholesterol in the plasma membrane has special importance in bacteria that lack a cell wall, to help maintain cell rigidity.
Infections
In addition to pneumonia caused by Mycoplasma pneumoniae, other Mycoplasma species cause infections in humans. Mycoplasma genitalium causes urogenital infections that may get passed on to a partner during unprotected sex. Mycoplasma gallisepticum causes chronic respiratory disease in many types of birds but is not a causative agent in human infection. Another nonhuman animal agent of infection, Mycoplasma hyopneumoniae, causes porcine enzootic pneumonia, or pneumonia in pigs and other livestock.
Genetic Study
Mycoplasma has the distinct honor of having the first completely artificial genome implanted into a functioning bacterial cell. Scientists at the J. Craig Venter Institute synthesized a sequence of DNA and implanted it into a Mycoplasma cell that contained no DNA. The cell was then able to use the information coded on the artificial DNA to complete DNA replication and cell division.
Is This an Emergency?
If you are experiencing serious medical symptoms, seek emergency treatment immediately.