There's just something romantic and exhilarating about the idea of a great American road trip. The classic Airstream trailer; the small, storied towns; the vast and varied landscapes — we could go on. Sure, your ultimate destination may seem distant, but this is definitely a "more about the journey" moment. Plus, going by RV may be one of the healthiest — and least stressful — ways to travel. Read on for all the reasons you'll want to hit the open road for your next vacation.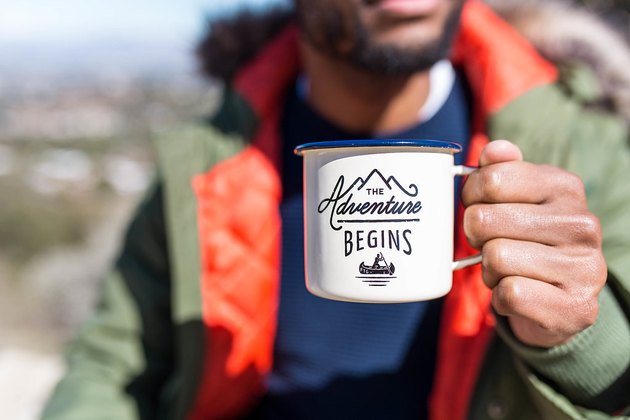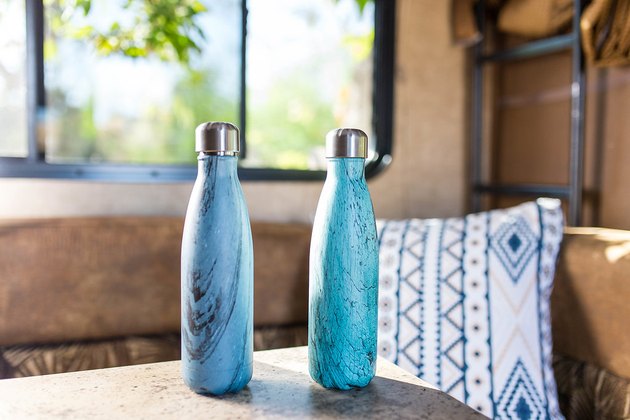 1. Keep Your Immune System Strong
Airplanes and airports have a reputation as germ magnets, and turns out, it's well deserved. In 2017, Insurancequotes.com conducted exploratory studies at three major U.S. airports and found that a number of surfaces—check-in kiosks! water fountain buttons!—were several times germ-ier than anything found in your home. But the worst culprit is on the plane. Tests by Travelmath revealed that the fold-down tray table — where you eat — has eight times the amount of bacteria as even the lavatory flush button. (Ewww!)
If all that wasn't enough to make you ill (both literally and figuratively), according to a study from the Journal of Environmental Health Research, the humidity on an airplane can be as low as 5 percent, and low humidity is not only dehydrating; it also makes you more susceptible to infection. Although sipping water throughout your flight can help counter the effects of low humidity, traveling by RV lets you avoid the problem altogether. And hand sanitizer isn't required.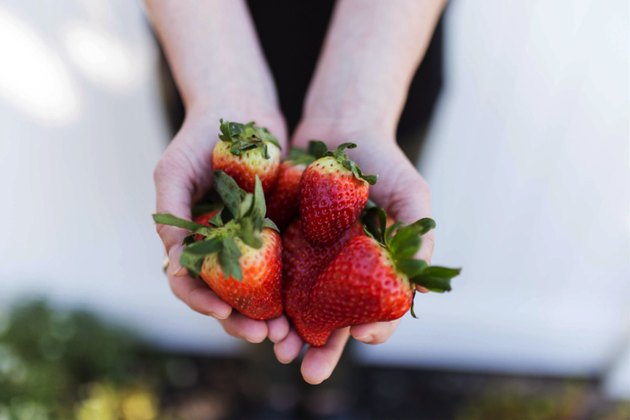 2. Shop Locally and Cook Healthy
A recent study30023-5/fulltext) from the American Journal of Preventive Medicine found that people who frequently cook at home, rather than eat out, tend to have healthier diets overall. In an RV, equipped with a kitchen, you're able to avoid the typical pitfalls of eating on the go—unpalatable airport fare and unhealthy fast food—by grocery shopping as you travel, visiting farmers markets and whipping up homemade meals. Pro tip: Although some larger RV models boast setups that just about rival your kitchen back home, consider investing in some new cookware made for RV-convenience. Some RV rental companies even offer housekeeping packages that include dishes, pots and pans for a small fee.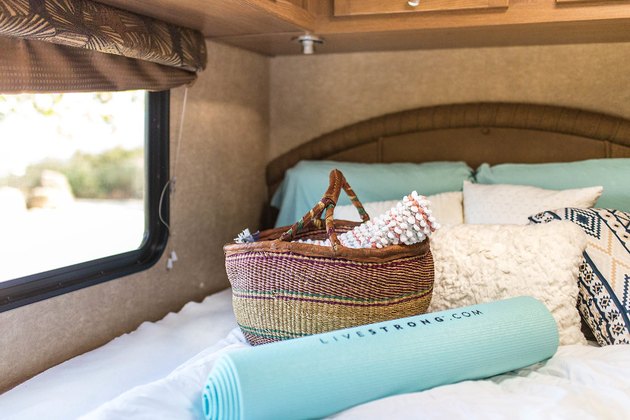 3. Sleep on Your Own Pillow
The nightmare of packing a suitcase just full enough to skate under the weight requirement at airport check-in is no longer a worry when RVing. Creative and convenient storage—under seat cushions, in overheard compartments—ensures there's often plenty of room to hold "extras," such as your own bed linens, toiletries for the bathroom or the several novels you're working through. "A great thing about RV travel is that you have a bit of a home base," says Dr. Paul Nussbaum, clinical neuropsychologist, adjunct professor at University of Pittsburg School of Medicine and founder of the Brain Health Center." Nussbaum refers to this idea as the continuity of identity. It takes us back to how much the brain loves predictability: Psychologically, it's important that even when traveling, some of the important things that represent who we are, come with us.
4. Nature Boosts Your Brain Health
Whether appreciating beautiful landscapes through RV windows or hiking through a sun-dappled forest, "looking at and being in nature brings peace to the brain," says Nussbaum. One new study even suggests that simply glancing up at a blue sky or scenic tree-line can boost your mental health long-term and may even help protect against mental illness. What's more, past research has shown that looking at and being in nature boosts creativity, inspires awe and helps reduce anxiety and stress—all contributing feelings of well-being.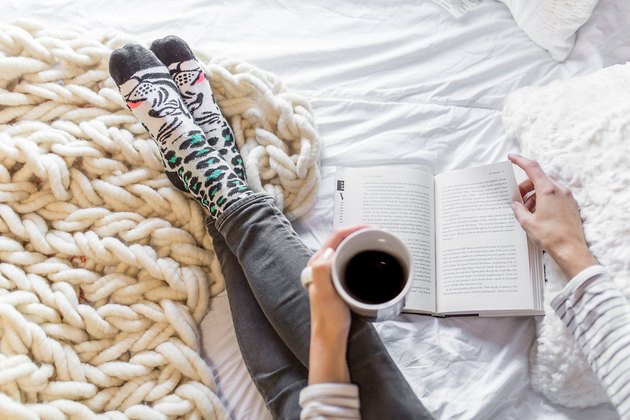 5. Maintain Good Circadian Rhythm
Jet lag may be one of the easiest ways to undermine a vacation, but catching restful zzz's while wedged in economy is nearly impossible. Expedia's 2014 Airplane Etiquette Survey, a study that asked 1,000 Americans about on-board behavior, found that 15 percent of respondents "always or sometimes" use medication or alcohol to help them sleep on a plane—and 48 percent don't sleep on planes at all. When RVing, however, you don't have to worry about drastic time zone changes, and you can always pull over if you need to sneak in 40 winks — a must to avoid driving while drowsy. When it comes time to hit the hay, seek out campsites that allow you to snooze to the soothing sounds of nature.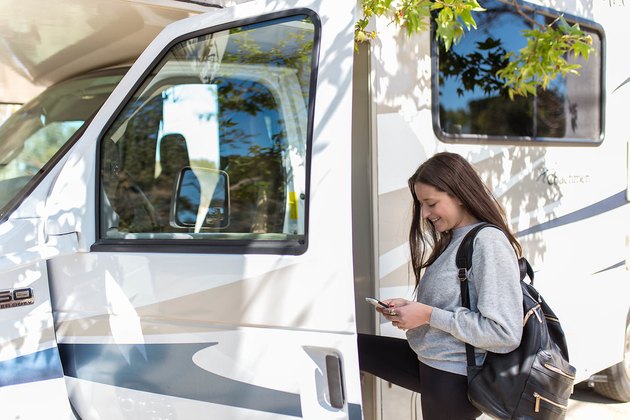 6. Chose Your Own Adventure
When traveling by plane, train or bus, it can be stressful to have zero control over your plans or pace. Touring by RV however, allows you to have independence and influence over your itinerary. According to Nussbaum, the ability to be flexible and spontaneous is incredibly important in life. "The number one factor for mental health is probably control," he says. "When we feel like we have none, it can create problems such as mild anxiety." The control RVing provides may reduce travel stress and help you feel free to stop, stretch and explore as you like along the way!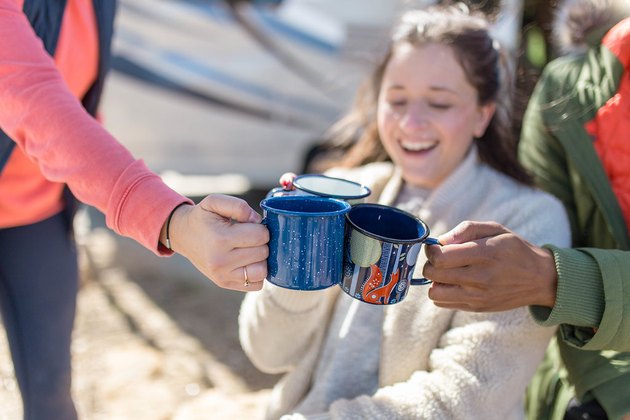 7. Make the Best Friends Ever
Whether you're sharing tales from the road over a late-night campfire or offering quick directions in passing, there's often a sense of camaraderie that develops in the RV community—and the common interest is key. According to Nussbaum, as social beings, we never want to isolate; we naturally want to integrate into whatever community is around us. It validates what we're doing and also provides an opportunity to interact with others (in person as opposed to online), which builds trust and decreases stress. "We're storytelling, creating, learning about others and doing things spontaneously with one another," he says. "There's the spirit of real interaction that's so vital throughout society, and it's very health promoting: It brings us closer together; it feels good; and it breeds self-esteem."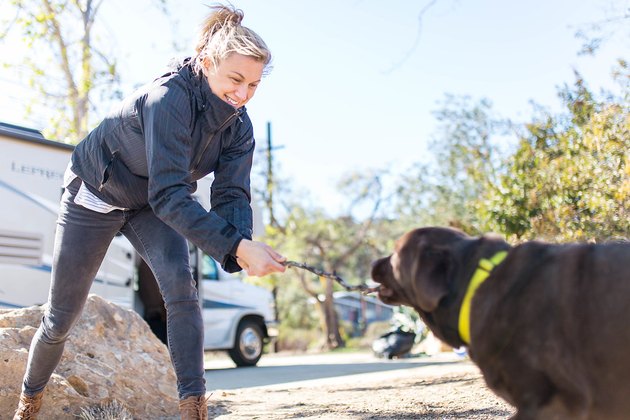 8. Bring Your Pet Along for the Ride
Having a four-legged companion offers a host of well-documented health benefits, from reducing anxiety to boosting immunity. Also, dogs are often an integral, much-loved part of the family, and when you go on vacation, it can be difficult to leave them behind. If you travel by air, unless your pet is a service animal, you'll have to pay about $100 each way just for the privilege of stashing your pooch under the seat. And that's assuming they're small enough to fit there. Dogs over 15 to 20 pounds will be forced to fly as cargo. Fortunately, an RV offers enough space for Fido to enjoy the ride, pit stops and all. Before you hit the road with your dog in tow, research campgrounds and parks to find ones that are pet-friendly, and talk to your vet to ensure all vaccinations and paperwork are in order.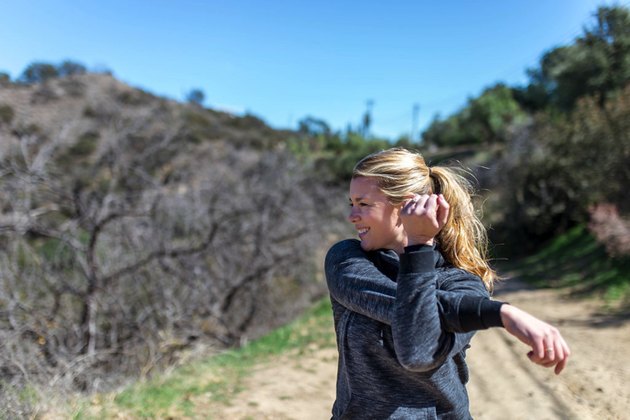 9. Break a Sweat on the Go
Studies show that it takes only two to four weeks for fitness levels to start to decrease. But if you think your fitness routine needs to take a backseat while RV touring, think again. Keep your workouts and fitness levels steady with easy, on-the-go exercises. A yoga mat, dumbbells or resistance bands travel easily, and are small enough to stash away when they're not in use but offer a butt-kicking workout when you're ready. In some RVs, you may have space to roll out a yoga mat, but if not, think how awesome it will be, jumping rope or doing sun salutations in the great outdoors. Not to mention, get your heart rate going by stopping off for a jog or taking out the kayak.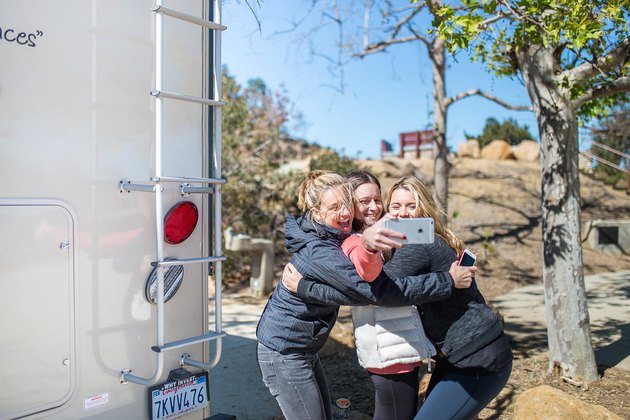 10. Boost Your Confidence
From traffic detours to living without many of the physical trappings of modern life, there are a lot of unexpected situations that arise when traveling—both by RV and in general. But navigating through them, and coming out successful, is a total confidence boost. And research shows these positive effects may be lasting: A 2013 study researched German university students before and after studying abroad and found that the students returned home with increased openness and agreeableness, two traits related to boosted self-esteem as well as ease with themselves and the world.
Photo Credit:
Kristen Schellenberg