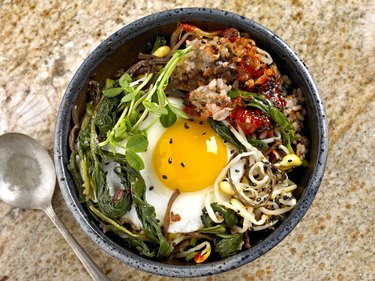 Craving unhealthy foods between lunch and dinner? If you're trying to eat clean and lose weight, that dreaded midday slump may test your resolve.
But you don't need to fall prey to the pre-dinner danger zone. Enter: fiber.
How Fiber Helps Tame the Cravings Monster
Eating foods with insoluble fiber — the kind that helps move things along in your digestive tract and keeps you regular — can help you feel full and satisfied longer. Found in nuts, seeds, vegetables, wheat bran and whole grains, insoluble fiber can fill you up and keep the belly rumbles at bay for hours, Largeman-Roth says. Plus, since insoluble fiber doesn't dissolve in water and passes through your gut relatively intact, it's basically calorie-free.
Soluble fiber — the other kind that dissolves in water — should also be incorporated into your daily menu. Plentiful in peas, potatoes, psyllium, beans, oats, citrus fruit, apples and strawberries, "when these fibers ferment in the gastrointestinal tract, they create hormones that make you feel full," Largeman-Roth says.
What's more, soluble fiber can help keep your blood sugar in check by slowing down the body's absorption of the sweet stuff. This can reduce blood sugar spikes and dips that result in sugary cravings, which is especially good news for those working toward a weight-loss goal.
Unfortunately, many people fall short on the fiber front because they're not eating enough fruits and veggies, Largeman-Roth says, adding that most processed foods lack essential fiber. In fact, only a teensy 5 percent of Americans consume the recommended daily amount of fiber — which is 25 grams for women and 38 grams for men — according to a July 2016 article in the ‌American Journal of Lifestyle Medicine.‌
But don't fret about fiber. A few tweaks at lunchtime can make all the difference when it comes to hitting your daily quota and nixing those hunger hankerings before dinner. Try filling your lunchbox with one of these high-fiber, low-calorie recipes that are guaranteed to curb those late-afternoon snack cravings.
1. Rainbow Sandwich Pinwheels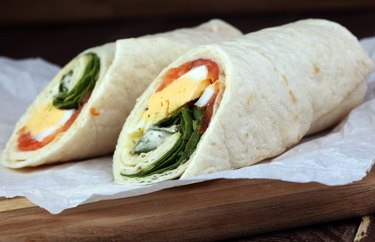 ‌Calories:‌ 438
‌Fiber:‌ 11 grams
From start to finish, this simple sandwich only takes six minutes to go from your prep plate into your tummy. With 11 grams of fiber, thanks to whole-wheat tortillas, plus healthy fats from hard-boiled eggs and creamy avocado, this five-ingredient, filling wrap is certain to tide you over through the midday slump.
2. Mmm Bap! Farro Bibimbap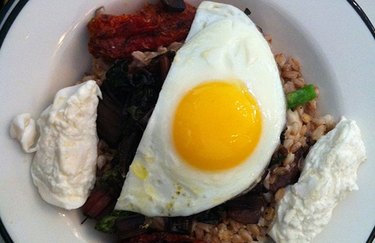 ‌Calories:‌ 523
‌Fiber:‌ 10 grams
You'll go bonkers for this Bibimbap, a healthier, homemade version of the traditional Korean staple that substitutes protein-packed, fiber-filled farro for white rice. Sautéed veggies like bean sprouts, asparagus spears and red chard round out this well-balanced savory plate that provides 10 grams of fiber per serving to keep your midday snacking in check.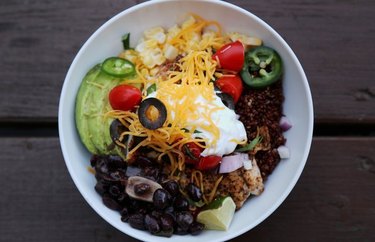 ‌Calories:‌ 478
‌Fiber:‌ 11 grams
Jalapeno slices and chipotle seasoning spice up this twist on tacos, which swaps slow-digesting quinoa for less-healthy white tortillas. Black beans boost the dish's fiber content (you'll get 11 grams), while skinless chicken breast boasts a bunch of lean protein (adding up to a whopping 36 grams total) that'll keep your tummy happy until dinnertime.
4. Roasted Chicken Lettuce Wrap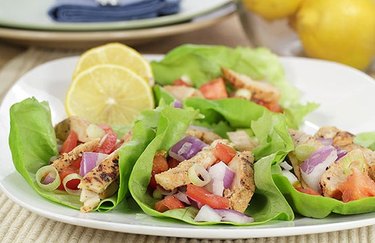 ‌Calories:‌ 298
‌Fiber:‌ 6 grams
Crunchy lettuce leaves provide the perfect low-carb wrap for juicy chicken breast, refreshing cucumbers and colorful bell peppers in this simple-yet-satisfying dish. Though it only contains 6 grams of fiber per serving, this amount is still quite adequate for mediating that mid-afternoon energy dip when paired with high-protein, belly-filling chicken and mozzarella cheese.
‌Pro tip:‌ To cut down on prep time, simply buy a pre-made roasted chicken breast or use leftovers.
5. Crunchy Tuna & Feta Salad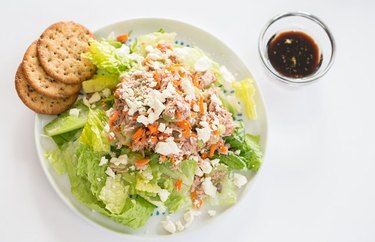 ‌Calories:‌ 391
‌Fiber:‌ 23 grams
Talk about a one-two punch! This hearty salad serves up 23 grams of fiber per serving and a whopping 57 grams of protein. But the best part might be how quickly it comes together: Since there's no cooking required, you'll be able to prep this healthy lunch in about 5 minutes flat. Just make sure to pack the dressing on the side so your greens don't get soggy on you.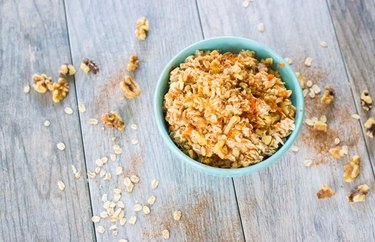 ‌Calories:‌ 419
‌Fiber:‌ 10 grams
If you're cuckoo for carrot cake, you'll love this healthier oatmeal variation that has all the flavor — with warm spices like cinnamon, nutmeg and cardamom — but only a fraction of the sugar of the traditional dessert. Oats offer 10 grams of soluble fiber to stabilize your glucose levels — and stave off sugar cravings — while chia seeds and walnuts add a satisfying crunch, along with heart- and brain-boosting omega-3s.
Was this article helpful?
Thank you for your feedback!