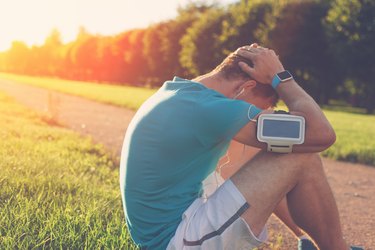 But a few weeks ago, that all changed. In the wake of the novel coronavirus, COVID-19, what would be my ninth 26.2-mile race got postponed until October. I'm one of hundreds of thousands who have had road races canceled or postponed due to the pandemic.
The question arises: What can we do now? Many runners have logged a considerable amount of miles in preparation for their big day, whether that was a local 5K or an international marathon.
For some, the event may be canceled altogether. Others are in the same boat as me, with a race pushed until year's end. Regardless, both scenarios require us to meet the new reality with acceptance, says Rebeka Stowe, Nike running coach.
"You're going to pivot, of course," she says. "There are so many things in life that require us to be adaptable, this included. It's just another way to show some strength and development, as both a person and an athlete."
Here, the experts give us the rundown on a few different strategies to tackle canceled or postponed races this season.
A race is something to look forward to, whether it's your first or your hundredth. It's an exciting time to celebrate a lot of hard work, and oftentimes, a fun thing to do with family or friends. When something you were planning on doing gets taken away, it's a bummer. The first step in moving forward is to allow yourself to be bummed, albeit briefly.
"It's a loss," Stowe says. "You expected things to go a certain way, and it won't be happening like that. So while it's fair to be upset, it doesn't do you any good to wallow in that." Acknowledge the feelings you may have about the shift, but then jump straight to coming up with an action plan (see step 2), she says.
2. Come Up With an Action Plan
You have a few different options on how to proceed with your running now that your race is off (for now, anyway), says Timothy Lyman, certified trainer and director of training programs at Fleet Feet in Pittsburgh.
Which one you choose depends on how hard and long you've been training, what your future running goals are and whether your race is canceled or postponed.
"Ask yourself, what am I needing at this point?" Stowe says. "Only you can answer that question. If you need structure, keeping a plan could be a good call right now. If you really just need to run for the enjoyment of the run, it's OK to let go of it, too."
​Option 1: Continue With Business as Usual​
Some athletes may decide that they want to keep going with their training and instead of showing up to a particular place at a certain time come race day, run their chosen race distance on their own.
"While you miss out on a lot of intangibles from the actual event, a virtual race can be just as much fun in different ways," Lyman says. "I'm working with athletes who are shooting for a PR, and it's an advantage to have the ability to manipulate the course/route to suit the athlete's strengths and to also not be tied down to a particular date and time."
​Option 2: Shift Your Training Plan​
This is a path that a lot of athletes are taking, Lyman says, especially those whose races were postponed or others who need their runs to keep their bodies and minds fit. "Train as if the race was going off as planned, with the understanding that you should eliminate or modify workouts that you don't need along the way," he says.
So what types of workouts does that include? Think extra-long distance workouts (i.e. 10+ mile weekend runs) or speed workouts that overly stress your body. "We don't want to take any steps backward by needing extra recovery time," Lyman says. "Since we don't have to simulate the race, this is an enjoyable way for an athlete to train."
It's OK to take a step back and breathe for a while. When there's no specific deadline on the table anymore, it's hard to feel motivated. Sometimes, what we really need is to take a step back altogether to refocus and breathe, Lyman says.
During this break, runners can benefit from taking the time to focus on some weaknesses, which may include mobility work or strength training. "Dialing things down and focusing on fun could be just what you need," Lyman says.
"Or try completely shifting your attention to other activities. It's important to continue to embrace a physical practice that somehow brings you closer to your ultimate goal, even if there's no race on the calendar."
3. Connect With Other Runners Virtually
Right now, more than ever, it's important to realize that you're not alone. Other runners share your frustration about canceled or postponed races and connecting on social media to chat about your experience can be a helpful way of coping.
If your heart is still set on achieving new goals or picking up the pace, there are plenty of opportunities to join global virtual races (just make sure you're doing it alone and running safely).
RunThrough, a UK-based organization, is throwing races ranging from 5Ks to half-marathons and will even send you a medal in the mail if you can prove you conquered the route! Or sign up for a Strava challenge and score yourself a virtual finisher's badge to add to your "trophy case."