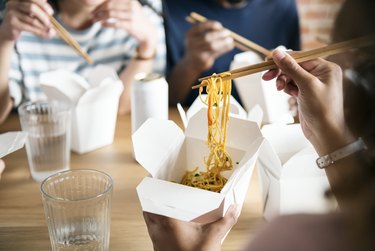 While some bars and restaurants are starting to reopen for onsite dining, many only have takeout or delivery available to help stop the spread of the novel coronavirus.
Convenient, for sure, especially when you have a hankering for your favorite hamburger (we won't judge) and it sure beats cooking three meals a day. But is ordering takeout safe?
Here, Caitlin Welsh, director of the global food security program at the Center for Strategic and International Studies, shares a few tips to ensure you don't pick up pathogens when you get your meals to go.
1. Research Your Restaurant
"Since every restaurant is handling the effects of COVID-19 differently, it's a good idea to research the restaurant before ordering," Welsh says. "Many restaurants have posted COVID-19 updates on their websites, which outline the measures they are taking to keep employees and customers safe."
In addition to following standard hygiene regulations and health codes, many eateries have "implemented additional safety measures, such as requiring all workers to wear gloves and mandating hourly cleaning of facilities," Welsh says.
And, to ensure that food providers are protecting the public's wellbeing and taking proper precautions, "state and local health departments are prioritizing health inspections, and some have even offered resources to help restaurants" enhance their safety procedures, Welsh explains.
Can I Get COVID-19 Through Contaminated Food?
You may be concerned about contracting the novel coronavirus from food prepared or handled by someone who is sick. But according to both the Centers for Disease Control and Prevention (CDC) and the USDA, there's currently no evidence that the virus has spread through food.
As explained in a February 2018 overview in Current Opinion in Virology, respiratory viruses (like COVID-19) reproduce along the respiratory tract — not the digestive tract. In other words, the virus has to come into contact with your respiratory tract to make you sick, and it would not do so through the act of eating.
2. Choose No-Contact Delivery
"Opting for 'contactless' delivery or pickup whenever possible can help employees and customers stay safe through social distancing and reducing potential transmission of the virus by respiratory droplets," Welsh explains.
In fact, many restaurants have adopted and instituted best practices for food delivery such as leaving food outside your door (instead of handing it to you) and encouraging customers to use cashless payment and pay-in-advance methods (including tips), Welsh says.
Again, you can usually find this information on your restaurant's website. If not, call and ask about how they're modifying their delivery methods to mitigate transmission of the virus.
Also, be sure to order directly from the restaurant — instead of through a third-party app — which can decrease the number of people handling your food and its packaging.
"A good rule of thumb is to treat anything that comes into your home — takeout or groceries — as potentially contaminated."
3. Consider Trashing the Packaging
There is currently no evidence that the novel coronavirus is spread through food packaging. "It may be possible that a person can get COVID-19 by touching a surface or object, like a packaging container, that has the virus on it and then touching their own mouth, nose or possibly their eyes, but this is not thought to be the main way the virus spreads," according to the CDC.
An earlier March 2020 study in The New England Journal of Medicine found that the novel coronavirus was still detectable on plastic surfaces for up to 72 hours after initial contact. So to be extra cautious, dispose of plastic bags and takeout food containers before you eat.
In other words, carefully transfer your food to a clean plate, then toss out the packaging. If you don't want to get rid of food containers altogether, you can wipe them down with an alcohol-based disinfectant — it should be at least 70 percent alcohol, per the CDC.
Either way, the CDC recommends washing your hands with soap and water for 20 seconds after touching your takeout containers and before settling down to your meal.
"A good rule of thumb is to treat anything that comes into your home — takeout or groceries — as potentially contaminated," Welsh says. "High-risk individuals may consider handling takeout food and wrappers with gloves."
People aged 65 years and older, those with underlying health conditions and pregnant women might be at higher risk for severe illness from COVID-19, per the CDC. When using gloves, always discard after one use and scrub your hands with soap and water.
Concerned About COVID-19?
Read more stories to help you navigate the novel coronavirus pandemic:
Is this an emergency? If you are experiencing serious medical symptoms, please see the National Library of Medicine's list of signs you need emergency medical attention or call 911.