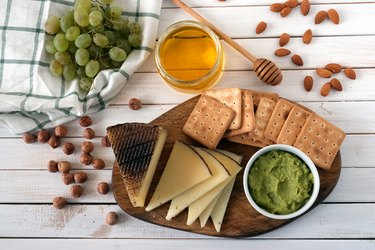 No gourmet cheese plate is complete without an assortment of crackers — the more artisanal, the better.
But considering they're usually made with wheat, rye and/or barley, most store-bought crackers are a no-go if you're following a gluten-free diet.
With the help of some innovative brands, though, it can be pretty easy to find gluten-free crackers. Before you buy, always double-check the ingredients and packaging to make sure your cheese board is free of gluten ingredients.
How to Find Gluten-Free Crackers
Most crackers are made with either wheat, rye or barley. These grains and their derivatives all contain gluten, which is a type of protein, according to the Celiac Disease Foundation.
While classics like Goldfish and graham crackers all contain wheat, you'll likely find multiple brands of gluten-free crackers at your local grocer. But before you add any products to your shopping cart, it's crucial that you read the ingredient list and check for appropriate labels on the package.
First, scan the nutrition label for any wheat, rye or barley-based ingredients, the Celiac Disease Foundation recommends. Always be on the lookout for hidden gluten foods, like malt or wheat starch. Also, check the allergen listing for gluten or wheat.
Next, look for a "Gluten-Free" label on the cracker package. When a food is marked Gluten-Free, that means it has been regulated by the FDA and contains 20 parts per million (ppm) of gluten or less, which is a generally safe amount.
Your crackers are also safe to eat if the package has a Certified Gluten-Free seal. This means the food has been tested by a third party such as the Gluten-Free Certification Organization (GFCO). The GFCO sets particularly strict standards and labels foods that only contain 10 ppm of gluten or less.
Tip
What may set some of these crackers apart is the sodium, sugar and fiber contents. When choosing a GF cracker, gluten content is a priority, but you'll also want to look at the rest of the label for the healthiest options.
Gluten-Free Cracker Brands to Buy
Whether you're shopping at the store or online, there are plenty of gluten-free crackers to try.
1. Simple Mills Almond Flour Crackers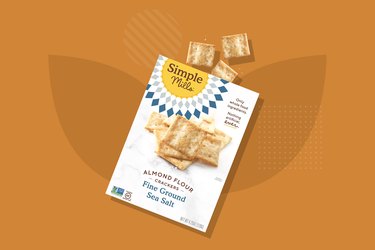 Simple Mills' almond flour crackers make an excellent go-to partner for your favorite cheese. These are certified gluten-free by the GFCO so you can rest assured they're one of the safest options out there.
2. Real Food From the Ground Up Cauliflower Crackers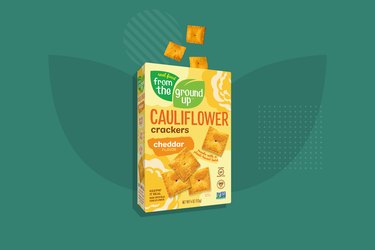 If you miss the cheesy taste of Goldfish or Cheez-Its, swap them for these GF cheddar cauliflower crackers. Instead of wheat flour, Real Food From the Ground Up uses cauliflour. Plus, these are vegan and certified gluten-free.
3. Good Thins Gluten-Free Sea Salt Corn Crackers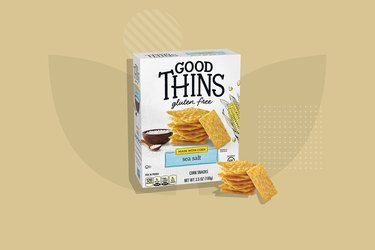 Instead of wheat, Good Thins crackers use corn and rice for their base, making them a great gluten-free option. These sea salt crackers also free of artificial ingredients.
4. Mary's Gone Original Crackers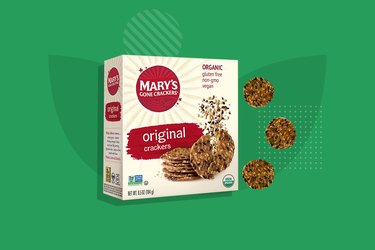 If you want to impress your gluten-free guests with some unique appetizer options, add Mary's Gone Crackers to your cheese platter. These are gluten-free and are made with brown rice, flax seeds and sesame seeds, giving you good crunch.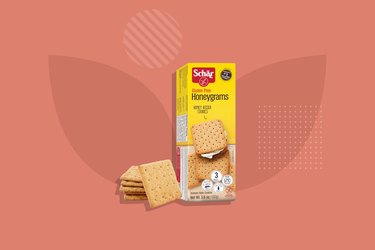 With Schar's gluten-free graham crackers, you'll never miss out on campfire s'mores again. These graham crackers are free of wheat and made with corn and soy flour as well as a touch of honey.
6. Hu Grain-Free Crackers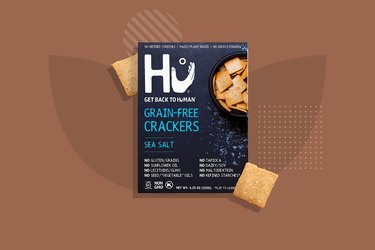 Hu crackers are gluten-free, vegan and free of seed and vegetable oils. This brand is also certified gluten-free by the GFCO. Plus, they've got gluten-free Pizza and Everything crackers, too.
How to Make Gluten-Free Crackers at Home
One-Bowl Vegan Gluten-Free Crackers Recipe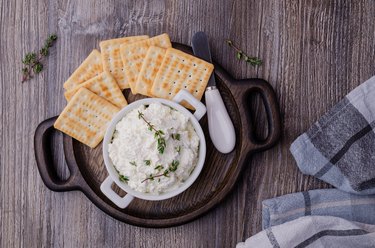 If you really want to wow your gluten-free guests — or you just want to enjoy a bowl of crackers with cheese on your own — you can make your own wheat-free crackers.
These vegan crackers are crispy and full of flavor, using gluten-free flour and almond meal rather than standard flour. In total, you'll need just a little over 40 minutes to whip up this simple recipe.