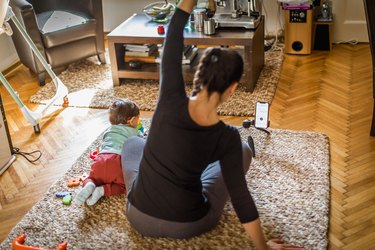 But that doesn't mean you have to do it alone. Now, more than ever, fitness fans are logging workouts at home with friends and family in other locations with the help of social media and video chats.
Those virtual workout buddies can help keep you accountable. Simply sharing fitness stats on social media can motivate others to exercise, according to an April 2017 study in ​Nature Communications​. The researchers found that if someone saw a friend run a certain speed for a certain distance, they were usually motivated to do the same — if not work harder.
Although getting your heart rate up with someone else virtually isn't quite the same as crushing burpees together IRL, the good news is that it's doable — and still promises a motivating sense of connection.
"When you open a screen on your computer and you see someone else there, you think, 'There's my teammate,' or 'There's my friend, and they're OK,'" says Deborah Roche, PhD, a sports psychologist at the Hospital for Special Surgery. "There's camaraderie and motivation in that. Even though we may not know when we're getting back to normal, we'll be able to do this together."
While this sort of virtual togetherness doesn't replace the real thing, it's a pretty good alternative for now, Roche says. "When it's safe to get back together, you'll likely value it more than you ever did before."
Ready to work out together, apart? Here, experts weigh in on the best ways to make it happen.
1. Put It on the Calendar
Just like with any other meeting, it's important to schedule your sweat date with friends ahead of time to keep everyone accountable.
If you can, get it on the books as early as possible. "Doing your workout first thing in the morning helps you start the day off with a clear head," says Justin Norris, co-founder of LIT Method in Los Angeles. "Once you have that routine established, you will start to feel the benefits of moving your body, like increased energy and reduced stress levels."
Finding the time is the first step. The second is knowing exactly what you're going to do when all parties involved show face. This means selecting an online fitness class to stream together or otherwise establishing your workout ahead of time.
If you and your gym buddy take turns choosing what the day's workout will be, you might even get to try something new.
"Even though we may not know when we're getting back to normal, we'll be able to do this together."
"The great thing about working out in the privacy of your own home is that you're not so worried about what other people think of you," says Polly de Mille, RN,CSCS, director of the Tisch Sports Performance Center at the Hospital for Special Surgery. "This means that maybe you're open to a little more of making a fool of yourself than otherwise, which can make for a fun time trying new workouts with friends."
Also important: Communicate openly about your other workout plans for the week so your friend doesn't accidentally subject you to too many overly taxing sessions in a row. Back-to-back leg days? Not ideal. A leg day followed by a dance cardio class on demand? Sounds like a good time.
Here's where things get a little technical: For the optimal at-home setup for virtual workouts with friends, you'll probably want two devices. That way, you can watch your streaming workouts, whether they be via Instagram Live or a unique app, on a bigger screen — like a TV or laptop — and connect with your buddies on your phone.
You'll be able to search for and stream countless online workouts with a smart TV. But media streamers like Roku, Google Chromecast, Apple TV or the Amazon Fire TV Stick can help you open up popular video services, like YouTube, on any television.
Apps including FaceTime, Skype, WhatsApp, HouseParty and Zoom make it easy to connect with your workout partner (or partners) on a phone or tablet. If you're taking a class together at a certain time, hop on the call 10 or 15 minutes beforehand to catch up. Once things get going, you may want to mute the line; this way you won't hear the instructor coming through from your friend's end.
Everyone loves something to look forward to. Set a reward for you and your workout buddy, whether it's at the end of each successful session or perhaps after a month of sweat sessions.
The options for what this can include are limitless. Maybe it's both of you ordering a healthy takeout option from a local restaurant that you can enjoy together on a video call, or perhaps it's a bigger splurge. Try setting aside $5 for each sweat date. After a month, you'll have earned yourselves matching new workout tops — and a virtual pat on the back for a job well done.
Was this article helpful?
Thank you for your feedback!