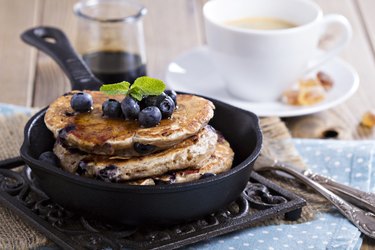 Our Breakfast Meal Prep series streamlines mornings by giving you the shopping lists and recipes you need to prep easy, nutritious breakfasts for the whole week.
Of the three macronutrients, protein can boost your metabolism the most, as explained by an April 2015 study in the ‌American Journal of Clinical Nutrition‌. Compared to carbohydrates and fats, protein is also the most satiating.
But when it comes to eating protein, our diets are askew.
We usually backload our diets with protein-rich foods — as in, lunch and dinner are higher in protein and our breakfasts tend to be carb-heavy, a June 2014 study in the ‌Journal of Nutrition‌ confirms.
This is a problem because spreading our protein intake throughout the day versus eating most of it at lunch and dinner helps keep us lean and allows our muscles to grow more effectively.
By meal prepping high-protein breakfasts in advance, you're setting yourself up for success.
You'll actually eat a more balanced breakfast — no, chomping on a sugary granola bar on the way out the door isn't the way to go — and have a greater chance of reaching your health goals.
Each recipe has 25 grams of protein or more per serving, so you can count on these breakfasts to keep you satiated throughout the morning.
This week, you'll be making Buckwheat Pancakes With Blueberry Compote, Blueberry-Banana Smoothie and Creamy Kale and Buckwheat Breakfast Bowl.
You can count on these breakfasts to last you all week. All you need to make them are eight easy-to-find ingredients (and a few more common staples, such as spices, you probably already have at home) to make all three meals.
Either buy these online or shop for them at your local grocery store. Click here for a printer-friendly version of this week's grocery list!
Make sure you've got your containers, so you can save your meal prep leftovers properly. For this week's recipes, we recommend the following containers.
1. Buckwheat Pancakes With Blueberry Compote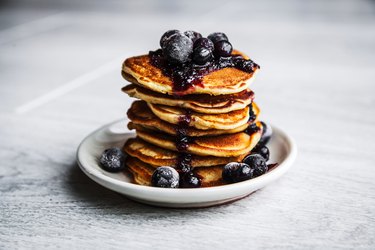 Most pancakes are high in refined carbs and added sugar but we gave these a healthy makeover by using buckwheat as the base and sweetening with blueberries instead of syrup.
Buckwheat is a whole grain that provides both protein and fiber. Eggs, milk and protein powder are what help bump up the protein in this dish as well — each fluffy stack has 27 grams!
‌Prep:‌ 20 minutes
‌Cook:‌ 15 minutes
‌Total:‌ 35 minutes
‌Recipe yields 3 servings for 3 days of the week.‌
1 1/3 cups dry buckwheat
2 1/4 bananas
3 eggs
3/4 cup milk or dairy-free alternative
1 1/4 cup protein powder (unflavored or vanilla)
Make the buckwheat flour by adding the dry buckwheat to a high-powered blender. Mix on high until reaches a flour consistency, about 30 seconds. Set aside.
Then, in a mixer, combine bananas, eggs and milk. Once there are no lumps, slowly mix in flour and protein powder. Mix well.
Place a griddle over medium-high heat and spray with non-stick spray or coat well with olive oil.
Once the griddle is hot, add the batter in small portions, about the size of the palm of your hand. Once the edges begin to bubble, about 5 minutes, flip the pancake. Let cook for another 3 to 5 minutes.
In a small saucepan over medium heat, add 2 cups of frozen blueberries. Stir until the blueberries have begun to become mushy and have thickened into a jam-like texture.
Tip
Store pancakes in an airtight container for two to three days in the fridge or up to three months in the freezer.
You'll also want to store the blueberry sauce separately to keep the pancakes from getting mushy. The OXO 2-cup Smart Seal Glass Round Container will do the job.
2. Blueberry-Banana Smoothie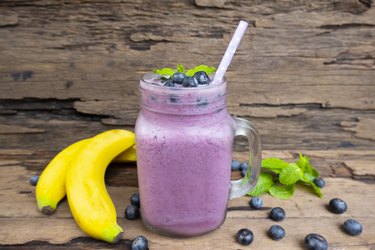 If you grab a smoothie on the way to work, there's a good chance it's filled with juice, sweetened milk, honey and other sugary ingredients.
We made this a fruit-and-veg-packed smoothie that's high in fiber and low in added sugar, all while providing 27 grams of protein per large cup. We used frozen blueberries in this recipe, but any frozen fruit you like will do.
‌Prep:‌ 5 minutes
‌Cook:‌ 0 minutes
‌Total:‌ 5 minutes
‌Recipe yields 2 servings for 2 days of the week.‌
2 bananas
2 cups shredded kale
2 cups frozen blueberries
3 1/3 cup milk or dairy-free alternative
1 cup water
2 servings of protein powder (vanilla or unflavored)
In individual bags, combine 1 banana, 1 cup kale, 1 cup frozen blueberries. Place in freezer.
When making your smoothie, add about 1 cup milk to the blender first to prevent clumping. Then, add the frozen fruits and veggies. Top with 1 serving of protein powder. Blend until smooth.
Add water and blend again if you like it less thick.
Pour into a large glass and enjoy!
Tip
Store the fruits and vegetables in an airtight freezer bag, like the Stasher Reusable Silicone Stand-Up Bag. That way, when you're ready for a smoothie, all you have to do is dump the ingredients into the blender with some liquid and press on.
The smoothie ingredients will keep in the freezer for eight to 12 months.
3. Creamy Kale and Buckwheat Breakfast Bowl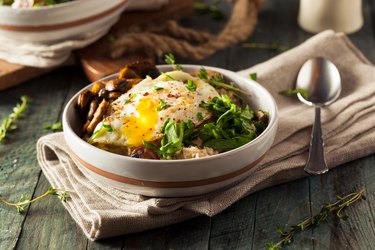 We love cooking with buckwheat because it's a hardier whole grain and it's high in fiber — 6 grams per cup cooked.
By preparing the grain with milk instead of water, you're not only adding extra creaminess to pair with the cheese, but you're also adding a hefty dose of filling protein. Each serving has 25 grams of protein.
‌Prep:‌ 3 minutes
‌Cook:‌ 15 minutes
‌Total:‌ 18 minutes
‌Recipe yields 2 servings for 2 days of the week.‌
1 1/2 cups milk or dairy-free alternative
2/3 cup dry buckwheat
1/3 cup cheddar cheese
2/3 cup shredded kale
2 eggs
In a medium saucepan, bring your milk of choice to boil.
Next, add buckwheat and stir. Return to boil and then reduce heat to a simmer, cover and cook for 10 minutes.
After 10 minutes, remove the lid and add kale. Cook for another 2 minutes with the lid off. Stir to combine kale and prevent burning.
Turn off the heat. Once cooled, portion into containers. Add cheese on top.
When ready to eat, cook egg as desired (we like it over-easy). Set aside.
Microwave the breakfast bowl for 1:30 to 2:30 minutes. Stir halfway through. Add egg on top of bowl.
Store your cooked buckwheat bowl in an airtight container, like the Pyrex Simply Store 3-cup Rectangular Glass Food Storage Dish, for three to four days in the fridge or up to two months in the freezer until you're ready to enjoy.
‌Click below to pin and save these recipes for later.‌

Was this article helpful?
Thank you for your feedback!