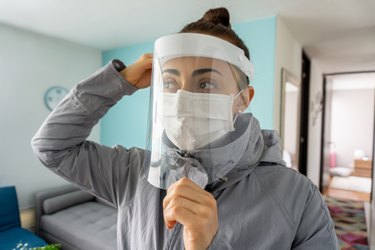 There's no doubt that wearing a face mask can help prevent the transmission of COVID-19. Indeed, face coverings are the single most effective strategy for slowing the spread of the novel coronavirus, according to a June 2020 analysis in the Proceedings of the National Academy of Sciences.
But can face shields defend you against the potentially deadly virus too?
We consulted with Christopher Sulmonte, MHA, an expert on best practices for infection prevention and project administrator for the Johns Hopkins Bio-Containment Unit, to find out if wearing a face shield can increase your safety (and protect those around you too).
Should You Wear a Face Shield?
"In combination with a mask, a face shield could potentially provide additional protection against COVID-19," Sulmonte says. That's because face shields may "create an extra barrier from large droplets, provide eye protection and minimize how often you touch your face," he explains.
While a face shield may offer extra protection against COVID-19, it should be worn in addition to a face mask — and not instead of one.
Sporting a face shield (in addition to a mask) may be especially useful in settings where social distancing is difficult. People who frequently have face-to-face interactions with others or those who work closely with populations with a high COVID-19 transmission rate could benefit from wearing a face shield, Sulmonte says. In other words, frontline workers like health care professionals, grocery store staff and public transportation employees. But to be clear, a face shield shouldn't replace a mask, according to the Centers for Disease Control and Prevention (CDC).
"Based on current evidence, we still don't know how effective face shields alone are in reducing the spread of COVID-19," Sulmonte says. Though shields can guard your eyes against exposure to the virus, it's still unclear whether they can protect those around you from catching your germs, per the CDC.
"While face shields may protect against large droplets from a cough or a sneeze, we don't know if face shields alone provide an effective barrier against smaller respiratory particles," Sulmonte says. Essentially, your respiratory spray may still escape your shield and, if you're a COVID-19 carrier, you can infect others.
To determine the effectiveness of face shields, researchers at Florida Atlantic University set up a mannequin's head with a face shield, using a pump to simulate the effects of a sneeze. They found that droplets could exit through gaps at the sides and bottom of the face shield, per a September 2020 study published in the journal Physics of Fluids.
"A mask, on the other hand, when worn properly, provides a barrier that covers your entire nose and mouth, thus reducing the spread of both large and small respiratory droplets," Sulmonte says.
What to Look for When Buying a Face Shield
If you're thinking about adding a face shield to your arsenal of personal protective gear, which is the best kind to buy? Pay attention to these considerations:
Coverage area: Stick to shields that cover your entire face to maximize protection. Your shield should wrap around the sides of your face and extend below your chin, per the CDC, which also recommends hooded face shields.
Fit: A good fit will cut down on how much you adjust your mask and put your hands near your face, Sulmonte notes. "Your face shield should be easy to put on and stay on securely," he says.
How to Clean a Reusable Face Shield
After each time you wear a reusable face shield, you'll need to clean it. Follow these steps, according to the CDC:
1.  Carefully wipe the inside of the face shield, followed by the outside, using a clean cloth and detergent or a disinfectant wipe.
2.  Wipe the outside of your face shield with water or alcohol to remove residue.
3.  Let your face shield fully air dry or pat down with clean paper towels.
4.  Wash your hands with soap and water for 20 seconds.
To ensure your safety and avoid accidental contamination when you handle your face shield, follow these CDC rules:
Wash your hands before and after removing your face shield.
Avoid touching your eyes, nose and mouth when removing your face shield.
Never wear a disposable face shield more than once and dispose of it according to the manufacturer's instructions.
Clean and disinfect reusable face shields after each use.
If you're shopping for face shields, these five will supplement your mask and supply an additional layer of defense.
1. WET Design Reusable Face Shield
Comfortable and lightweight, this reusable face shield won't steam up thanks to its anti-fog design.
2. All-Round Protection Cap by AGKupel
Ideal for long-time wear, this comfortable face shield sports a sponge headband and is easily customizable with adjustable elastic bands, so you won't feel the need to fidget with it to find the right fit. And the less you touch your face shield and mask, the fewer the chances to unintentionally contaminate yourself with germs.
3. Meengg Hooded Face Shield
This hooded face shield provides 360 degrees of protection. Plus, you can easily detach the shield and toss the hood into the washing machine for proper cleaning and disinfecting.
4. ArtToFrames Glasses Face Shield
Made from PET materials (a clear, strong and lightweight plastic), this reusable, anti-fog face shield offers 180 degrees of protection. As a bonus, it comes with acrylic glasses (that fit comfortably over most eyeglasses) to provide an extra barrier of protection for your peepers.
5. WeFidget Reusable Full Face Shield
Durable and reusable, the comfy head cushion of this adjustable face shield is made of water and sweat-resistant rubber, so it won't grow anything gross like mold.
Concerned About COVID-19? 
Read more stories to help you navigate the novel coronavirus pandemic: