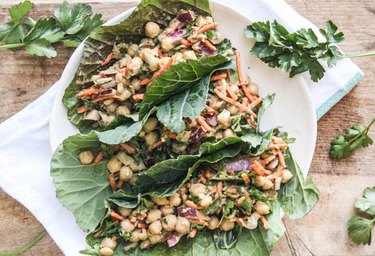 While spinach and kale get all the love as far as leafy veggies go, underrated collard greens are just as versatile and vital for good health.
Not to mention, these good-for-you greens are full of fiber and water to help support healthy digestion, Blatner adds.
"The best way to prepare them is lightly steaming or sautéing in healthy fats such as olive or avocado oil," says Blatner, adding that gently cooking collard greens "may actually improve some of the nutrients and beneficial health effects without losing too much of vitamins C and B."
From green omelets to plant-based pizza and Caribbean-style callaloo, these six creative collard greens recipes are both nutritious and delicious.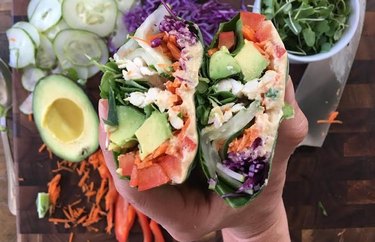 Crammed with cucumbers, tomatoes and mixed greens, the best part of this colorful wrap is that you can use any vegetables you have on hand, making it a very flexible recipe and great way to clean out the fridge.
"Using collard greens instead of a wrap is a great way to save calories and increase nutrition while avocado and hummus add creaminess without having to add heavy cheese, mayo or dressing," Blatner says.
Did we mention this rainbow wrap is ridiculously convenient? Just seven minutes from prep to plate, using a rotisserie chicken is an excellent time-saving hack. Purchasing pre-sliced veggies cuts down on kitchen time too.
2. Potato Crust Pizza With Tempeh and Greens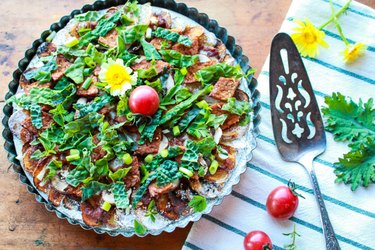 "The key to living a healthy lifestyle is to eat what you crave (like pizza!) and just make it with better-for-you ingredients, which is exactly what this recipe does," Blatner says.
"Using potatoes as the pizza crust adds more potassium than a usual crust, while the tempeh topping provides satiating plant-based protein for even greater stomach-satisfying power," she says.
For a timesaver, Blatner suggests swapping in sprouted whole-grain crust for the taters. High in protein and vitamins, full of fiber and easy to digest, sprouted grains will even spruce up the pizza's nutrient profile.
3. Tangy Tuna Salad in Collard Wrap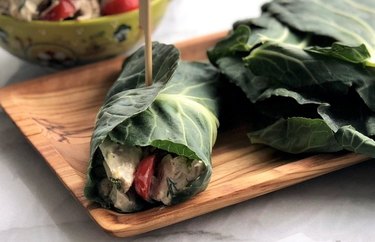 This twist on the traditional tuna salad sandwich substitutes bread with collard greens for a lighter version of the classic club. And the combo of collard greens and fatty tuna is a total win when it comes to nutrition.
Instead of using all mayo, Blatner recommends "mixing mayo with Greek yogurt, which is a great hack to increase protein, add some probiotics and decrease calories."
4. Red Peppers and Feta Collard Green Omelet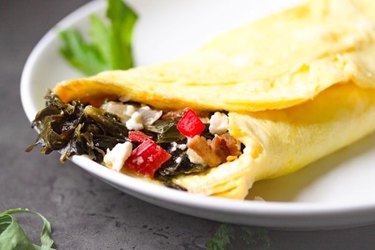 While spinach is the star of many veggie-based omelets, collard greens go just as well with your favorite breakfast fare. But this feta-filled, red pepper-packed omelet would also be an outstanding option for a satisfying lunch or light dinner.
"To make this a more balanced meal, pair it with a small salad plus a side of whole grain sprouted toast or a cup of chopped fruit," Blatner adds.
‌Get the Red Peppers and Feta Collard Green Omelet recipe and nutrition info at On Ty's Plate.‌
5. Chickpea And Avocado Collard Green Tacos With Tahini Sauce
"Many people struggle with how to get a protein-rich, plant-based lunch, and this recipe is a perfect solution," Blatner says. These tasty, vegan tacos sack the traditional tortilla shell for sturdy collard greens to cut carbs and calories while increasing nutrients.
"Collard greens contain fiber, but adding chickpeas really amps up the fiber content to make these [tacos] filling and good for gut health," Blatner says. Full of healthy fats and flavor, homemade tahini is also a great taco topper.
‌Get the Chickpea And Avocado Collard Green Tacos With Tahini Sauce recipe at Dishing Up The Dirt.‌
6. Jamaican-Style Callaloo
A popular Caribbean dish, callaloo is made with leafy greens, which can vary depending on the region and availability of local veggies. This simple yet satisfying version utilizes collard greens and sweet plantains, another Caribbean staple.
"Plantains are often served [deep] fried, so this lightly 'faux fried' version [sautéed in cooking spray] is a healthier way to enjoy them," Blatner says.
Each serving has only a half of a slice of bacon, which yields a whole lot of flavor while keeping the sodium to a minimum, says Blatner, who recommends buying uncured bacon without added sugar.
Serve these colorful collard greens with your favorite protein such as baked chicken, sautéed black beans or blackened fish.
‌Get the Jamaican-Style Callaloo recipe and nutrition info at Immaculate Bites.‌