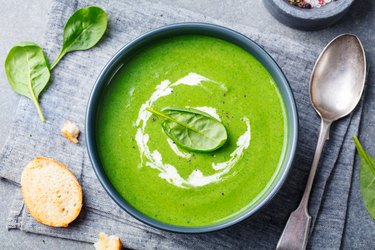 Crisp, crunchy and cool, cucumbers are a standout salad topping. But this versatile fruit (yes, it's technically a fruit) offers way more than your garden-variety garnish.
For starters, cucumbers contain a wealth of nutrients including vitamin C, potassium, fiber and antioxidants. Indeed, just one cup supplies about 25 percent of the daily recommended intake for vitamin K, which supports bone and heart health, Erika Fox, RDN, tells LIVESTRONG.com.
Made up of 95 percent water, cucumbers are also well-known for their hydration content, Fox adds. That's why they're so refreshing on sweltering summer days.
Plus, you can adapt and convert cucumbers for just about any recipe.
Not convinced? From smoothies to gazpacho and ice pops, cucumbers are the star of these six creative (salad-free) recipes that celebrate the crunchy fridge staple in their own right.
1. Creamy Avocado-Cucumber Smoothie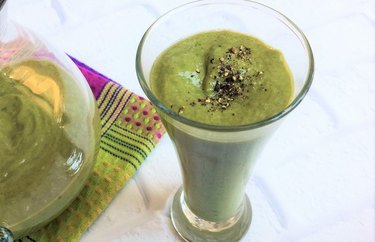 Between baby spinach, cucumber, apples, avocado and Serrano peppers, this hydrating, green smoothie packs in a whole lot of fresh, nutrient-dense produce without clocking in too many calories (only 174 per serving).
Rounding out the long list of healthy ingredients, unsweetened green tea supplies a subtle herbal flavor while helping you drop pounds.
A December 2013 study in the ‌Journal of Research in Medical Sciences‌ concluded that sipping four cups of green tea daily led to a substantial reduction in body weight, body mass index , waist circumference and systolic blood pressure.
For a more satiating smoothie, Fox recommends adding a source of protein such as protein powder, unsweetened yogurt or chickpeas.
2. Cucumber Lime Herb Pops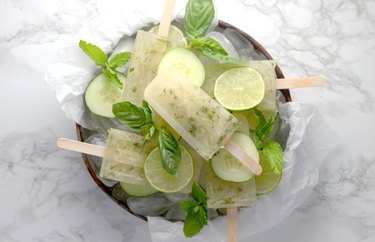 Whether you're trying to drink more H2O, lower your sugar intake or simply focus on healthier eating, Fox highly recommends trying these refreshing, nutritious, cucumber-based ice pops.
"Using fresh vegetables and herbs as well as stevia for the sweetener, they are not only hydrating, but also free of added sugars, making them a nutritious swap for sugar-filled ice pops on a hot summer day," she says.
Meanwhile, thanks to menthol, mint leaves leave a cool sensation in your mouth and help keep your breath fresh.
3. Avocado and Cucumber Gazpacho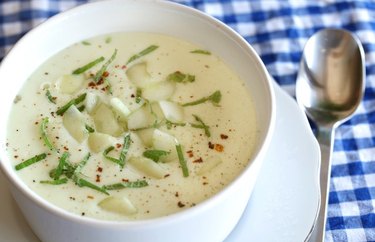 Popping with plant-based foods, this cooling cucumber-avocado gazpacho, seasoned with warm spices like ground cumin and cayenne pepper, is a wonderful low-cal recipe, Fox says.
And since this cold, refreshing vegetable soup doesn't require cooking on a stove, it's stellar for hot summer nights.
To create a better-balanced meal, Fox recommends blending in drained, rinsed chickpeas. "This will increase the protein content without drastically altering the taste and texture," she says.
4. Creamy Spinach Dip Snack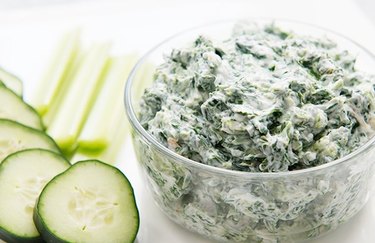 Nutritious and well-balanced, this delicious dip doubles as an amazing appetizer or a satisfying mid-afternoon snack.
"This spinach cucumber dip is a great example of how you can easily increase your vegetable intake without getting rid of foods you love," Fox says.
And unlike store-bought veggie dips, this healthier homemade version contains only four simple whole food ingredients — water chestnuts, Greek yogurt, cucumber and frozen spinach — so you can whip it up in five minutes flat.
Serve this scrumptious, creamy dip with whole-wheat crackers or celery sticks.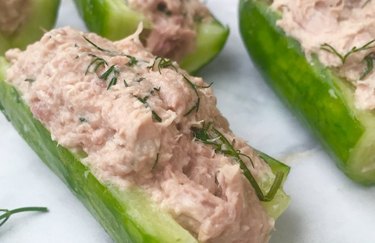 "Containing a great balance between healthy fats and protein [21 grams per serving], this tuna cucumber boat is perfect for a filling, satisfying and healthy [hydrating, post-workout] snack," Fox says. Overflowing with omega-3 fatty acids, tasty tuna also supports brain function and heart health, according to the National Institutes of Health.
"Using cucumber as the base instead of crackers or bread" not only pumps up the hydrating power of this savory snack but also cuts carbs (only 2 grams per serving!) and calories, "making it great for anyone focusing on weight loss," Fox says.
6. Blueberry, Cucumber and Green Tea Smoothie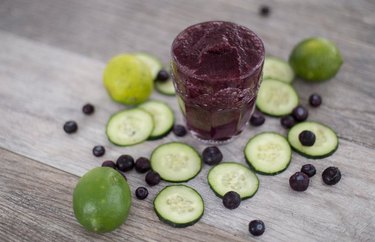 An awesomely nutritious alternative for anyone that's a fan of sorbet or fruity ice pops, this hydrating, cucumber-based smoothie boasts antioxidant-rich blueberries too, Fox says.
Small but mighty, brain-boosting blueberries contain anti-inflammatory properties that are tied to helping prevent age-related decline in cognitive function, according to a January 2012 review in the ‌Journal of Agricultural and Food Chemistry.‌
Since this smoothie is a bit carb-dense, you might want to diversify the ingredients by adding some healthy fats or protein.
Fox suggests tossing in chia, flax or hemp seeds as well as protein powder or unsweetened Greek yogurt (or non-dairy yogurt with protein) to increase the fullness and satiety factor.