Stew's heartiness provides a warming comfort — something we could all use these days. And it's often more filling than soup, which means it makes for a delicious and satisfying lunch or dinner.
That said, there are healthier ways to make stew so that it'll still provide that comforting "hug" you're in need of, while also fueling your body with the nutrition it needs. Here are a few simple tips on how to pick the best stew ingredients:
Broth: When it comes to the liquid you're adding to make a broth, aim for low-sodium, reduced-sodium or no-added-salt chicken, beef or vegetable broth. Skip the creamy broths that are typically higher in calories and saturated fat.
Vegetables: One of the reasons stew can be so good for you is because it often features a variety of vegetables. To add more fiber and nutrients, and to help you meet your daily vegetable quota, load up your stew with a range of veggies like carrots, parsnips, onions, butternut squash, celery, tomatoes and heartier greens like kale.
Grains: If the stew you're making calls for grains like rice or noodles, go whole grain. Brown rice and whole-wheat pasta are easy swaps. If you're looking to boost the protein content, look for a legume-based pasta or rice.
Protein: Go lean when it comes to protein. Skip the fattier cuts of beef and dark poultry meat. Instead, choose leaner sources like chicken breast or a leaner cut of beef. Or, go plant-based with options like tofu, seitan, lentils or beans.
Here are eight delicious stew recipes packed with good-for-you ingredients that'll keep you healthy and warm.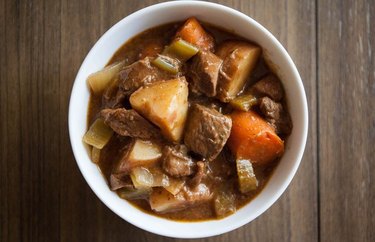 Calories: 343
Protein: 34 grams
Beef stew is probably one of the more classic stews and knowing how to make a healthier version that satisfies will come in handy. Huge chunks of carrots, potatoes and lean beef stewed in beef broth will surely be a crowd-pleaser.
The best part is it takes just 15 minutes to make. Seriously. Minimal prep work is required (some dicing and chopping) and then you can set it and forget it, allowing the slow cooker to do the rest.
2. Spanish-Inspired Chicken Stew
Calories: 479
Protein: 41 grams
This smoky and savory stew is packed with peppers, sweet potato and crushed tomatoes, making this a nutrient-rich dish. The Spanish influence comes by way of olives and raisins. This may seem like an odd pairing to some but they cook into the stew, adding sweetness and a saltiness to each bite. Brown rice would make for a wonderful base to help soak up the broth.
Get the Spanish-Inspired Chicken Stew recipe at Well Plated.
3. Chicken, Chickpeas and Chorizo Stew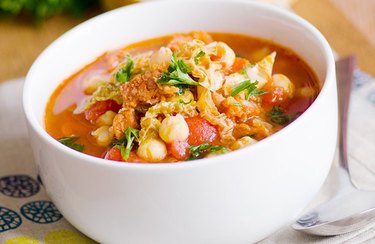 Calories: 375
Protein: 28 grams
This dish is lighter and brighter compared to typical heartier stews. The base is chicken broth and canned tomato, while the vegetables include kale, onions and tomatoes. The chickpeas and chorizo give the stew some heft along with a healthy dose of protein — almost 30 grams per serving.
4. Vegetarian Bean Stew With Beans and Rice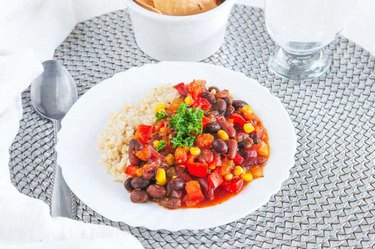 Calories: 342
Protein: 17 grams
This stew is completely vegan and it gets its 17 grams of plant protein from an assortment of beans and brown rice. This, combined with spinach, corn, tomatoes, onion and pepper, is what gives this dish the 18 grams of fiber it provides. It's also loaded with vitamin A, lycopene, vitamin K and potassium.
Get the Vegetarian Bean Stew With Beans and Rice recipe at Picky Eater.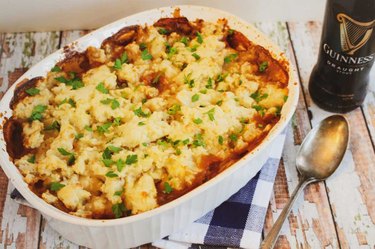 Calories: 395
Protein: 15 grams
Traditional stew is made with chunks of beef but here, seitan is used instead. The Guinness beer broth and mashed potato topping keep it authentic. Despite these heavier ingredients, each serving is still under 400 calories, provides 15 grams of protein and is completely plant-based.
6. Slow-Cooker Chicken Chile Verde Stew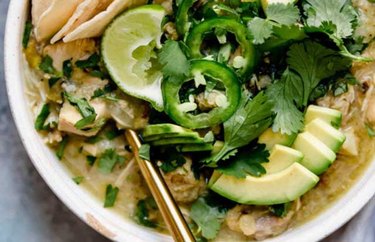 Calories: 250
Protein: 26 grams
Another slow-cooker favorite that requires just 15 minutes of prep work, this is a stew you'll want to cook all winter. The chile verde adds a nice twist to typical chili, bringing freshness with the green broth and the avocado and cilantro toppings. It's still cozy — perfect for any cold day — and it'll keep you feeling satisfied with the whopping 26 grams of protein.
7. Tuscan Bean Stew With Whole-Wheat Pasta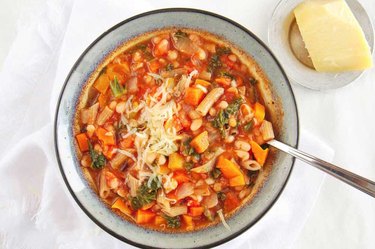 Calories: 288
Protein: 15 grams
Think of this as minestrone's thicker, heartier cousin. It has the pasta (whole-wheat), beans and cups of vegetables, but in a thicker sauce. All 15 grams of protein per serving are plant-powered, too. Pair this with a chunky of crusty bread and top with parmesan for a complete meal.
Get the Tuscan Bean Stew With Whole-Wheat Pasta recipe at Picky Eater.
8. Chipotle Black Bean and Quinoa Stew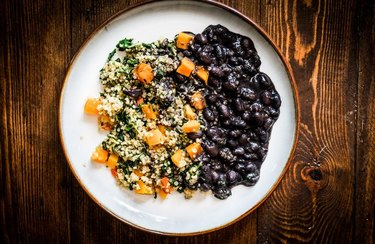 Calories: 312
Protein: 17 grams
Another vegan stew option that brings the protein, the 17 grams per serving are primarily from the black beans and quinoa. The chipotle gives this savory dish a smoky flavor, which is tempered by the sweet potato. The stew also provides 100 percent of women's daily fiber needs.