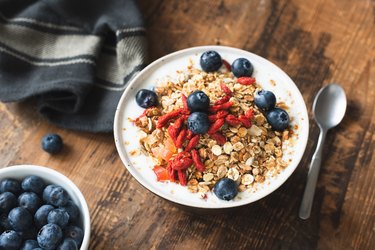 Morning routines help set the day, and what better time to start feeding your gut in a healthy way?
Whipping up a gut-friendly breakfast doesn't have to be labor-intensive. You can pull something together in 10 minutes or less by incorporating simple gut-healthy foods into your meal, such as:
‌Probiotics:‌ live, "good" bacteria typically found in fermented foods like yogurt and sauerkraut.
‌Prebiotics:‌ a type of fiber that helps feed probiotics; it's found in garlic, onions, asparagus, oats, bananas and apples.
‌Digestive enzymes:‌ compounds that help break down the food we eat so that it can be absorbed and used by the body; they're found in pineapple, mango, avocados, papaya and kefir.
‌Polyphenols:‌ plant compounds that contain antioxidants and act like prebiotics in the body, per a September 2019 ‌Nutrients‌ study.
All the high-fiber breakfast recipes below contain at least 7 grams of fiber — that's about a third of women's daily value and nearly 20 percent of men's — and other gut-nourishing ingredients for a healthy a.m. meal you'll look forward to eating.
1. Southwestern Egg Scramble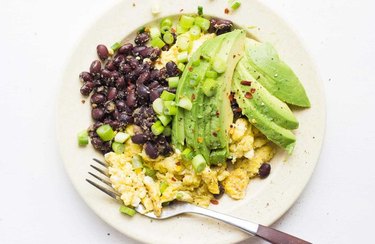 ‌Calories:‌ 422
‌Fiber:‌ 11 grams
This savory egg scramble will feed your appetite and nourish your gut. Avocados are rich in polyphenols and black beans bring the fiber. Add more nutrients by topping with a dollop of salsa.
‌Calories:‌ 613
‌Fiber:‌ 23 grams
Bananas, almond butter, vanilla protein powder and cacao will make you believe you're having dessert for breakfast. You'll also add in tiger nuts, which aren't actually a nut — they're a tuber (like sweet potatoes) and act as a prebiotic, which means they are eaten up by the good bacteria in our colon. Cacao powder is also rich in polyphenols.
3. Boiled Egg and Avocado Tartine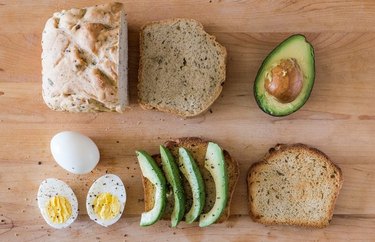 ‌Calories:‌ 282
‌Fiber:‌ 8 grams
Avocado toast on sourdough isn't just delicious, it's inherently gut-friendly too, courtesy of the avocados (polyphenols) and sourdough bread (a prebiotic). Topping it with a protein-rich egg ups the flavor and also balances out the dish when it comes to taste and nutritional offerings.
4. Amped-Up Bircher Microbe Muesli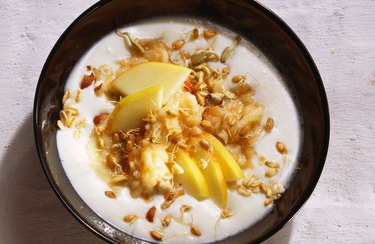 ‌Calories:‌ 465
‌Fiber:‌ 10 grams
This recipe is aptly named Amped-Up Bircher Microbe Muesli because it's boosted with microbe-rich foods like yogurt and kefir. It's not overly sweet and is well-balanced thanks to the yogurt and kefir, which add lean protein to the dish. Cinnamon would be delicious on top, adding warmth and spiciness.
5. Vegan Banana-Berry Granola Parfait in a Jar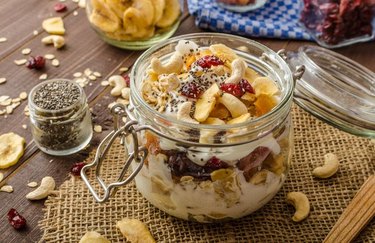 ‌Calories:‌ 318
‌Fiber:‌ 9 grams
Parfaits make the best breakfast, especially when your mornings are busy (whose aren't?). This recipe only takes six minutes to make — and you can prep it in advance and refrigerate overnight. You'll be nourishing your gut with the chia seeds, polyphenol-rich berries and sweet banana.
6. Creamy Avocado, Apple and Asparagus Smoothie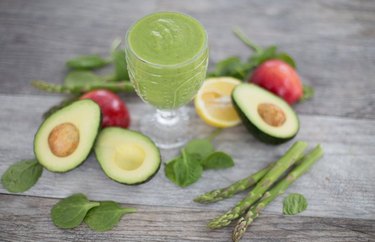 ‌Calories:‌ 292
‌Fiber:‌ 7 grams
Adding avocado to your smoothie makes it extra thick and creamy and also adds gut-healthy polyphenols. Because of the apple, almond butter and honey, you won't even taste the asparagus or leafy greens. This green smoothie will leave you and your gut feeling your best first thing in the morning.