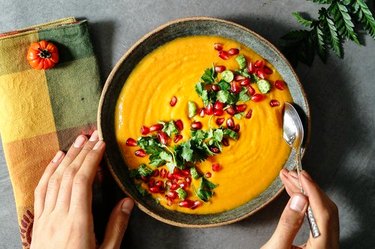 Fall is here and that means there's a new bunch of produce that's ripe and ready to enjoy — including pomegranates.
The fruit looks like an oversized red onion without the paper-like skin, but when you open it up, you'll notice it's full of edible arils (seeds) that are juicy, sweet, tart and packed with nutrients.
Pomegranates are only in season from late September to November, so to help you jumpstart this short-but-sweet window of time, try these pomegranate recipes that are as delicious as they look.
1. Beef and Pomegranate Salad With Orange Ginger Vinaigrette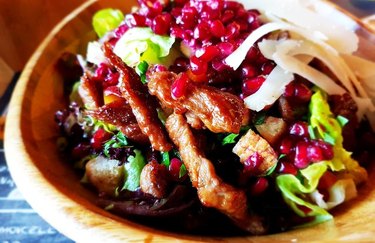 Building a seasonal salad doesn't have to be a fussy process. This salad packs 37 grams of protein and is simple, delicious and uses a variety of seasonal produce to punch up the flavor. "The pomegranate arils, kale, celery and orange provide fiber and the olive oil offers heart-healthy monounsaturated fats," Gorin says. The combination of healthy fat and satiating fiber will keep you satisfied for hours.
2. Stuffed Pumpkin With Herbed Quinoa and Pomegranate Arils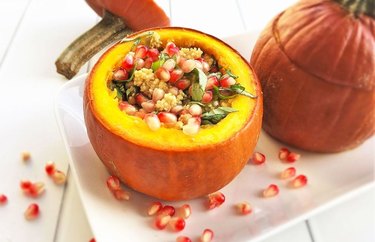 This stuffed pumpkin recipe is festive and perfect for entertaining, but it's also loaded with 13 grams of protein and 12 grams of fiber. This recipe is vegan-friendly, making it a great option for your next Meatless Monday.
3. Pomegranate Cucumber Salsa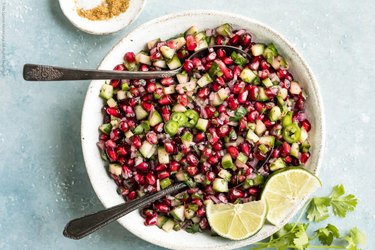 We love traditional tomato salsa, but there's something refreshing and vibrant about the ingredient twist in this recipe. It's essentially a fruit and veggie salsa, but the contrasting flavors of the zesty red onion, spicy jalapeno (remove the seeds if you don't like too much heat), refreshing cucumber and sweet-tart pomegranate arils work together beautifully. The best part is this salsa is super versatile: You can pair with whole-grain crackers or even serve it atop your favorite meat.
4. Carrot Ginger Soup With Mascarpone Cheese and Pomegranates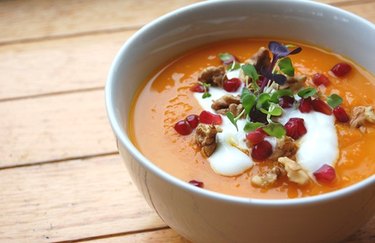 'Tis the season for hearty bowls of soup that are oh-so comforting on a cold day. "I like that this recipe uses protein from the walnuts, and the pomegranate arils are a colorful, antioxidant-filled topper," Gorin says. This soup is not a complete meal by itself, so try topping it with Greek yogurt for additional protein or pairing with salmon or tofu to make it a balanced meal.
5. Roasted Red Cabbage Salad With Pomegranate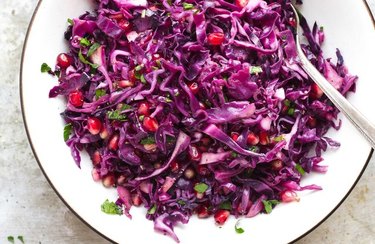 This slightly sweet side dish comes in handy when you're whipping up a meal in 15 minutes or less. Cabbage is low in calories and chock-full of vitamin C. Gorin suggests balancing out this colorful side with a protein-rich main dish of your choice.
6. Pomegranate Glazed Salmon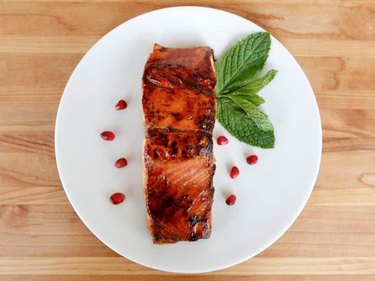 This sweet, caramelized salmon is pan-seared and finished in the oven and then glazed with pomegranate molasses and topped with pomegranate arils. Salmon boasts heart-healthy omega-3 fatty acids, which makes it a smart protein choice for any meal, Gorin says. You can pair this seafood dish with cruciferous vegetables like broccoli or Brussels sprouts and brown rice or quinoa for a complete and healthy meal.
‌Get the Pomegranate Glazed Salmon recipe and nutrition info at Tori Avey.‌
7. Braised Kale With Pomegranate Molasses and Pomegranate Seeds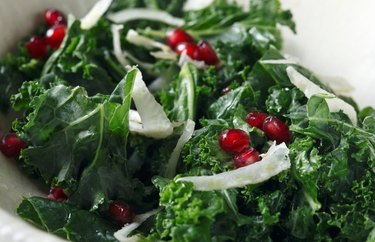 Pomegranates are a colorful and delicious way to spice up kale salad. Kale is full of vitamins K and A. If you find it hard to stomach raw kale, try a recipe like this that lightly sautés the veggie, which takes that bitter edge off. To make this side dish vegetarian, Gorin suggests swapping the chicken broth for low-sodium vegetable broth.
‌Get the Braised Kale With Pomegranate Molasses and Pomegranate Seeds recipe and nutrition info here.‌
Was this article helpful?
Thank you for your feedback!