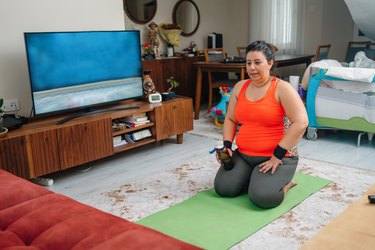 Decision fatigue is a real thing, whether you're picking a takeout restaurant or choosing an at-home workout video. But breathe a sigh of relief, because we've gathered three of the perfect full-body workout videos for any mood.
Bonus: Each of these sessions is only 10 minutes long. You can play your favorite video if you want a quick "one and done" workout. Or do all three, warming up with some mobility, spiking your heart rate with HIIT and cooling down with deep stretching.
Tip
Before you hit play on your favorite 10-minute workout, run through a few dynamic warm-up exercises to prep your muscles and help keep them injury-free.
Improve Your Lower-Body Mobility in 10 Minutes
This isn't your average mobility session. Led by Ingrid Clay, certified personal trainer and founder of ISC Wellness, this 10-minute video will feel like a challenging leg day workout but actually targets your balance and stability for better movement in your other training sessions.
Spike Your Heart Rate With This 10-Minute HIIT Workout
This 10-minute high-intensity interval workout may use only one dumbbell, but it'll have you dripping with sweat. Led by Keoni Hudoba, founder of core-intensive virtual training program COREntine, this effective and efficient workout is full of compound exercises, working multiple muscle groups with each move.
Tip
Need more of a challenge? Run though this video twice for a 20-minute workout before cooling down.
Spend 10 Minutes Stretching Your Whole Body
Led by Hailey Lott, yoga instructor and meditation specialist, this 10-minute deep stretch video is the perfect way to unwind after a stressful day (or after another workout video). If you don't have a yoga mat at home, a comfortable rug is the perfect place to move through this relaxing sequence.
Want More Workout Videos?