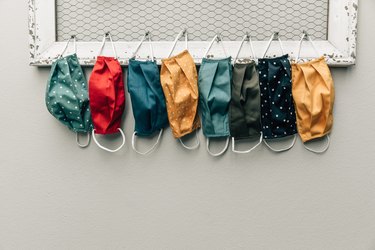 By now, you should almost be a face mask pro: Popping one on wherever you go, stashing extras in your car and washing them every night. But with so many types of masks now (surgical vs. cotton, single vs. double), it can be tough to know exactly what you need to wear and when. We have some answers.
Keep in mind that the advice surrounding COVID-19 is constantly evolving. Per May 2021 guidelines from the Centers for Disease Control and Prevention (CDC), fully vaccinated people no longer need to wear masks unless it's required by law (say, if your employer mandates it in your workplace, or you're shopping at a store that has a masks-on policy).
But if you're not fully vaccinated — that is, it hasn't been two full weeks since your final COVID shot — then you'll want to keep your face covering in place.
"It's all about embracing the mask and not fighting it," says Colleen Nash, MD, MPH, an infectious disease doctor at Rush University Medical Center in Chicago. "Wearing a mask gives you the opportunity to leave your house."
When you venture out, here's exactly how you should mask up:
When to Wear a Double Mask
Any time you're wearing a mask now, it should be a double mask, Dr. Nash says. Her recommendation comes in response to variants of the coronavirus, which spread more easily.
"A double mask will provide more of a physical barrier to prevent you from spewing out viral particles and those particles from penetrating the mask to get to you," she says.
With variants that are more easily transmissible, fewer viral particles are needed to cause infection, and so the more layers between you and the air, the better.
Indeed, the CDC recommend double-masking as one highly effective way to achieve a tighter fit on your face, which its research shows can greatly reduce COVID exposure. (Wear a surgical mask closer to your face, with a cloth mask over top.)
There are other ways to make sure your mask is nice and tight, though, per the CDC: Knot the ear loops and tuck in the sides of your surgical mask, or add a mask fitter or nylon covering over top of your mask to secure it.
​Bottom line:​ It's a good idea to wear a double mask when leaving your home, whether you will be outside or inside. Skip the mask when you're at home with the people you live with.
When to Wear a Single Mask
You might still be wearing a single mask, but it's little effort to throw on another mask on top. And so, the answer is: You shouldn't be wearing just a single mask anymore, Dr. Nash says.
The only time it might be appropriate is when you forget to bring two masks and you only have one. At that point, definitely wear it! It's even more important than ever to wear it correctly. (More on that below.)
​Bottom line:​ A single mask is better than no mask, but it's likely better to double up.
When to Wear a Face Shield
"There's not an instance that I can think of where wearing only a face shield is appropriate," Dr. Nash says. "But a face shield plus a mask is always reasonable," she adds.
The CDC agrees: Face shields are not a mask substitute, as they have large gaps that allow viral particles to escape.
If you work at a place where you readily interact with people every day, like a grocery store, then the addition of a face shield or goggles can give your eyes a layer of protection, too. While the nose and mouth are the biggest sources of viral transmission, the eyes are also a potential route.
You might also consider a face shield if you are interacting with someone who is deaf or hearing impaired, in which case, choose one that wraps around the sides of your face and extends below the chin or is hooded, suggests the CDC.
​Bottom line:​ In general, if you're going to wear a face shield, wear it over a mask.
N95 masks filter out at least 95 percent of both large and small particles in the air, per the CDC. While everyone wanted to get their hands on these at the beginning of the pandemic, they were and remain recommended for frontline health care personnel only.
What's more: It's never appropriate to wear an N95 (or any other mask) with a valve on it. The valve allows viral particles from your nose and mouth to spray out into the surrounding air, putting people around you at risk.
​Bottom line:​ Only health care personnel in specific settings will need an N95. You'll know if that's you. If it's not, skip this type of mask and double up your cloth mask instead.
How to Wear a Mask Properly
For the most protection for you and members of your community, make sure to do the following:
Wear your mask over your nose and mouth. (Not below the nose!)
Make sure it nicely hugs your face and chin. Masks with adjustable ear straps, nose wire and fitted chins can make this happen.
Wash your hands or use a hand sanitizer before putting your mask on.
Do not touch or adjust your mask while wearing it.
Read more stories to help you navigate the novel coronavirus pandemic: