Beta blockers are a class of medications that work by blocking a type of cell receptor known as a beta receptor. The medications in this class are commonly used to treat high blood pressure, but are also used to reduce the risk of death in patients who have had heart attacks, to treat anxiety disorders and to prevent migraine headaches. However, certain diseases and conditions are contraindications to using beta blockers; that is, patients with these conditions should not take beta blockers because these medications may be dangerous to them.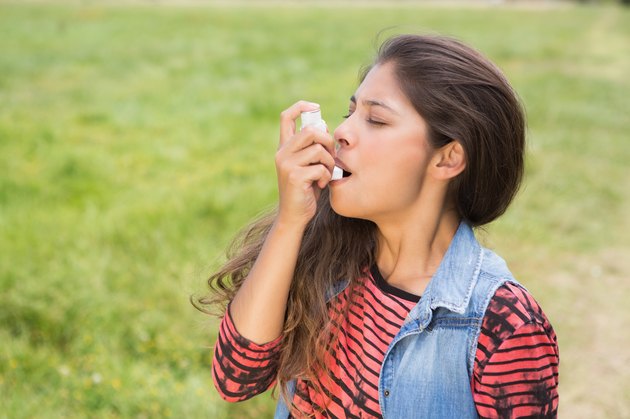 Bradycardia
Bradycardia is the medical term for a heart rate that is fewer than 60 beats per minute. As Dr. Norman Kaplan writes in the online medical reference UpToDate.com, patients with bradycardia should not take beta blockers. This is because one of the effects of beta blockers is to decrease the heart rate. So a patient with bradycardia who takes beta blockers is at risk for a dangerously low heart rate. According to UpToDate.com contributors Dr. Morton Arnsdorf and Dr. Leonard Ganz, patients may feel no symptoms related to their abnormally slow heart rate. Alternatively, patients may experience symptoms such as lightheadedness, chest pain, fatigue and weakness. Worsening of already-existing heart failure may also occur.
Second or Third Degree Heart Block
In the heart condition called second degree block, some electrical impulses from the heart chambers called the atria do not reach the chambers called the ventricles. When this occurs, there will be missed beats--the normal heart beat will be interrupted with these intermittent missed beats. In third degree heart block, all impulses from the atria do not reach the ventricles. In such cases, the ventricles have to get their electrical impulses from a new source; the result is called an escape rhythm. Patients with second or third degree heart block should not take beta blockers because there is a risk that the heart block will worsen and result in abnormal, potentially fatal heart rhythms.
Asthma
A 2007 study of over 11,000 patients, published in the journal "Pharmacotherapy," found that patients with asthma who were on beta blockers had higher rates of hospitalization and more visits to the emergency department, when compared with asthma patients not on beta blockers. This is because one of the actions of beta blockers is to constrict the airways; patients with asthma already have constricted airways, so the beta blockers make the problem worse. Asthma medicine works to relax the airways; beta blockers constrict them.
Diabetes Patients Prone to Hypoglycemia Unawareness
Patients with diabetes sometimes develop a problem called hypoglycemia unawareness, in which they have dangerously low blood sugar levels but do not experience the symptoms--such as lightheadedness, increased heart rate, feeling sweaty and dizziness--to warn them of this problem. According to the pharmacology database MicroMedex, patients who are prone to these episodes of low blood sugar without feeling the symptoms are advised to avoid beta blockers. This is because beta blockers can mask the symptoms of low blood sugar, making the problem of hypoglycemia unawareness more dangerous than it already is.