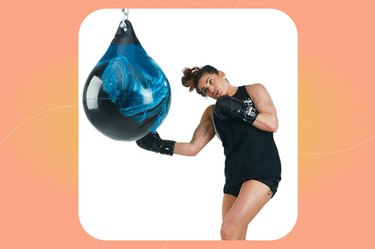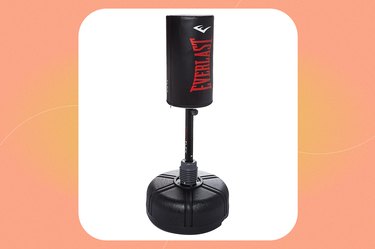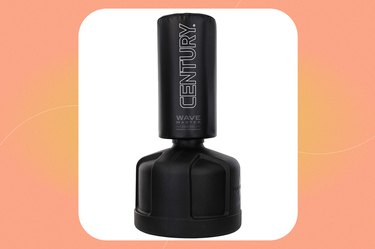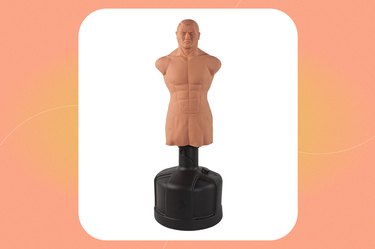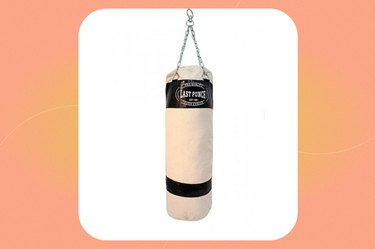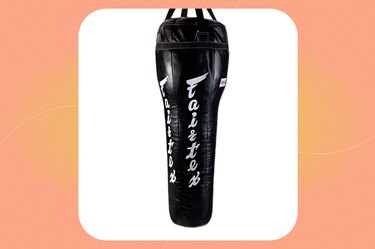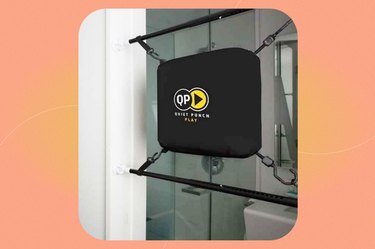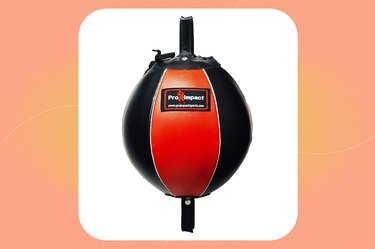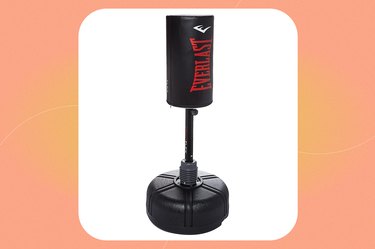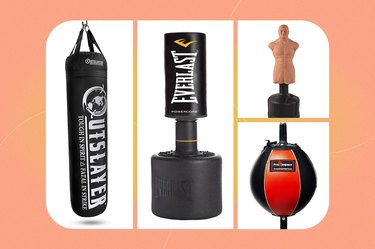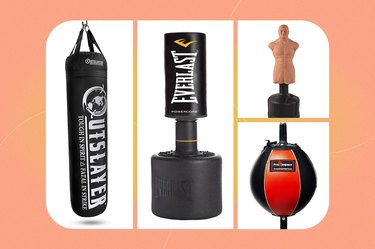 If you've been bitten by the boxing bug, you may be set to recreate the studio experience in your living room. Your goal: Practice your skills and squeeze in a stress-busting workout at any hour of the day.
And your first order of business? Scoring a top-notch punching bag.
Luckily, there are tons of home boxing bags on the market that can help you reap all of the health benefits of boxing. But sifting through hundreds of bags can be overwhelming. To narrow the field, we asked two boxing instructors about their top picks.
Best At-Home Punching Bags
We chatted with boxing coaches and trainers who helped us break down what to look for in the best punching bags. We selected our products based on their criteria below. You can learn more about how we cover products here.
Budget
Bag type
Durability
1. Aqua Training Bag 21" 190 lb. Aqua Punching Bag
‌Weight: ‌190 pounds (when filled)
‌Height: ‌21 inches
‌Materials: ‌Thick-walled vinyl
‌Type: ‌Hanging
This is the bag you'll find at Rumble Boxing studios across the country. "We scoured and sourced to the ends of the earth for the best bag to bring to our studio experience," says Noah Neiman, co-founder and personal trainer at Rumble. "We found that Aqua Training Bag is the hands-down best for overall heavy bag training."
The bag features a sleek teardrop shape that, when filled with water, is designed to offer more give than a traditional bag. This way, you can throw a variety of punches safely. "Uppercuts, which are traditionally a little more dangerous to throw on traditional bags, roll like butter on these bags," Neiman says.
Hang the bag from your ceiling or a boxing stand (sold separately). And if this bag is too big or heavy, you can snag a 75- or 120-pound version instead.
2. Everlast Powercore Free-Standing Heavy Bag
‌Weight: ‌250 pounds (when the base is filled with water); 370 pounds (when the base is filled with sand)
‌Height: ‌54 inches to 65 inches (adjustable)
‌Materials: ‌NEVATEAR outer layer; shock-absorbing foam interior
‌Type: ‌Free-standing
"With all Everlast products, the quality for the price point is a solid bet," Neiman says. This model is no exception, earning it the title of the best free-standing punching bag for home workouts.
The beauty of free-standing bags like this one is you don't need to drill holes into your ceiling or buy a stand, as you would for a hanging bag. Simply set the bag on the floor and fill with water or sand (sold separately) to weigh it down. If you use water, the bag will max out at 250 pounds; use sand and it can reach 370 pounds.
From there, you can easily adjust the bag between 54 and 65 inches to find the ideal height for you. Then punch, jab and kick away.
‌Weight: ‌250 pounds (filled)
‌Height: ‌47 inches to 68 inches (adjustable)
‌Materials: ‌Vinyl exterior
‌Type: ‌Free-standing
This boxing bag features seven height settings (from 47 inches to 68 inches), offering plenty of real estate for beginners to practice a wide variety of kicks and punches. Plus, it's softer than traditional sand-filled versions, "so beginners are less likely to hurt themselves, especially on kicks," says Miles Hill, CPT, a New York-based personal trainer and boxing instructor.
Beginners will also appreciate the free-standing design, because it's easier to set up and move around than a hanging bag.
4. Century BOB XL Body Opponent Bag
‌Weight: ‌270 pounds (when filled with water)
‌Height: ‌60 inches to 78 inches (adjustable)
‌Materials: ‌High-strength plastisol exterior; urethane foam interior
‌Type: ‌Free-standing
Meet BOB. This training dummy has been a long-standing favorite in martial arts circles. He offers the look and feel of sparring with a real person, Neiman says.
The XL version of the free-standing mannequin bag features a longer torso, which gives you an extra foot of striking space. You can also slide BOB up or down the central stem to practice kicking and punching people of different heights, or remove him entirely when it's time to store him away.
Bonus: BOB's rounded base makes him a cinch to relocate. Simply tip him onto the side of the base and roll him over to his new spot.
5. Shelter Last Punch Heavy Duty Red Canvas Punching Bag With Chains
‌Weight: ‌Varies depending on the filling
‌Height: ‌33 inches (without chains); 48 inches (with chains)
‌Materials: ‌Heavy duty canvas
‌Type: ‌Hanging
If you need an inexpensive punching bag for home that's still quality, this is the one for you. Fill this heavy duty canvas bag with sand, old clothes, plastic bags or whatever else you can think of. Then mount it to the ceiling with the included steel chains and start punching.
It may not come with any frills, but sometimes, you just want a big canvas bag to punch.
‌Weight: ‌132 pounds (filled)
‌Height: ‌60 inches
‌Materials: ‌Syntek leather outer; heavy-duty nylon lining; nylon web straps
‌Type: ‌Hanging
You'll find this bag hanging in Muay Thai gyms all over the world, Neiman says.
Thanks to the generous height and heavy-duty construction, this multi-purpose bag is perfect for punching, throwing elbows and sending kicks of all types.
"I have a traditional Fairtex heavy bag hanging in my own personal gym for some serious stress-relieving clobberin' time," Neiman says.
7. Quiet Punch Smart Punching Bag
‌Weight: ‌Not available
‌Height: ‌Not available
‌Materials: ‌Durable soft foam pad; welded telescoping bars
‌Type: ‌Hanging
The name says it all. This durable foam punching pad sets up in any doorway, weighs practically nothing and is a great alternative to a heavy punching bag. It also allows you to throw nighttime punches without waking your neighbors.
It even comes with access to more than 100 hours of free boxing workouts, as well as a custom smartphone holder mounted above the pad so you can easily follow along.
8. Pro Impact Genuine Leather Speed Bag
‌Weight: ‌Not available
‌Height: ‌7 inches; 9 inches
‌Materials: ‌Leather exterior; rubber bladder
‌Type: ‌Hanging
Looking for a bag that offers more speed than resistance? Here's your solution.
The best punching bag for developing cat-like reflexes, this product uses air as a filling, rather than water or sand. This keeps it light and quick-moving. Meanwhile, the round shape allows for rapid recoil.
This bag also features a pair of bungee cords and S-hooks, so you can easily suspend is at both ends to the ceiling and floor of your home gym.
As larger targets are easier to hit, beginners may want to start with the 9-inch bag. More practiced boxers can go with the 7-inch version.
9. Everlast Omniflex Freestanding Heavy Bag
‌Weight: ‌130 pounds (when the base is filled with water); 200 pounds (when the base is filled with sand)
‌Height: ‌59 inches to 67 inches (adjustable)
‌Materials: ‌NEVATEAR outer layer; shock-absorbing foam interior
‌Type: ‌Free-standing
The compact design of this free-standing punching bag makes it the ideal choice for small spaces. The neck also flexes to absorb the impact of strikes and minimize movement at the base, which helps keep the bag contained within a tighter footprint.
Adjust the bag height from 59 inches to 67 inches to suit your needs.
10. Outslayer Punching Bag
‌Weight: ‌100 pounds (filled)
‌Height: ‌55 inches
‌Materials: ‌Heavy duty vinyl exterior; cotton filling
‌Type: ‌Hanging
If you need a bag that will outlast even you, you can't go wrong with this pick. This hanging bag is crafted with strong vinyl and sewn with a quadruple backstitch for maximum durability. Plus, it includes sturdy hanging straps sewn right into the bag. That scores you the strength of chains without the noise.
The bag is also packed to the brim with 100 percent cotton. This helps nix the sinking or hard spots you might encounter when you punch a sand-filled bag.
4 Things to Consider When Buying an At-Home Boxing Bag
The best punching bags for home fall under one of two categories: hanging and free-standing. Each type offers a great boxing experience, so whichever you choose may ultimately be a matter of preference and space.
‌Hanging Bags:‌ These have that old-school boxing feel, but they typically have a complicated set-up. "Most good hanging bags require them to be drilled into the wall or ceiling," Hill says. That can be inconvenient if you're renting your space or simply don't want the hassle.
You can always compromise by buying a hanging bag stand. However, "I personally feel like the base of the stand is too close to the bag and makes it awkward for kicking," Hill notes. But if you don't plan on kicking the bag, a hanging bag stand could be a good option for you.
‌Free-Standing Bags:‌ These tend to be better for smaller spaces (no swinging back and forth), as well as easier to set up.
That said, disassembling them (should you need to) can be a headache. Many require you to fill the base with water or sand, which can make them too heavy to pick up. If you ever need to drain the base of water, you'll have to roll it into your shower or yard, Hill says.
The weight of a home boxing bag can vary depending on the style, materials and filling. Generally, heavier bags are taller, filled with sand or water, and/or made of heavy-duty materials like leather or vinyl. Meanwhile, lighter bags tend to be compact, filled with cotton or air, and/or made with cheap canvas or plastic. There are always exceptions, however.
Look for a bag that's heavy and sturdy enough so that it doesn't move the base (if free-standing), or swing too far when you strike it, Neiman says.
From there, how heavy you go may depend on how you're using the bag. A heavier bag (like one filled with sand or water) offers more resistance, making it ideal for power development. Meanwhile, a lighter bag (like one filled with cotton or air) is more helpful for speedwork.
The ideal punching bag size depends in part on how much space you have, as well as how much bag surface area you need.
If you'd like to practice kicks in addition to punches, a longer bag with more real estate will come in handy.
However, if you have low ceilings or little space to accommodate a swinging bag, you may need to settle for a shorter one.
Punching bags are available in a wide range of materials. More expensive bags typically feature a leather exterior, whereas lower-cost bags are often made of synthetic materials and plastic, Neiman says.
One isn't necessarily superior to the other, but high-quality (and generally more costly) materials will help extend the life of your bag.