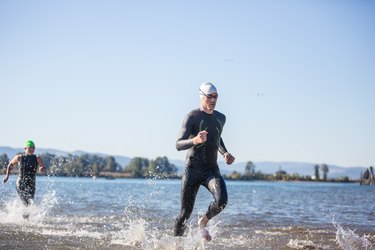 The sport of triathlon involves completing a swim, bike and run, one right after the other. Distances of all three disciplines can vary from a sprint triathlon, which is generally less than 20 total miles across each activity, all the way up to an Ironman triathlon, which is 140.6 total miles.
One of the most critical pieces of equipment needed for a triathlon is a triathlon suit, also called a triathlon kit. A triathlon suit is typically made of stretchy athletic fabric, such as lycra or spandex, and covers the same bodily area as a cycling jersey and cycling shorts.
There are plenty of options when it comes to purchasing a triathlon suit, and it can be hard to know which brand or style is right for you. We talked to a veteran triathlon coach and triathletes to understand what brands are their favorite and why.
California-based triathlon coach and multi-time Ironman World Championship qualifier Julie Dunkle has been coaching triathletes of all abilities for 13 years. In that time, triathlon suits have evolved for the better, with many now being tailored to men's and women's physiques and taking aerodynamics into consideration.
Dunkle shared her recommendations for assessing a triathlon kit, below, and other triathletes and coaches chimed in with their top triathlon suit picks, too. You can learn more about how we cover products here.
Fabric
Chamois thickness
Aerodynamics
Pockets
Sleeve length
A Quick Language Note
We make deliberate choices about the language we use when it comes to gender. While more brands now carry gender-neutral workout clothes, you'll still typically see clothing brands market their products to men or women. We've listed both women's and men's picks below.
The main difference between most women's and men's clothing is the fit: Men's versions tend to be roomier and women's versions tend to be tighter. However, fabrics, quality and comfort should be the same between gender-labeled pairs. We encourage everyone to purchase the products that feel right for them.
1. Best Overall: Wyn Republic Hi-Velocity X Triathlon Suit
Wyn Republic was founded by two former professional triathletes and has since become a favorite brand of both amateur and professional triathletes.
"The Wyn Republic triathlon suit is the most comfortable and flattering tri suit I've ever worn," says Colorado-based professional triathlete and coach Caitlin Alexander. "The material is buttery smooth with no chafing, the rear pocket is spacious for all my run nutrition and the cut and shape of the suit looks great on all body types."
The Hi-Velocity X kit checks all the boxes for a high-quality triathlon suit that will last multiple seasons. It's made from Italian fabric that optimizes breathability, flexibility, quick-drying abilities and aerodynamics. The fabric even has UPF 35+ sun protection built in.
The kit's seams lay flat and when fitted correctly, the suit is compressive and tight without being constricting. In addition, the kit has full sleeves complete with silicone grippers to keep them in place on your biceps, as well as silicone grippers on the leg openings.
The suit has plenty of storage, with two unique side pockets along the legs of the kit as well as one large "speed pocket" on the back for easy access while on the bike.
Perhaps most importantly, WYN Republic prioritized a comfortable chamois — an Italian Dolomiti Grigno tri-specific chamois is stitched into the suit and has 3 millimeters of thickness as well as numerous drainage holes so it dries fast after a swim. (A chamois is the pad in the groin area of a triathlon kit or cycling shorts that provides extra comfort to that area.)
The Hi-Velocity X triathlon suit combines style, aerodynamics and technical aspects to create a comfortable and functional suit that works well for both short- and long-distance triathlons.
2. Best for Women: Betty Designs Short-Sleeve Tri Skinsuit
Betty Designs is a triathlon apparel company by women, for women.The brand's designs and cuts aim to make women feel good and look good in their triathlon suits.
Betty Designs triathlon suits include highly-breathable RaceFlow with Acqua Zero Lite fabric to repel moisture and dry quickly. The fabric also has UPF 50+ sun protection.
All Betty Designs kits include an antimicrobial chamois designed to provide comfort on the bike for up to 8 hours, as well as two back pockets that can fit a total of four gels or two granola bars.
The inseam on Betty Designs kits are a bit shorter than what other companies offer, coming in at 6 inches. This can be beneficial to women who like to feel more freedom in their legs as they cycle and run. All triathlon suits by Betty Designs are women-specific and don't come with a shelf bra.
3. Best for Men: Castelli Free Sanremo 2 Short-Sleeve Triathlon Suit
Castelli is one of the longest-standing triathlon and cycling brands, founded in 1876 in Italy. Since then, Castelli has become a common triathlon kit brand to see at both short- and long-distance triathlons.
The Sanremo 2 suit features Castelli's Rosso Corsa label, which is "only applied to the highest-level products [Castelli makes]," according to their website.
The Velocity Rev2 main body fabric is highly breathable, has a mesh-like construction and features a UPF 16 sun protection. The front opening and zipper were specifically designed to accommodate bending into a cycling or aerodynamic position on the bike while also not chafing on the run.
The fit of the legs on the Sanremo kit was created to provide optimal muscle support and compression over long distances without being overly tight. The legs also feature GIRO4 leg grippers to keep the leg fabric in place and maximize the aerodynamics of the fabric.
The kit also features Castelli's proprietary KISS triathlon chamois, which is designed to "provide total freedom of movement with minimum bulk" The density of the chamois is optimized for the aerobar position on the bike, and you can barely feel it during the swim and run portions of the race.
4. Best for Beginners: Zone3 Activate Short-Sleeve Full-Zip Tri Suit
Zone3 is best known for its open-water swim gear like wetsuits and goggles, but they also offer a limited selection of triathlon suits.
Their Activate line is all under $200 and gets the job done when it comes to quality fabrics, coverage and chamois options.
This kit offers a waffled fabric on the back to allow for maximum breathability, as well as full-length sleeves and sleeve grips so everything stays in place. Inner-knee leg grippers are also sewn into the leg openings.
The chamois offers different levels of padding to enable as much comfort as possible in the groin area, while still retaining the properties of seamless stitching and being quick-drying to minimize chafing.
The kit is lower in price compared to most others, which makes it perfect for someone testing the waters in their first triathlon before deciding to commit to going all-in on purchasing expensive gear.
5. Best Fashion-Forward: Zoot Sports Ltd Tri Aero Fz Racesuit
Part of the fun of buying a triathlon suit is picking one that expresses your personal style. California-based brand Zoot Sports goes all out in their carefully crafted prints on both their men's and women's kits.
In addition to their colorful designs, Zoot Sports triathlon suits include a variety of helpful features to make their kits comfortable and functional on race day.
One such feature is the addition of small pockets behind the neck and on the kidney area to assist with temperature regulation. Put some ice in those pockets while racing to eliminate the annoyance of dumping ice or water down your back or shirt with no way to keep the ice in place when you get hot.
The kit also has plenty of storage pockets, with an interior fuel pocket inside the torso part of the suit and four pockets on the back of the suit — the most of any triathlon kit on this list — and its Italian fabric has UPF 50 sun protection properties.
Zoot's kits include an Italian chamois that's infused with carbon, which maximizes quick-drying, anti-chafing properties. The chamois has more padding toward the front to provide more support for triathletes who ride in an "aero position," meaning they lean forward toward the nose of the saddle more.
Color options like cheetah print and neon combined with high-quality fabrics makes Zoot Sports stand out among other brands.
6. Best for Elite Triathletes: Varlo Sports Pro Element Triathlon Suit
Varlo Sports is a relative newcomer to the triathlon apparel space, having launched in 2020. They recently released their Pro Element triathlon suit, which spares no expense when it comes to aerodynamics and extra features.
"My favorite thing about Varlo kits is the high-quality compressive fabric," says Lia Belardo, a California-based age group triathlete. "I find the Varlo kits hold up and keep their shape even with heavy use and multiple cycles in the washing machine."
Varlo partnered with some of its sponsored professional triathletes to re-engineer a triathlon suit. They "assessed weight, moisture testing, fit and fabric specifications to create a superior product engineered for top performance and speed," according to their website.
The suit's upper is woven and includes Hex Air 112 GSM sleeves, both of which allow for maximum aerodynamics and air ventilation while reducing the overall weight of the kit. Both the sleeves and legs include strong rubber grippers to hold the fabric in place while racing, removing concerns of bunched fabric that could slow you down.
The suit's legs are made of a fabric that includes hydrophobic (aka water-repelling) properties to reduce absorbed moisture from the swim portion of a triathlon and the sweat of racing. The entire suit has UPF 50 sun protection.
The kit features a 3-millimeter Italian race chamois with flatlock stitching to mitigate any chafing from the chamois' seam and provide comfort specifically for long-distance triathlons.
7. Best-Feeling Fabric: Tres Piñas Aero Tri Suit
Tres Piñas was founded in 2017 in Miami, and the brand brings Miami flair to its designs and style.
"Tres Piñas is one of my favorite triathlon apparel brands because of their flattering cuts on shorter athletes, the attached bibs-style tri suits and the amazing fabric quality," says Jess Johnson, a Colorado-based age group triathlete. "Their fresh designs don't hurt, either!"
One of the top comments in the reviews section of the site is how soft and comfortable the fabric of Tres Piñas suits are. The fabric is buttery and light without being see-through.
In addition to its weightlessly soft Italian fabric, Tres Piñas kits include eco-friendly ink, side ventilation panels, three back pockets and UPF 30+ sun protection.
Their kits also offer a slightly thicker chamois pad at 5 millimeters for those who want a bit more cushion during the bike portion of a triathlon.
8. Best for Body Inclusivity: Roka Gen II Elite Aero Short-Sleeve Tri Suit
Roka is another brand primarily known for its open-water and pool swimming gear. The company also makes wind tunnel-tested triathlon kits that have eight size options for both men and women, ranging from XS to XL with sizes such as "medium tall" in between.
The torso construction is what makes this kit stand out. The front torso panel features "premium Scholler Eschler carbon," which provides "thermoregulation aid and core support." The back torso has a full mesh panel that reduces seams and aids in thermoregulation as well.
The suit has UPF 30+ sun protection and was tested in a wind tunnel, open road and open water to be engineered to withstand all three disciplines of triathlon without drag, chafing or discomfort.
What to Know Before You Buy
While it might be tempting to whip out your wallet and start spending, there are a few things to consider before pressing "purchase."
Many triathlon kits are made in small batches in small factories. This means that the fit of a triathlon kit is going to vary quite a bit from brand to brand.
"The ideal triathlon suit should fit you in a tight and fitted way, with the suit laying flat along your neck and providing good coverage on the shoulders, legs, and torso," Dunkle says. "If you see wrinkles in the kit or any bunching, you are not only aerodynamically inefficient, but you risk chafing from the extra fabric. It's important for your comfort and efficiency during a race to have a well-fitting triathlon kit."
Be sure to check each brand's size chart or guidelines to choose the size that's right for you. It is also helpful to understand each company's return policy as some have strict refund rules.
According to Dunkle, a triathlon suit's fabric should be "thin with a bit of compression, but not see-through." Flat, seamless stitching across the suit will minimize chafing and itching, too. High-quality triathlon suits will have compressive and flexible (but durable!) fabric and barely noticeable stitching at the seams.
A chamois is the pad in the groin area of a triathlon kit or cycling shorts that provides extra comfort to that area when sitting on a bike for many hours at a time. In triathlon, a chamois is typically slightly thinner than that of cycling shorts. Dunkle recommends looking for a chamois that's fairly minimal — about 3 millimeters of padding thickness — with small perforations that help the chamois dry quickly to prevent chafing.
Just like with fits, each brand's triathlon suits have a different cut and style. Some brands only make full-sleeved tri kits, while others offer a mix. Some have shorter inseams, while others offer inseams that go from the groin all the way to the knee.
Well-designed kits have plenty of aerodynamically-placed pockets to allow you to store nutrition, chapstick or whatever you may need without impeding your aerodynamics on the bike or run. This means a good suit will likely have pockets on the back and interior of the suit, and not the front. If you're going for maximized aerodynamics, you'll want to look for a sleeved triathlon kit with sleeves that nearly reach your elbows. If that's uncomfortable for you, there are sleeveless options that are slightly less aerodynamic.
At the end of the day, you need to wear a kit you're comfortable in and feel good about. If wearing sleeves feels constrictive to you, go with a sleeveless option. If a shorter inseam causes your thighs to chafe, opt for a longer leg. There is no right or wrong style to choose in a triathlon.
Some triathlon kits are designed for comfort and functionality while some are designed to maximize aerodynamics and speed. If you're new to the sport, you likely don't need to purchase the lightest-weight, most-aerodynamic kit. But if you're a veteran who is looking for any marginal gains, considering sun protection, chamois thickness and fabric drag can be important factors to consider.