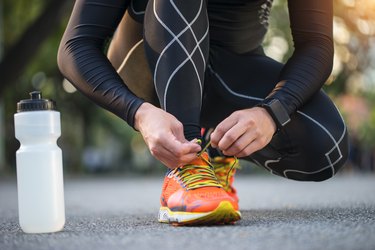 Finding a great gift for a runner can feel daunting — after all, gear like running shoes and most clothing is highly personal to the athlete. However, there are still plenty of envy-worthy products that will earn you the title of "best gifter" (and help improve their runs).
We spoke to experts to pinpoint the best gifts for runners, like an Olympian-approved cookbook and a high-tech ring for fitness tracking. Here, you'll find their top picks for every budget.
To figure out what to gift people who run, we chatted with runners and trainers who offered product recommendations and helped us break down what to look for in the best gifts for runners. We selected our products based on their criteria. You can learn more about how we cover products here.
Cost
Functionality
Comfort
Versatility
Convenience
1. Run Fast. Cook Fast. Eat Slow.: Quick-Fix Recipes for Hangry Athletes: A Cookbook
Touted as a guide to quick-fix recipes for hungry athletes, this cookbook is the ultimate gift for runners with busy schedules and appetites for flavor-packed food.
"The dishes are easy to cook and come with grocery store lists and pantry staple ideas," says Amber Elizondo, an RRCA and VDOT O2 certified running coach. "There are so many indulgent and nourishing options."
This cookbook is written by Olympian Shalane Flanagan and chef and runner Elyse Kopecky and includes their signature Superhero muffin recipe, power bowls, homemade pizza, race day bars and more.
Engrave custom text on a lace tag for the runner in your life — and they'll be uplifted by your message with every step.
"I received this thoughtful gift last year for my birthday and I love them," says Sarah Parise, CPT, a runner, certified personal trainer and wellness coach. "Every time I'm stretching after a run, I am reminded of my 'sole sister' — that's what mine say — who got them for me. It brings a smile to my face, no matter what the run was like."
Etsy reviewers note the quality of these tags, with personalized messages like "I am a champion!" and "This is what you came for."
3. Bombas Lightweight Running Ankle Socks
These minimal running socks may be cushion-free, but they're still buttery soft. Made with special performance yarns that wick away sweat during a run, they come in hues like galaxy and hibiscus.
"I love how lightweight these are," Elizondo says. "They help prevent blisters. Plus, Bombas donates socks to homeless shelters for every pair purchased."
Bombas' charity partners also support transitional living facilities, street outreach teams, rehabilitation centers, Title 1 schools and medical service professionals.
4. New Balance Lightweight Running Gloves
With palm grippers and engineering to prevent odor, these gloves will be a welcomed gift for winter running.
"These lightweight gloves are perfect for the chilly months," says Caleb Backe, CPT, a certified personal trainer for Maple Holistics. "Designed to keep your hands warm and increase your comfort while running, they are also a convenient way to wipe sweat from your face during your run."
Your loved one will also enjoy the touchscreen-friendly finger pads, which allow them to use their phone without taking off their gloves in teeth-chattering weather.
5. R3 Orthopedic Foot Roller
Help the runner in your life sooth their sore, tired feet with this roller. Developed after a year of design exploration with therapists and elite athletes, it targets areas of your foot to stretch the plantar fascia and intrinsic foot muscles.
"It's amazing for rolling out your feet and is perfect for under your desk," Elizondo says.
The shape of this roller is engineered to focus pressure on the inner, middle and outer parts of your foot for a comprehensive recovery session. The surface material is soft on your skin, but grippy enough to use on hardwood floors.
6. FlipBelt Classic Running Belt
If a runner you know has lamented about carrying a load on their long runs, this fitness belt with ample storage space will relieve their woes.
"It eases the stress of trying to carry keys, gels and other gear," Elizondo says. "They even make water bottles that fit perfectly inside."
No bouncing pouches here: This stretchy belt is designed to sit flat on your hips without buckles or pinching needed. Choose from colors like neon green, acrylic summer or classic black.
7. TriggerPoint GRID Foam Roller
This portable and easy-to-use foam roller is perfect for giving muscles a massage after returning from a run.
"Post-run massages can be extremely beneficial for your recovery and minimize the risk of injuries," Backe says. "This lightweight foam roller is a must for any runner. It's just the right size to target all the right muscle areas, and its deep grooves allow for deep-tissue massage."
The patented multi-density foam surface delivers firm compression and is designed to release muscle pain and tightness, boost mobility and increase circulation.
Gift a runner with a no-slip, no-bounce pair of sunglasses that are versatile to wear throughout their day. These polarized lenses reduce glare and have UV400 protection, blocking 100 percent of harmful UVA and UVB rays.
"I love these inexpensive, durable and super fun sunglasses to run in or wear to brunch after," Parise says. "They are lightweight and so comfortable."
9. Cotopaxi Bataan 3L Fanny Pack
This lightweight fanny pack is created from repurposed materials, so no two packs look the same (prepare to win points for the most unique gift).
"Its 3L holding capacity is ideal for storing your phone and a mid-run snack, so you can stay comfortable while running with your essentials," Backe says. "Plus, this pack allows for a hands-free running experience, so you can hold your natural running form without having to worry about holding onto your phone or other valuables."
The colorways are made with repurposed fabrics left over from other companies' production runs, so with every purchase, you help keep usable material out of landfills.
10. OOFOS OOahh Sport Flex Sandals
Make your loved one more comfortable when they're not running with these recovery shoes, which feature OOfoam technology to absorb 37 percent more impact than normal footwear.
"Your feet can take a beating when running, especially if you're going long distances," Backe says. "The soft material used for these sandals is perfect for holding your arches and giving your feet the ultimate comfort post-run."
The patented footbed design relieves stress on your knees, ankles and other joints — and as a bonus, the closed-cell foam is machine washable and odor minimizing.
11. Athleta Coaster Luxe Recover Sweatshirt
Cozy, stylish and versatile? This sleek sweater has "best gift" written all over it.
"I usually don't recommend buying clothing for runners, because every runner has their own preference, fit, size and style, but this one is amazing for everyone. It even comes in tall and petite sizes," Parise says. "It's so cozy to slip into after a run and offers instant relaxation. It's by far my favorite piece of clothing."
This sweater features stay-closed thumbholes, a breathable design and super-soft Nirvana fabric made with recycled material. Choose from on-trend colors like fern green and skylark blue.
12. Shokz OpenMove Headphones
"There's nothing like running with your favorite music playing, motivating you to perform better, but sometimes it can get dangerous when you're unable to hear your surroundings," Backe says. "That's why these headphones are ideal for runners. They use bone conduction technology, so you can listen to music while still hearing the noise from your surroundings."
These wireless headphones have up to six hours of battery life and are designed to fit snugly onto your head for comfort. They're also lightweight at just 29 grams and IP55 water resistant (meaning they can be exposed to low-pressure water from any angle).
Gift this deep-tissue massage roller beloved by athletes. It features an integrated spring configuration, stainless steel hardware fasteners, ball bearings in all pivot points and soft-touch handles.
"It's like a foam roller, but better," Elizondo says. "It gets those hard-to-reach areas without having to roll on the ground. It's great for traveling and I've used mine in many airports."
The R8 self-adjusts for different body sizes and targets your IT bands, quads, hamstrings, calves, shins, gluteus, arms and more.
14. StretchLab Monthly Membership
With over 300 studios across North America (and over 800 globally), StretchLab offers assisted stretching from trained experts to give runners a deeper stretch than they could get on their own.
"One-on-one assisted stretching can help improve performance and aid in recovery," Parise says. "This is a treat after a long training run or a big race."
A range of monthly memberships are available, starting at four stretch sessions per month. The company touts benefits including improved sports performance, increased range of motion and flexibility, reduced muscle and joint pain, better posture and reduced stress.
Help the runner in your life relieve aches and improve recovery with this ultra-light mini Theragun massage gun.
"Muscles may feel tight, worn out and even start to rip after a hard run," Backe says. "By increasing blood flow to tight muscles with a massage gun, metabolic waste may be removed and vital nutrients can be delivered, aiding in a quicker recovery."
The Theragun Mini can operate at three different speeds and packs a powerful punch, despite its small, portable size.
Designed for "outdoor athletes who train hard and move fast," this alpine-inspired watch helps you track nutrition, sun movements, storms, altitude and more. It also allows avid runners to mark important locations like water sources, aid stations and gear stash points.
"This is an amazing running watch with an incredible battery life — 30 days of regular use and 75 hours of full GPS," Elizondo says. "It's lightweight and has accurate heart rate sensors."
It connects to your phone and other accessories via Bluetooth and is water resistant, meaning it's suitable for surface water activities.
For the runner who's not into watches, gift this high-tech ring that monitors health metrics with up to seven days of battery life. It's sleek enough to be worn from a run to a night out.
"If you're buying for someone who is very enthusiastic about collecting their wellness data while they're running, this is the perfect gift," Backe says. "It tracks your resting heart rate, sleep time, body temperature, activity level and other information that can enhance your running experience."
It has a streamlined design, making it less bulky and comfortable to wear than many other fitness trackers.