Oxygen is essential for life, and when oxygen is available in only short supply, there are consequences, such as severe headaches. Three primary causes of inadequate oxygen leading to headaches include carbon monoxide poisoning, travel to very high altitudes and obstructive sleep apnea. Note that in the case of carbon monoxide poisoning, the consequences can be much worse than headaches, and can include disability and death.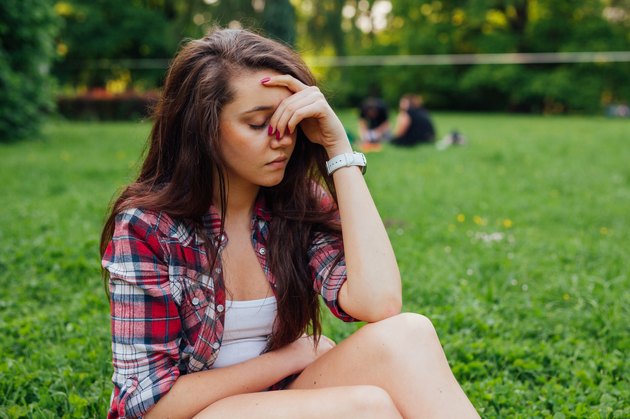 Carbon Monoxide Poisoning
The lack of oxygen caused by carbon monoxide as a result of a running vehicle in an attached or underground garage, a generator used inside the house during a disaster such as a hurricane, or a clogged fireplace at any time, can lead to headaches, disability and death. According to the federal Morbidity and Mortality Weekly, about 450 people die each year from carbon monoxide poisoning, also the primary cause of unintentional poisoning deaths. In addition, more than 20,000 emergency room visits are linked to carbon monoxide poisoning. MMWR says nearly half--41 percent--of all exposures to carbon monoxide occur from December to the following February.rnrnAccording to a 2006 report from the National Workgroup on Carbon Monoxide Surveillance, funded by the Centers for Disease Control and Prevention, carbon monoxide detectors could potentially prevent half of all deaths caused by carbon monoxide poisoning. They note some states have taken action to protect individuals; for example, both homeowners and landlords in Alaska who use wood, coal, gas, oil or any other carbon monoxide-emitting fuel are required to install carbon monoxide detectors. A similar law exists in Massachusetts, which also requires buildings with enclosed parking lots within the structure to have carbon monoxide alarms.
Exposure to High Altitudes
Some people develop a headache when they travel to high altitudes. In a study by Iranian neurologist J. Jafarian and colleagues, published in Cephalgia, the researchers analyzed results from 118 adults who ascended to a mountain clinic, asking them 24 hours later if they had headaches or nasal congestion. The researchers assumed headaches and nasal congestion were linked. More than half--55.9 percent--said they had developed headaches and less than a third--28.8 percent--reported nasal congestion. The researchers found having a headache was not associated with a higher risk for nasal congestion.rnrnThe researchers noted altitude illness from hypoxia--low oxygen levels--can occur at levels 2,000 meters above sea level. This is about 6,500 feet or 1.2 miles. The study subjects were at 3,450 meters above sea level, about 11,000 feet or 2.1 miles.
Obstructive Sleep Apnea
Obstructive sleep apnea is caused by the repeated collapsing of the individual's upper airway, which leads to hyoxemia--low blood levels of oxygen-- as well as sleep fragmentation and other problems, according to Lawrence J. Epstein, M.D. and fellow task members of the Adult Obstructive Sleep Apnea Task Force of the American Academy of Sleep Medicine. They say the primary treatment for moderate to severe apnea is continuous positive airway pressure--CPAP--delivered orally, nasally or oronasally during sleep. This treatment keeps the airway open.rnrnAccording to Sigrid C. Veasey, M.D. and colleagues, lower oxygen levels of people with sleep apnea can trigger early morning headaches. They say four controlled trials have treated individuals with sleep apnea with supplemental oxygen and these subjects had measurably lower levels of hypoxemia subsequent to oxygen treatment. The subjects also said they were less sleepy. The researchers noted oxygen therapy may be useful in future for patients resistant to using CPAP. However, it is currently unknown what are the best dosages of oxygen and it is also unknown what are the risks and benefits of supplemental oxygen.