High blood pressure medications may cause several side effects in patients. A dry, persistent cough is an adverse event that requires discontinuation of the drug. Medications that may induce cough are the angiotensin-converting enzyme inhibitors, such as lisinopril, enalapril and ramipril, and angiotensin II receptor blockers, such as candesartan, olmesartan and losartan. The patient should be switched to another class of high blood pressure medications.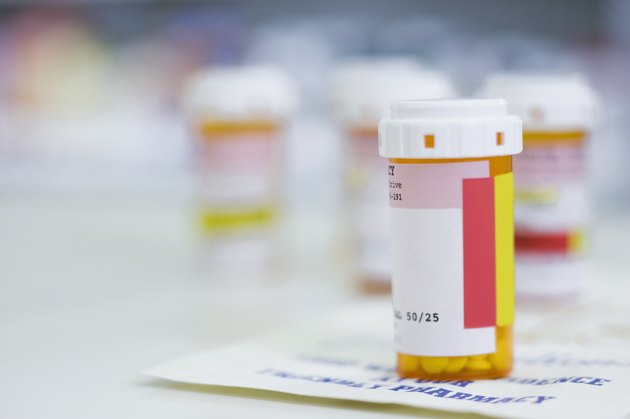 Diuretics
Thiazide-type diuretics are the preferred treatment in patients with high blood pressure, according to Pharmacotherapy: A Pathophysiologic Approach. These drugs prevent sodium from being reabsorbed into the body, allowing sodium and water to be released from the body. The thiazide-type diuretics include hydrochlorothiazide, chlorthalidone, indapamide and metolazone. Loop diuretics are a subclass of diuretics used when other medical issues exist. Bumetanide, furosemide and torsemide are loop diuretics that prevent reabsorption of sodium. These medications work at the loop of Henle in the kidney. Potassium-sparing diuretics are another subclass and include amiloride and triamterene. These drugs prevent the release of potassium and are a good choice in patients who are at risk for low levels of potassium.
Beta-blockers
Beta-blockers are another class of high blood pressure medications that do not cause cough. Beta-blockers prevent chemicals from binding to beta receptors found on the heart. This leads to a decrease in the force and rate of the heart beat producing a decrease in blood pressure. The oxygen demand of the heart also decreases, allowing a further decrease in blood pressure. The medications in this class are atenolol, betaxolol, bisoprolol, metoprolol, nadolol, propanolol, pindolol, penbutolol, labetolol, acebutolol, timolol and carvedilol.
Calcium Channel Blockers
Calcium channel blockers are used in patients who have failed to treat high blood pressure adequately. These drugs include amlodipine, felodipine, isradipine and isradipine SR, nicardipine, nisoldipine, diltiazem and verapamil. The Drug Information Handbook explains that the calcium channel blockers prevent calcium from producing its effects and allows the muscles of the heart to relax. This also allows oxygen to reach the heart more effectively and lower the blood pressure. The use of these medications may be beneficial in patients who have chronic chest pain, as well.