When a child says that his heart is racing, more than likely he is experiencing an arrhythmia, or an abnormal deviation of the regular heart rate. When it is a fast heart rate, it is called tachycardia. Although most commonly benign, tachycardia can be the sign of a potentially dangerous condition, especially if accompanied by fainting, dizziness, chest pain or shortness of breath.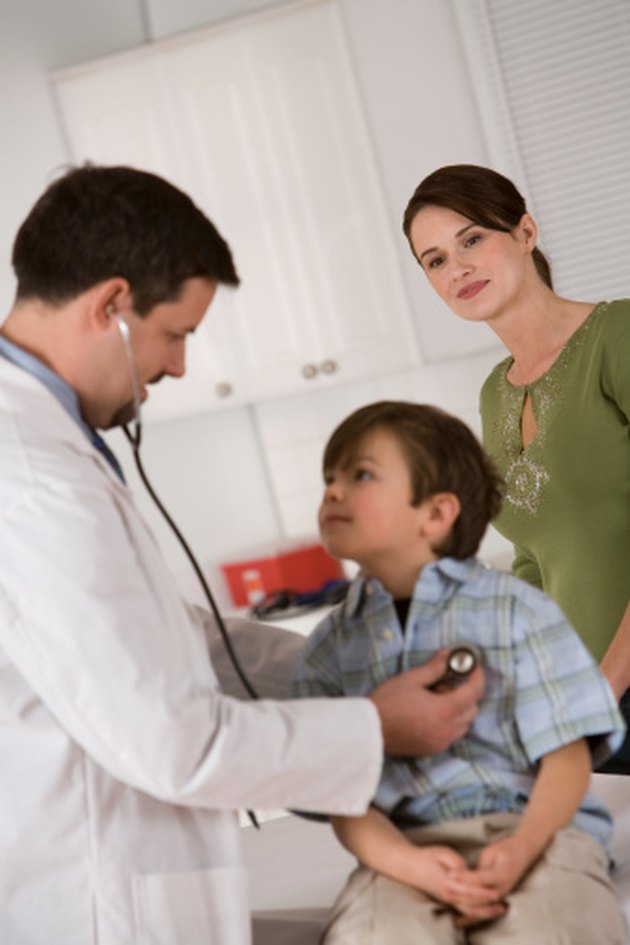 Benign Tachycardia
The most common type of benign tachycardia is a sinus arrhythmia. According to the Children's Hospital of Boston, this happens when the heart rate varies during the breathing cycle: when breathing in, the heart rate speeds up momentarily, returning to normal when breathing out. Some children can actually feel this variation and can report it as a racing heart. Another benign tachycardia is sinus tachycardia. This usually happens during periods of stress, from strong emotions, dehydration or fever, and resolves when the trigger goes away.
Abnormal Heart Rhythms
Supraventricular tachycardia, or SVT, is an abnormally fast heart rhythm that feels like a racing heart. The heart rhythm is controlled by the sinus node, the body's natural pacemaker. If the sinus node misfires, sending early signals for the heart to contract, or if another part of the heart is sending signals to contract at the wrong time, the heart will beat faster than normal. Children with SVT report palpitations, dizziness, fatigue and fainting spells. A drug called adenosine works to return the heart to its normal rhythm. Another similar condition is ventricular tachycardia, in which the ventricles, the main pumping chambers of the heart, start beating too fast. This also causes the feeling of a racing heart, with dizziness and fainting. Children with ventricular tachycardia may need cardioversion, or electric shocks, to return the heart to its normal rhythm, especially if the child is unstable and at risk for cardiac arrest.
Non-cardiac Causes
There are several non-cardiac conditions that can cause rapid heart rate and palpitations. Thyroid gland hyperactivity, or hyperthyroidism, can increase the child's heart rate and cause palpitations. Graves disease, a common cause of hyperthyroidism, can cause a fast, pounding heart rate, according to Cincinnati Children's Hospital. Another thyroid condition that causes fast heart rate is a thyroid storm, or a sudden increase in the level of thyroid hormone, particularly common in newborns whose mothers have Graves disease.